First ride: Ultegra Di2 — Better than Dura-Ace Di2?
Caley Fretz rides Shimano's new electric group. Is it better than its big brother Dura-Ace Di2?
Heading out the door? Read this article on the new Outside+ app available now on iOS devices for members! Download the app.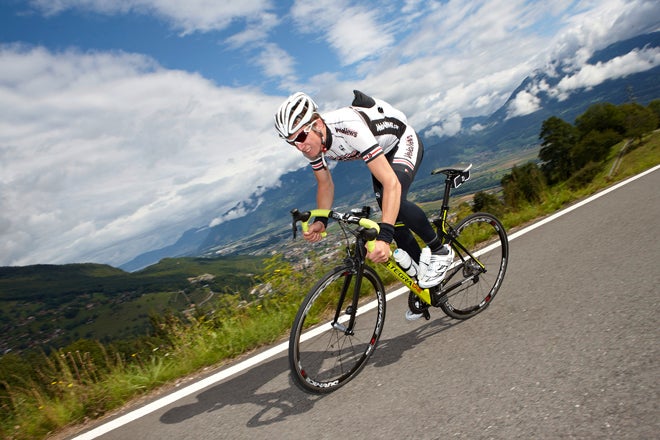 AIGLE, Switzerland (VN) — At nearly half the cost of its elder sibling, the supposedly second-tier Ultegra Di2 group is set to bring push-button electronic shifting to a much wider audience. Manufacturers are pricing Ultegra Di2-equipped bikes around $4,000 and up — not exactly cheap, but nowhere near the $8,000-$12,000 commonly asked for Dura-Ace Di2 models. And the new, cheaper option may actually be even better than its bank robber of an elder brother.
So when Shimano requested our presence in Aigle, Switzerland, home of the UCI, to give the group a good run through, we couldn't refuse. Plus the riding in Switzerland isn't half bad.
The specs
Specifications for the new group have been detailed before. Actually, we got just about everything right in our first article last December. But here's a quick rundown anyway:
Total weight for the full group, including non-electric bits like the cranks and brakes, is 2,482g. That's 80g more than mechanical Ultegra, 263g more than Dura-Ace Di2, 333g more than mechanical Dura-Ace, and 127g lighter than mechanical 105. Price is on par with Dura-Ace mechanical, around $2,500.
Everything is a bit bigger and less sleek. Both derailleurs have chunkier sections that house the motor.
The cables have changed, from a four internal wires to two. This decreased their diameter, and the diameter of the connectors. The cables and connectors are also now completely waterproof, without the sleeves needed for Dura-Ace Di2. Two wiring harnesses are available, one for internal routing and one for external, both in multiple lengths. Dura-Ace Di2 and Ultegra Di2 are not compatible due to the different harnesses, though Dura-Ace Di2 should be getting the new harness type soon if the folks at Shimano are smart, and word is they are.
The new smaller battery used on Dura-Ace Di2 is retained for Ultegra Di2.
Important functions remain the same: front derailleur auto trim, 3000km (1,864 miles) battery life with 5,000 recharges (just try riding that much); identical button placement; same easy on-the-fly adjustment on the cable junction box.
The hoods are now a bit thinner, more like the old 7800 shape but not as tall and with a flatter top.
Testing
Now, the good part. We wondered whether the massive drop in price would equate to an equivalent drop in quality.
With a few decent rides in the Swiss Alps and plenty of time tinkering with the stuff, I am confident in saying that, in fact, Ultegra Di2 is better than Dura-Ace Di2. That's right, better. For half the price. Not all that surprising really, since we are talking electronics here and just like my four-year-old iPhone, the latest generation does quite a bit more for less money. But the new group is impressive and exciting, nonetheless.
Despite what Shimano representatives say, the rear shifting on their Di2 systems — both of them — is a bit slower than mechanical options from all three major brands. That's largely because you can't dump gears with one swing of a lever: you need to tap the button for each shift. This is why I still race on SRAM Red: the rear shifting is tighter and crisper than Di2. I can upshift three gears at once, and I can pull the shift paddle into the bars for mid-sprint shifts. I also like the hood shape more. But all of that is just personal preference; I would be perfectly happy on a Di2 group as well.
Shifts with Di2 are always spot on, though, something that can't be said for even the best mechanical systems. Sometimes, in a state of fatigue, you just don't swing that little paddle quite far enough.
The front shifting with Di2 is undeniably the best available. Having ridden SRAM Red, Campagnolo Super Record 11, both Di2 systems, and Dura-Ace mechanical in the last few months, the Di2 comes out as the clear winner. The ability to shift from little ring to big ring while stamping out 500 watts is unrivaled. That performance is a function of the motorized derailleur itself, which can be built much stiffer than any mechanical derailleur. It's also why I think SRAM had better jump on the electronic bandwagon sooner rather than later: now that more riders will have access to Di2, that front shift quality will soon become the norm.
A few downsides
Before going into just why the apprentice has overcome its master, I should note a few flaws. First, the manufacturing tolerances used in the production of Ultegra Di2 are not as good as Dura-Ace Di2, which is still built in Japan. This, along with the lack of ti and carbon bits in Ultegra Di2, is a big reason for the difference in cost. It also means that Dura-Ace Di2 will age better than Ultegra Di2, keeping that new-bike feeling far longer into its life. So if you ride your bikes for 10 years, and expect to keep the same group that whole time, Dura-Ace Di2 may be the way to go.
Second, Ultegra Di2 is a bit heavier, but not by much, as noted above. In fact, if one takes out the non-electronic components, it only loses about 104g to Dura-Ace Di2. So run a Dura-Ace crank, brakes and cassette and you gain less than a quarter of a pound while saving thousands of dollars.
Why Ultegra Di2 is better than Dura-Ace
Cost is a huge consideration here. The difference in quality simply doesn't mirror the price difference between the two groups. And as noted above, with some easy component swaps there doesn't need to be much of a weight penalty, either.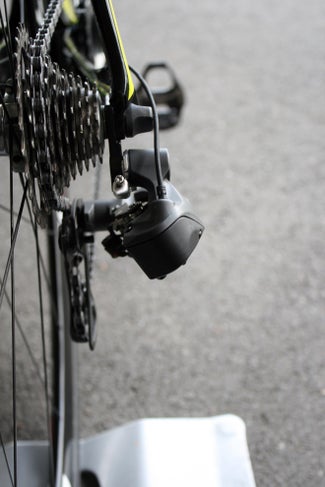 There are places where Ultegra Di2 is simply better, and more advanced. For example, the number of micro-adjustment stops used to tune the rear derailleur has been increased from 24 to 30 total, meaning more precise tuning.
The aforementioned new cable harness is a nice improvement as well, allowing for smaller holes in frames and simpler setup, plus it's completely water proof right out of the box. No more shrink-wrap tubing. Ultegra Di2 will also be compatible with a new Shimano diagnostic tool, which will be mostly owned by shops I imagine, and can easily diagnose the entire setup while it's still on your bike just by plugging it into a laptop. It can pick out shorts or other problems immediately, and send your mechanic looking in the right places for a problem. It's also possible to change the function of each button, if one desired. Dura-Ace Di2 can only plug in one component at a time.
Last, but certainly not least, is the fact that shift performance on the bike is largely indistinguishable from Dura-Ace Di2. Rear shifting is still crisp and on-command, and the front shifting is astounding coming off a mechanical system. A few journalists who had never ridden Di2 before were giggling with glee as they mashed out of the saddle up alpine climbs while shifting easily between their 39 and 53 tooth front chainrings. Until you've experienced the front shift quality that Shimano has brought to both Di2 systems, your life as a tech-nerd cyclist remains unfulfilled.
Shimano does still need to update its accessory shift buttons and TT shifters to the new wiring harness. Once those bits become available, Dura-Ace Di2 will truly be left behind.
The scoop
It's up to riders to decide what group is right for them. Red, Super Record, Dura-Ace mechanical, or either Di2 system are all spectacularly good. Ultegra mechanical is great, as is SRAM Force. SRAM Rival is damn near unbeatable for the price.
But if you decide to go electronic, why buy Dura-Ace Di2? I have no idea, really. I wouldn't. Buy the Ultegra Di2 electronic bits, and pair them with whatever cranks and brakes you want. At least until Dura-Ace Di2 gets an update, it's simply not worth the extra cash. I imagine the good people at Shimano already know that, and we'll see something new relatively soon.