Rapha Pro Team road shoe review
Woven, not knit: the Rapha Pro Team Road Shoes feature two Boa dials to micro-adjust a super-comfortable woven upper.
---
Basics
Woven upper; carbon sole; two Boa dials
---
Pros
Cool looks; stable heel cup; comfortable fit throughout; good ventilation
Cons
Sole flexes more than its high-end competitors; tongue can bunch up and cause discomfort over rider's toes; not super light
---
Our Thoughts
Rapha often gets accused of style over substance, but the Pro Team road shoes combine both very well. The woven upper makes for a comfortable fit throughout, though some VeloNews readers did write to us to complain about the tongue bunching up over the toes. Overall, the fit, ventilation, and excellent aesthetics make the Pro Team shoes worth a look for the style-conscious racer.
---
Size Reviewed
44
Weight
576 grams
Price
$355
---
Heading out the door? Read this article on the new Outside+ app available now on iOS devices for members! Download the app.
I admit: purple wouldn't have been my first choice, but these Pro Team Road Shoes from Rapha pull it off nicely. With an all-black kit, the color contrast on the single-piece woven uppers adds just the right amount of flair. Looks aside, though, the Pro Team Road Shoes have a lot of race-oriented features to get excited about. Most notably, the woven upper offers an incredibly comfortable fit.
Related:
Woven, not knitted
Rapha joins an ever-growing list of companies jumping into the knitted-upper market — or have they?
No, not exactly Giro's knit Empire shoes launched in 2017 and made quite an impact on riders looking for a comfortable, breathable upper with a unique look. The Pro Team Road Shoes capitalize nicely on that trend, though with a slightly different approach.
The Empires, and Fizik's Infinito are knit, while Rapha's kicks are woven. The difference is simple: knits feature one thread looped onto itself, while a weave features more than one material mated in a pattern. Rapha claims the weave is stronger, and it can create more complex patterns and shapes, thereby increasing the strength and comfort of the upper.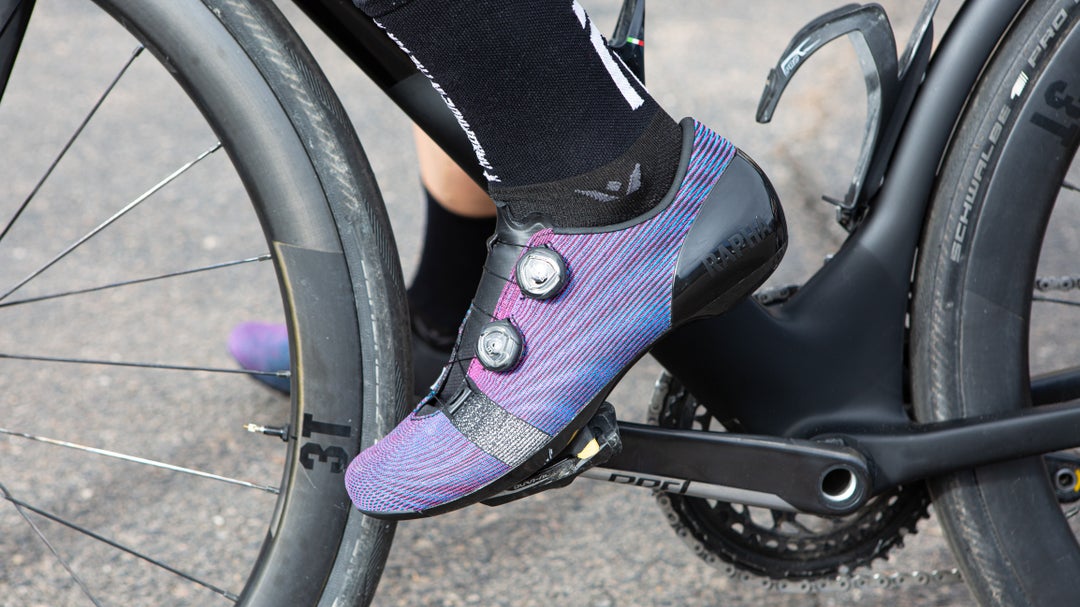 The two Boa dials micro-adjust both looser and tighter for quick, on-the-fly tweaking. They're perfectly positioned as far as I can tell and snug up evenly over the tongue. Perhaps it's a testament to the woven upper, but these shoes already feel broken in and supple, so I suppose the Boas have less work to do here. It's quite nice.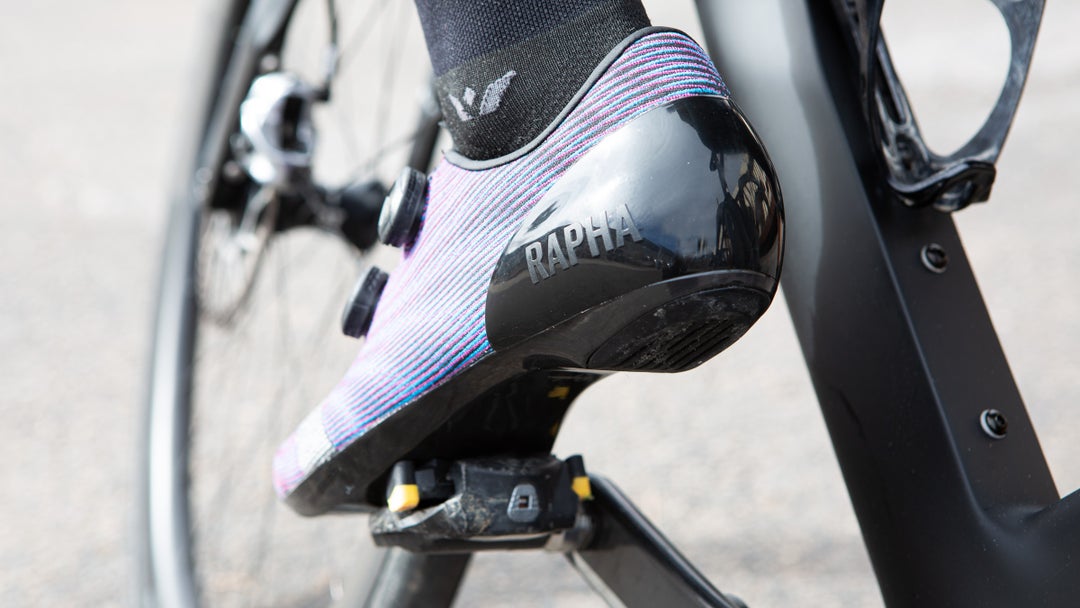 A generous heel cup kept my foot planted, though I wouldn't say this feature is as "grab and hold" as other shoes in the high-end category. I'm not sure how much that matters just yet; after a few more hard days in the saddle I'll let you know.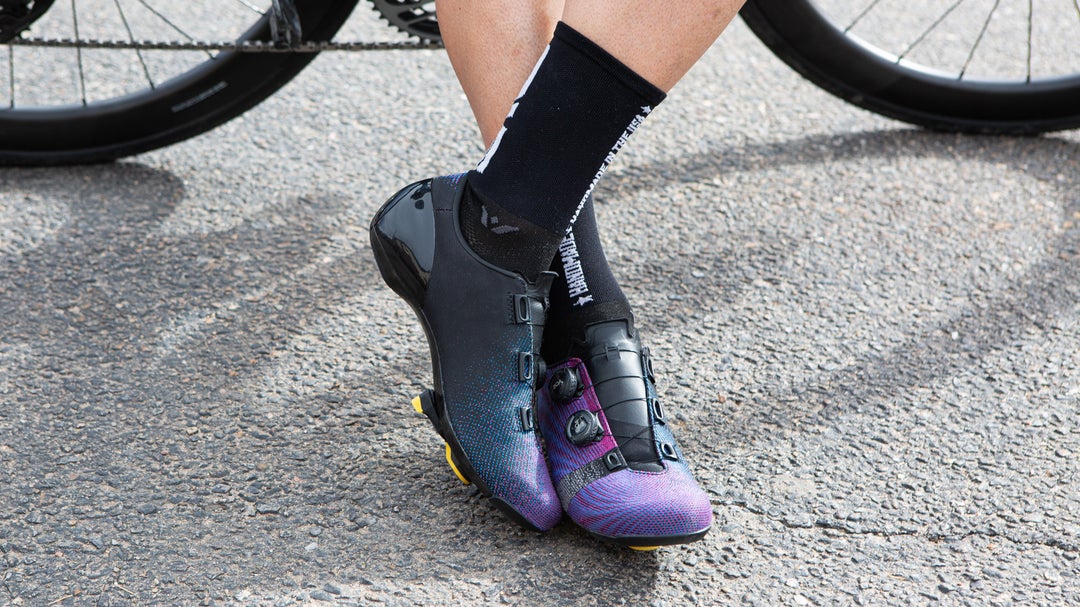 Riding the Pro Team Road Shoes
Now that I've spent several months riding the Pro Team Road shoes, I can tell you a few things definitively. First, these shoes breathe very well; second, they fit comfortably throughout; and third, they look awesome.
Before the weather warmed up here earlier in the spring, I spent a few days on the trainer with the Pro Road shoes before I finally snuck out during some warm weather here in Colorado. So if you want to count the trainer time as actual rides, I can tell you that the woven upper breathes wonderfully. The trainer's a good testing ground for heat build-up, and I noticed two things: first, I wasn't getting the usual hot-foot I get while logging an hour or more on the trainer; and second, I could feel the air moving over the top of my foot, near the toes when my Wahoo Headwind blew on the shoes.
Now that the Colorado summer has heated up to a nearly-absurd degree, I'm still a fan of the Pro Team Road Shoe breathability. The woven material allows for plenty of air movement over the foot. The DWR coating has kept light rain showers at bay, and frankly, I'm surprised the woven material hasn't gotten dirtier than it has. The shoes seem to remain fairly clean, even after rides in foul weather.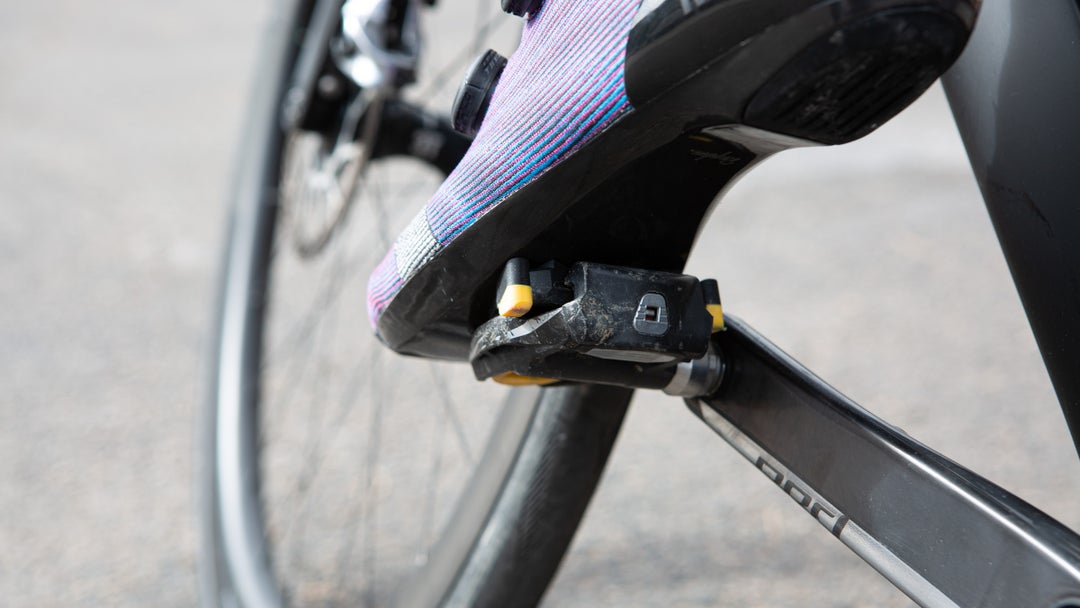 These kicks are quite comfy, and airy to boot. I do find the toe box to be a bit too narrow for my liking, a problem which manifested itself in a numb toe (the small guy on my left foot). And I had a reader reach out to me asking if I had any problems with the tongue bunching over my toes. The tongue does indeed bunch up, though it didn't do so enough to become problematic for me. If you have a higher volume foot in that particular area, you might get some rubbing.
The numbness due to narrow fit is a common problem for  me, so I won't pin that exclusively on Rapha; in general, cycling footwear could stand to be wider in the toe box. The woven material certainly helps with comfort here, but pressure is pressure.
I was impressed with the tongue of the Pro Team Road Shoe, which feels super supple and comfortable over my very high instep.The Boa dials cinch up evenly over the top of the foot and it was easy to micro-adjust on the fly. I have a lot of difficulty with cycling shoes due to my high instep, so I was initially worried that this slim and low shoe would pinch over the top of my foot and ankle. No such discomfort materialized, which I think is a function of the padded tongue and the well-placed Boa dials, among other things.
The sole of the shoe doesn't appear to be super-stiff. I did notice some flex during my hardest efforts, and the Pro Team Road Shoe probably isn't stiff enough to rank among the best in this high-end class of race shoe. The flex was particularly noticeable on sustained climbs and intense sprints, though the shoes otherwise felt supportive enough for daily rides that didn't involve deep dives into the pain cave. Perhaps I'm splitting hairs here, though, since the Pro Team Road Shoes still seem to be far stiffer in the sole than anything we would have been wearing even five years ago.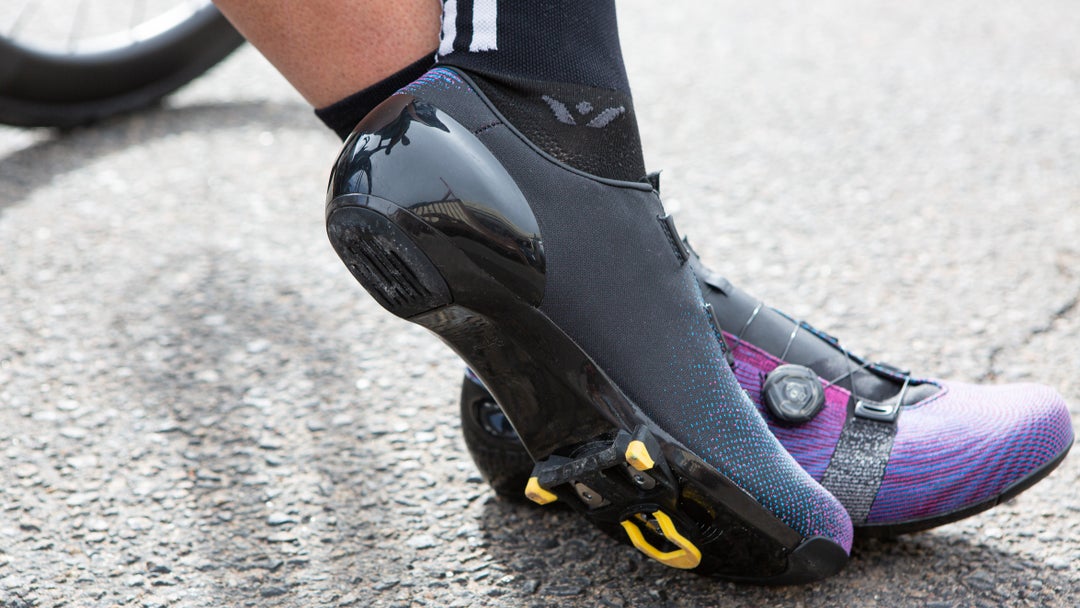 Pro Team Road Shoe Verdict
These shoes look rad and feel great, especially if you have a narrow foot. The Boas are well-placed and easy to adjust, and the padded tongue is a nice comfort touch. I love the stable heel cup and the ventilation from the woven upper. In other words, there's a lot to love about the Pro Team Road Shoes.
If you're looking for the stiffest race shoes out there, these aren't what you're looking for, nor are they exceptionally light. But if the confluence of style, comfort, and performance matters more, then the Pro Team Road Shoes are worth your time.
Have questions about the Pro Team Road Shoes? Feel free to tweet at me, message me on Instagram, or shoot me an email.