Review: Scott Road Team shoes
Shoes are a vital contact point between rider and bike, and cheap ones rarely make the cut. Scott Road Teams do, but only just.
Heading out the door? Read this article on the new Outside+ app available now on iOS devices for members! Download the app.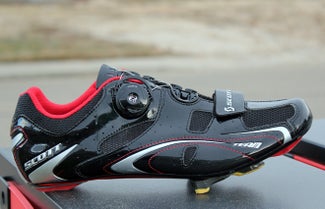 We get a lot of expensive shoes through our doors, and I tend to recommend that people pick up the best they can possibly afford when it comes time to outfit their feet.
Cycling shoes are a vital contact point between rider and machine, one that can easily make or break a ride. Comfort is mandatory and efficiency highly valued. Most cheap shoes simply don't make the cut. Scott's Road Team shoes do, but only just.
No, they don't wrap the foot as luxuriously as a $400 pair of Sidis, nor are they as stiff as Specialized's $350 S-Works road shoe. They aren't anywhere near as light as the Mavic Huez or Bontrager RXXXL, either. But that's just fine, because they're less than half the price — only $130 — but far more than half as good.
Fit
The Road Team's uppers are a mix of microfiber and nylon mesh — not the most sophisticated, but perfectly adequate for cooling and support. The material is flexible, conforming to the foot nicely without any jabbing edges or hot spots.
Scott included two features usually found on much more expensive shoes: a Boa lacing system and adjustable insoles. Combined, they offer a level of adjustability rarely found on anything under $200.
The Boa lacing, as always, is fantastic. Just turn the dial clockwise and it cinches the uppers up tightly and evenly. It's easy to go too tight, actually. In addition to the Boa lacing, the shoes have a single Velcro strap, placed low enough on the foot that I set it once and never touched it again.
The adjustable ErgoLogic insole is modular, with a few different options for arch height, metatarsal pad, and heel cradle. A bit of experimentation led me to the correct combination, and my feet ended up supremely comfortable.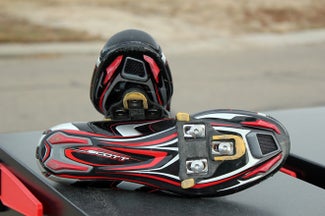 Fit is quite narrow, but overall the Road Teams run true to size. I found the heel cup to be excellent, and never had any issues with slipping.
Function
The Road Teams are actually quite light — not as light as the Mavic or Bontrager options mentioned above, but actually lighter than those $400 Sidis. My pair came in at 506 grams for the pair, or 253 grams per shoe. For reference, the Mavics are about 195 grams per shoe.
The outsole is a nylon/glass fiber mix that is simply not as stiff as a carbon sole. Scott says it has a "stiffness index" of 8. What scale that is on, I have no idea. If 10 is something like a Bont Vaypor, which feels like standing on a 2×4, I'd put the Scott's closer to 6 or 6.5.
The shoes just barely pass my personal stiffness index. I can't feel any hugely noticeable flex when I'm on the bike, and I can't feel the cleats themselves, which can cause hotspots, but I did feel the back of the cleats underfoot while walking around, something I've never felt on a stiff carbon sole. I wouldn't recommend these for larger riders.
The giant air scoop at the front of the outsole is a nice touch on hot days, and the toe and heel bumpers are hard enough to last but aren't solid plastic, making walking on slippery surfaces a bit easier.
The scoop
A pair of Scott Road Teams is among the most comfortable options anywhere near the $130 price range. They are stiff enough (barely), look halfway decent and have truly excellent uppers, lacing and insoles.
Larger riders, or riders with wide feet, will want to avoid them. But for a budget-minded rider accustomed to the finer uppers and insoles in life, they are a solid choice.