Specialized S-Works Tarmac
Some bikes just feel right. For those who crave precision steering and stiff responsiveness, the Specialized Tarmac is one of them.
Size Reviewed
56cm
Price
$9,500
Brand
Specialized
---
Heading out the door? Read this article on the new Outside+ app available now on iOS devices for members! Download the app.
Some bikes just feel right. For those who crave precision steering, the Tarmac is one of them.
Specialized's redesign of its all-around race bike certainly looks different than its predecessors, but the same ultra-responsive handling and explosive pedaling response remain. The rear end feels more compliant than it did on previous Tarmacs, addressing one of the bike's few historic drawbacks. This pony came to race for the win.
That becomes evident with the first pedal stroke. Previous Tarmacs felt eager off the line and in sprints, and the newest version is only different in that it feels, if anything, even more responsive. The frame sports aero elements like thinner, flatter tubing in specific sections of the frame to capitalize on aerodynamic gains without sacrificing stiffness and road feel. That's good news for sprinters, yet the frame is also lighter than its predecessor, so climbers have a reason to rejoice as well.
The Tarmac is a race bike, period. That means you'll need to pay attention to the handling. All of your input goes directly into steering. This is among the most responsive-handling bikes we've tested, making the bike perfect for racing. So if you're a notorious weight shifter or fidgeter, be forewarned: The Tarmac responds to every single input. Think of it as a scalpel, not a steak knife.
That scalpel comes in handy on high-speed descents. Go ahead and dig into the tightest switchbacks you can find. The Tarmac's ability to dive in hard and with bite means you'll be in and out of the apex quickly, with precision that lands you in exactly the line you choose.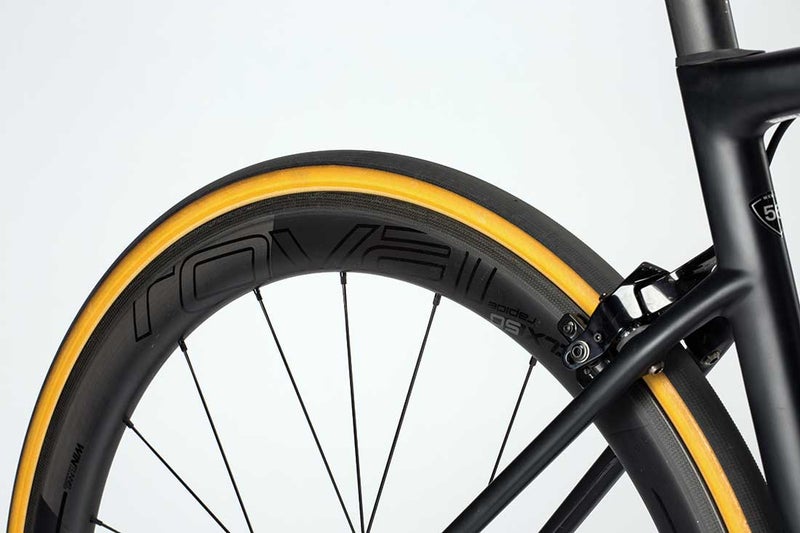 Specialized partnered with Retül to analyze the fit data of over 40,000 riders while overhauling the Tarmac's geometry. Our size 56cm test bike had a tight 985-millimeter wheelbase and short 405-millimeter chainstays. The rear wheel gets tucked tightly beneath the rider thanks in part to a cutaway seat tube. Combine all this with an aggressive 73.5-degree head tube angle, short 163-millimeter head tube that helps the rider get low over the front end, and a 55-millimeter trail. Do the calculus and you've got the secret sauce behind that exceptional handling. In order to ensure that road feel translates across frame sizes, the Tarmac can be built with one of three different forks depending on the frame size you ride.
Lowering the junction of the seat stays and adding the D-shaped carbon seatpost softens the ride characteristics of this Tarmac. While Specialized is not remaking the Tarmac as an endurance bike or comfort machine, the bike has shed some of its historic harshness, particularly in the rear end.
Our test bike came with a Shimano Dura-Ace Di2 drivetrain and Dura-Ace rim brakes. On top of that, Roval's CLX 50 wheels wrapped in Turbo Cotton tires offered a supple road feel with reliable cornering stability. Everything that turns on the bike is outfitted with CeramicSpeed bearings, a nice touch for a race-ready bike. And while our test bike was outfitted with rim brakes, a disc-brake-equipped version will be available later this year.
The Tarmac's classic lines, which defined the model for more than five years, may be gone, but so much of what made it the very definition of an all-around race bike remains. And the dropped seat stays only add to an already exceptional ride quality. The Tarmac has built its reputation on stiffness and precision and this update only hones those traits to a fine point. This may be the most explosive and responsive race bike on the market today.