SRAM Red eTap HRD
SRAM eTap HRD is an exceptional group that provides the power of disc brakes with the ease of a wireless drivetrain.
---
Heading out the door? Read this article on the new Outside+ app available now on iOS devices for members! Download the app.
SRAM Red eTap HRD officially hits the market this summer offering a one-two punch of wireless shifting and hydraulic disc brakes. The new group provides impressive braking power and modulation as well as refined ergonomics. SRAM also simplified the hydraulic system, taking the angst out of the bleed process. The straightforward and reliable system makes for the best SRAM road group we've tested.
Braking power
Red eTap HRD (hydraulic road disc) uses SRAM's new HydroHC brake platform. It's an updated version of the company's HydroR road disc system and provides smoother and more predictable stopping power. The brakes work gently at first and then quickly build strength as you squeeze harder. This helps prevent over-braking and makes for a smooth transition from full speed to stop in minimal time.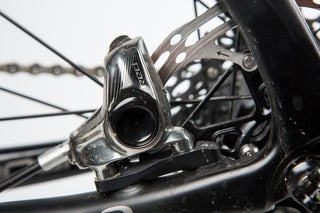 HydroHC brakes feel stronger than HydroR and provide a similar amount of power as Shimano's hydraulic disc brakes. This made for easy one-finger braking without causing our fingers to fatigue on long descents.
SRAM's HydroHC brake platform also features improved heat management compared to HydroR thanks to insulated aluminum pistons and wider pad pockets. After repeated trips down a treacherously steep section of our local climb, the brakes provided the same bite as when we started the ride — even when hugging the brakes the whole way down. We experienced consistent braking with no overheating issues throughout testing.
We tested SRAM Red eTap HRD with 160mm rotors in the front and rear on a Pinarello Dogma F8 Disc. We experienced the occasional brake rub caused by hard and inconsistent braking. However, the rub would quickly work its way out the next time we pulled on the levers. The brakes were generally quiet, aside from a couple gentle squeals under the hardest braking.
Hood and lever design
SRAM's eTap HRD controls are noticeably slimmer than HydroR's bulky and blocky design. A smaller hood circumference provides more finger wrap while a shorter profile makes for a sleeker look. The updated hydraulic hoods closely mimic eTap's rim brake design, measuring just slightly larger — SRAM had to squeeze all those hydraulic pieces in somewhere. The size difference is perceptible at first but quickly feels normal after several rides.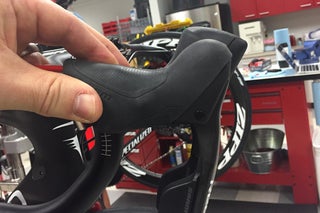 SRAM provides reach adjust with the new eTap HRD controls. Adjusting a 2.5mm hex screw on the hood body moves the brake lever in and out from the bar to accommodate a wide range of hand sizes. To accommodate my own small hands, I moved the lever in about halfway for a secure grip from the hoods and from the drops. Besides security, this also provides a more comfortable hand position when braking or shifting.
ETap HRD controls also feature a contact point adjustment that changes the brake's engagement point. It adjusts how quickly the brake pads engage with the rotors (within the brake lever's stroke) to start slowing you down. SRAM suggests setting the system up with a small amount of dead throw to start, especially for riders who aren't familiar with the more powerful disc brake platform. This helps prevent over-braking. One thing to note is that the contact point adjustment only affects lever throw and not the distance between the brake pads and the rotors.
Bleeding Edge technology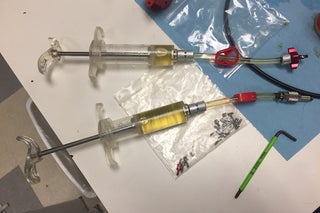 SRAM's Bleeding Edge technology makes hydraulic disc brake maintenance feel less daunting with easy-to-access bleed ports and a simpler, streamlined design. Syringes attach to the bleed ports using SRAM's Bleeding Edge connectors that help prevent fluid contamination or air absorption into the system. SRAM says a full bleed should only take about 90 seconds once you get all the pieces prepped and ready to go. Walking through the process at a leisurely pace took us around 10 minutes from start to finish including prep and clean up. For cyclists new to the bleed process, SRAM provides helpful YouTube videos that clearly explain each step so you can follow along and check your work.
SRAM also introduced a convenient connector piece at the hood called the Stealth-a-Majig. It attaches the brake line to the lever and makes installation easy. Simply run the line from the caliper up toward the lever, install the olive barb, and connect to the Stealth-a-Majig. It keeps air from getting into the lever during the installation process or if you need to shorten a brake line.
SRAM uses DOT 5.1 brake fluid to help with heat management. SRAM says the 5.1 fluid takes almost three times longer to boil than DOT 4, which makes for longer-lasting braking performance. DOT fluid also helps absorb water so you'll need to bleed less often. The chemical concoction is more toxic than the mineral oil brake fluid competitors, so consider that when disposing old brake fluid when it's time to bleed.
eTap shifting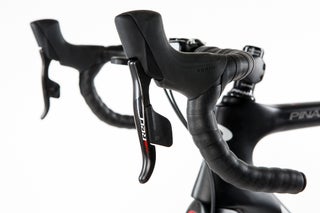 Like the Red eTap rim brake drivetrain, HRD uses single-sided shifting for the rear derailleur and double handed shifting for the front; shift with your left hand for an easier gear in the rear, or shift with your right hand for a harder gear. To change front chainrings, you need both hands, pressing the left and right shifters at the same time.
Current eTap users know how this works already and will have no problem transitioning to the HRD group. If you're switching over from Shimano or Campagnolo, expect a learning curve that could last a few rides.
Final Impressions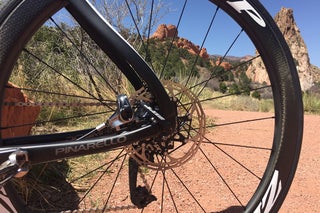 SRAM Red eTap HRD is priced at $2,940, which includes eTap front and rear derailleurs, eTap HRD shift-brake controls and calipers, two Centerline 160mm rotors, Red crankset, chain, and cassette. Shimano's Dura-Ace Di2 hydraulic disc brake system costs approximately $2,700 for the same pieces — a similar price for similar systems.
eTap HRD is an exceptional group that provides the power of disc brakes with the ease of a wireless drivetrain — no other group can provide this combination. We especially like the updated ergonomics for a comfortable and secure grip with smaller hydraulic hoods. eTap's unique shift pattern is our main complaint but it isn't an issue if you're already an eTap user or someone who easily adapts to changes on the bike.