The Clothesline: Mavic Huez road shoe
Superlight and flashy — a solid choice IF they fit your foot
Heading out the door? Read this article on the new Outside+ app available now on iOS devices for members! Download the app.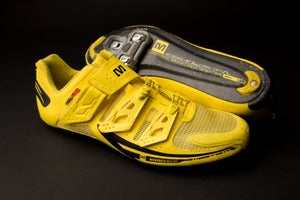 Extraordinarily low weight was Mavic's primary goal in the development of its Huez road shoe, and in that realm the company hit a home run. At a measly 195 grams claimed (201g on our scale, but ours were a larger size) per shoe, the Huez' are the lightest mass-produced road shoes currently available. A pair of them is only a few grams heavier than one of my Bontrager RXL's. While the sacrifices made in the name of shedding grams may be too much for some, for the right rider a pair of slipper-like Huez are among the best money can buy.
Mavic stepped into the world of footwear with the Zxellium, a standard issue strap-and-buckle, carbon-soled, reasonably light offering whose only real claim to fame was its striking bright yellow color. A good shoe, just nothing spectacular. For the Huez, Mavic took that Zxellium platform and stripped it down considerably — the carbon sole and uppers are thinner, padding is removed all over the place, and the top buckle became another Velcro strap. The result: 80 grams lost per shoe, a new claim to fame.
Fit
There are enough funky foot shapes out there that no shoe is going to be comfortable for every rider. But the Huez' super light construction and, most notably, the lack of padding in a few key areas, gives the Huez less room for error when it comes to fit.
Let's start with the good. The Huez' Energy Lock carbon heel cup is wonderful. It holds the back of the foot solidly and without pressure points; one of the best heel-cupping experiences I've had in a while. I was also a huge fan of the somewhat narrow toe box, due to my own somewhat narrow toes, but others may feel differently.
The Ergo Strap SL Velcro straps are nifty as well. The mid-foot strap is adjustable to three different lengths to accommodate varying foot shapes, and none of them caused any nasty pressure points. The aramid Kevlar cables that cross the top of the foot leave most of the tongue open for excellent ventilation as well.
The Ergo Lite uppers are bonded rather than sewn, and are exceptionally breathable. About a third of the upper is a stiff mesh, and the only padding is back by the heel. Most of the tongue is mesh as well. The Huez were so breathable, in fact, that I had trouble keeping my feet warm even with booties here in Boulder, Colorado. A few rides in Tucson last week confirmed that they're wonderful when it gets warm.
Now, the less good. Not necessarily bad, but these features might not work for everyone:
The Ergo Fit SL insoles are relatively thin, but worked decently for my particular foot shape. Bucking the trend we've seen lately from companies like Giro, Bontrager and Shimano, insole arch support is non-existent, but there is enough built into the shoe itself to keep my feet happy (though I don't tend to need much).
The super light uppers and tongue have zero padding. That's a double-edged sword for fit; the lack of padding creates the potential for nasty pressure points, particularly at the straps. It also keeps the uppers exceptionally malleable, enabling them to take the shape of your foot better than most shoes. The primary area of concern is the padding-less tongue, which must disperse pressure from the straps in order to eliminate pressure points. While I ran into no issues, others in the office did. My recommendation would definitely be to try before you buy.
Mavic Huez
MSRP: $400
Pros: very light, great heel-hold, breathable
Cons: touchy fit, low padding won't work for some, bad in cold weather
The scoop: super light, no-compromise road race shoe with slipper-like feel
Mavic.com
My final point of contention with Mavic shoes in general is the use of British sizing, which according to Mavic communications man Zack Vestal makes them fit a bit large. Where the British sizing came from, I have no idea. Mavic is about as French as it gets. The Huez I've been riding fit great and are labeled EU 431/3, US 9.5, UK 9, and I usually ride a EU 44/US 10, so they do indeed run a bit large. Again, try before you buy if possible.
Finish
The Huez shoes are finished with a number of nice touches. An abrasion-resistant toe cap, thin 5.5mm carbon sole, and Agion anti-bacterial insoles, not to mention the blinding, fluorescently radioactive lemon yellow color, make them both functional and eye catching.
Some may find the yellow a bit absurd, but I love it. Keep in mind that in the eyes of the general public we already look like a bit odd, spinning around in our brightly colored, sponsor plastered lycra. What's a little extra flash? Who cares if your feet can now be seen from space?
If you really must fit in with the rest of the group ride, the Huez are available in always-classy white as well.
Why light shoes?
Super light accessories are becoming more and more common as pros and consumers alike realize they can drop pounds off their bike/body/gear system with just a few purchases. For that reason, we featured the Mavic Huez in this year's Buyers Guide, along with plenty of other ways to lighten up your ride. For those restricted to the UCI's 6.8kg limit, and already low in body fat, ride gear is the next place to drop grams. If a shoe like the Huez works fits your feet, why not drop 150 grams? $400 is expensive but not beyond the pale for high-end road shoes, including some that weigh considerably more.