Wrenched & Ridden bike reviews: Hutchinson Atom Comp clincher tires
Zack Vestal finds the Hutchinson Atom Comp clinchers are a viable option in the lightweight, raceable clincher market.
Heading out the door? Read this article on the new Outside+ app available now on iOS devices for members! Download the app.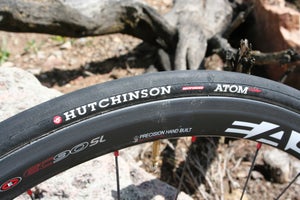 To test a couple of nice wheels, I've ridden more tubular tires in the last month than in the prior few years. Rediscovering the sweetness of tubies has been fun, but clincher tires have advantages. They are always going to be easier to install, cheaper to buy, and vastly easier to fix on the side of the road in case of a puncture. For these reasons, I still stick to clinchers for most of my riding.
The hard part is finding clinchers that rival tubulars for suppleness, grip, and rolling resistance. Last year I checked out the Vittoria Open Corsa CX. I've always had a fondness for the Michelin Pro3 Race, and someday I hope to check out something (anything!) from the vaunted Veloflex brand. Any of these lightweight tires with a high threads-per-inch casing will begin to approach the feel of a tubular if paired with a latex tube. But I learned from Michelin that they're no longer making latex tubes, so if you're a fan like me, stock up!
Hutchinson Atom Comp tube type clincher tires
MSRP:
$60
The Scoop:
A lightweight, competition-grade clincher tire
Pros:
Not too expensive, great cornering grip in dry conditions, durable casing.
Cons:
Softer center rubber cuts easily.
More info:
www.hutchinsontires.com
Lately I've spent time on Hutchinson's new Atom Comp, and I think the usual suspects above have some real competition on their hands. Another tester put in more miles than I, including two criterium races, and also really dug it. It's a sweet tire, and at $60 won't break your budget.
The Wrenching
Our 23C test samples of Hutchinson's new entry to the lightweight, high-performance road clincher category tipped the scales at 180 grams. That's impressive, considering the claimed weight of 195 grams. The Atom Comp is built on a 127 TPI casing with a polyamide anti-puncture reinforcement under the tread. The smooth tread is made from a single rubber compound (as opposed to two or three in different locations to optimize grip or rolling resistance). Hutchinson's promotional material suggests that the Atom Comp is designed for competition in dry weather.
That's about all there is to it — it's a really light, simple tire. The Kevlar clincher bead seems fine, and it installs easily.
The Riding
After riding the Vittorias last season, I felt spoiled by their lithe, sinuous performance. I didn't expect the Hutchy's to match up. But these Atom Comps are really, really nice tires that come darn close to the nicest clinchers I've ridden. And if I were riding with my eyes closed (wouldn't that be fun), I admit I'd have a hard time telling the difference between these and the Vittorias.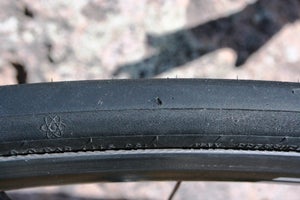 Hutchinson nailed the rubber compound. Since they're not building the tire with softer edge tread combined with a harder, more wear-resistant center section, the rubber by nature has to be decent for both duties. In my experience, the cornering grip is fantastic. On the other hand, center tread durability is pretty good, but it seems a little more prone to small cuts than tires with a tougher rubber compound down the middle. Still, it's great rubber and worth the tradeoff.
The casing is not quite as supple as something with a higher thread count. But it does display impressive puncture resistance. A few of the cuts in the tread were pretty substantial, but we didn't suffer any punctures in over 500 test miles spanning asphalt, dirt, a rain/snow mix, and two crits.
Hutchinson's entry in the lightweight, high performance clincher arena is solid. At $60 it seems like a good value, and in our experience the casing durability stands out. It's not as supple as the Vittoria, and with standard butyl rubber tubes, it will be even less so. But on the whole, I'd recommend Atom Comps to anyone looking for great grip and road feel from their clincher tire racing setup.