Review: Shimano RX8 Gravel Shoes
The RX8 cuts down on weight and banks on a snug fit for gravel race performance
Size Reviewed
44
Price
$250
Brand
Shimano
---
Heading out the door? Read this article on the new Outside+ app available now on iOS devices for members! Download the app.
Like all things in the gravel category, gravel footwear is still trying to find itself. The RX8 shoes from Shimano looks and feels a lot like a road race shoe, only with minimal but sticky tread for hike-a-bikes. Gravel racers will love it. Casual gravel riders and bikepackers in search of more walkability might look elsewhere.
Basics: 596 grams/ pair (size 44), gravel race design, single Boa dial and velcro strap
Pros: Super light and stiff; ideal for gravel racing
Cons: Not enough room for high insteps
It's easy to mistake the RX8 Gravel shoes for road shoes when you pull them out of the box. Part of that is looks; the other part is the weight. The RX8s are very light for an off-road shoe at 596 grams per pair (size 44). They're lighter than a lot of mid-range road shoes, in fact. And that's what Shimano set out to accomplish with these shoes: create a gravel footwear option focused on performance, with enough comfort and walkability to make them functional off-road.
If you've worn Shimano shoes before, you'll be very familiar with the fit of the RX8 shoes. The forefoot is roomy without being cavernous (and if you've got a wide forefoot, you've got the option of going to Wide sizing for even more room). Shimano advertises these shoes as having a glove-like fit, and that's certainly the case. The upper wraps completely around the foot, and we experienced no excess movement in any direction while pedaling.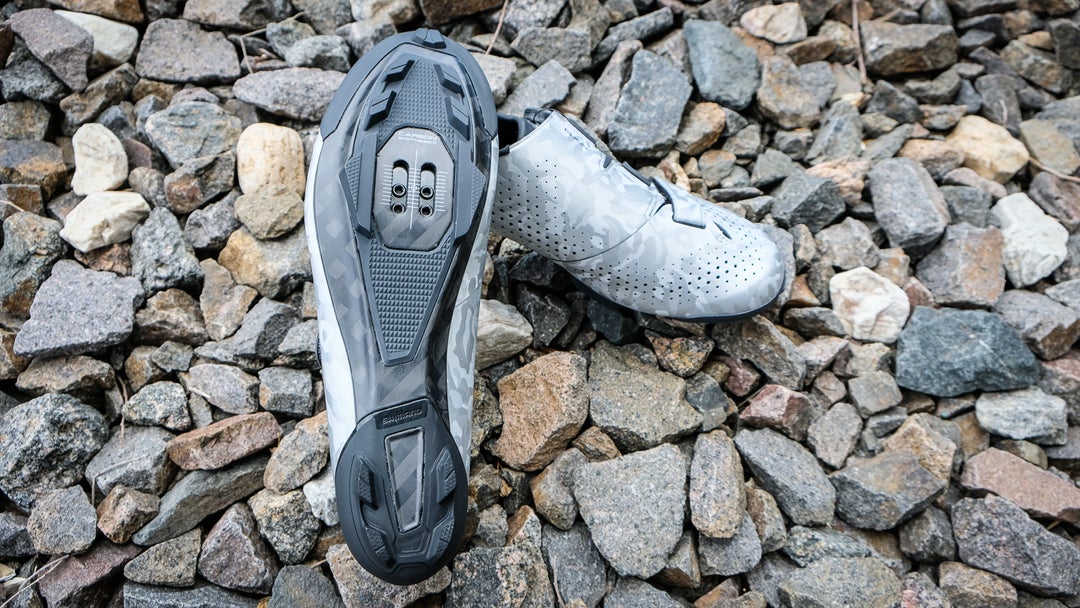 The top flap of the shoe wraps over the tongue and gets cinched down with a single Boa dial. You can then adjust the snugness over your forefoot with the velcro strap. Your heel stays planted too, largely due to the heel cup design, and the padding therein. I had no problems with heel slippage, even when the Boa dial was set fairly loose.
And that loosening was necessary for me because I have a very high instep. This has caused problems for me before with Shimano shoes; the top of the tongue tends to press uncomfortably on my instep, so I have to loosen the Boa almost completely to accommodate. In other words, the RX8 shoes don't fit my feet very well. But if you have a lower instep, this won't be a problem. The shoe is otherwise very comfortable throughout.
Shimano mates a stiff carbon sole to a one-piece synthetic leather and mesh upper, which is vented via perforations that extend all the way to the ankle. Those perforations provide adequate venting, but if you're after a super airy shoe for long, hot days in Kansas, perhaps look elsewhere. In fact, this is probably one area where the shoe could really use some improvement. The upper seems to be far more focused on stabilizing the foot than on venting, which may be exactly what you're looking for if you're a racer. As a practical matter, the shoe made my feet hot.
The sole doesn't flex much while pedaling; off the bike, the flex is just enough to make walking a relatively comfortable affair, but don't expect to walk long distances in the RX8 shoes. They're race-oriented, so they're more focused on being stiff for pedaling. That stiffness is noticeable on climbs out of the saddle, and I was happy to have it. I'm happy to sacrifice a bit of walking performance for some added efficiency.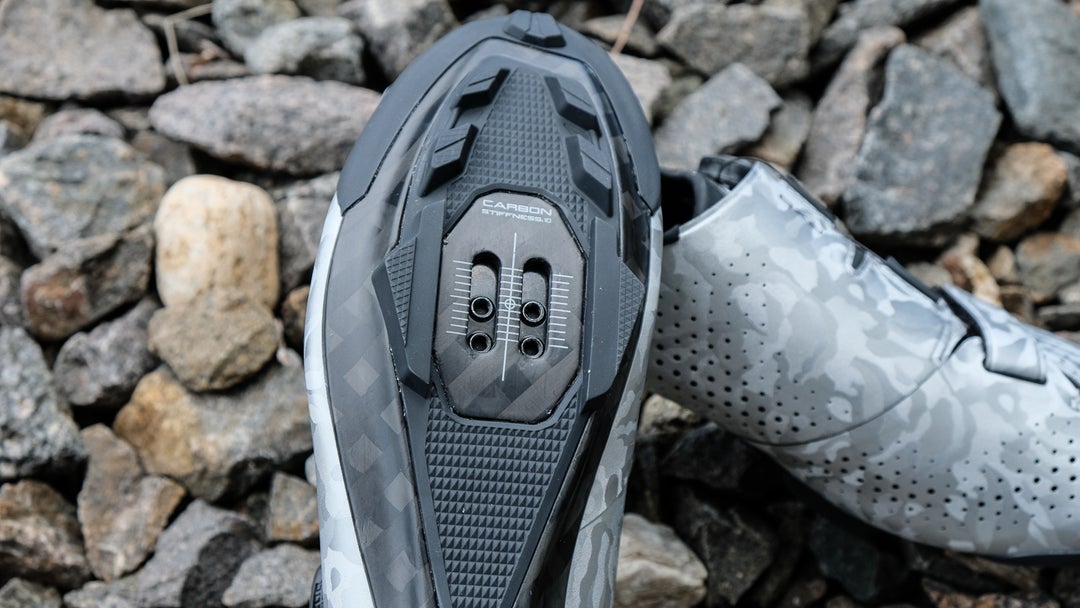 That said, there are TPU lugs — not rubber; Shimano says TPU is more durable and will last longer, and it improves pedaling performance — enough to get up and over obstacles and even walk into the coffee store without advertising yourself as a tap dancer. It's reminiscent of XC mountain bike shoes of yore, with much of the tread focused closer to the center of the shoe rather than outboard. It's just enough, nothing more.
On top of all that, the RX8 shoes look really cool with the swirly graphics underneath the solid color. They're interesting without becoming flashy. It's a good look, one that will fit well with just about any riding wardrobe.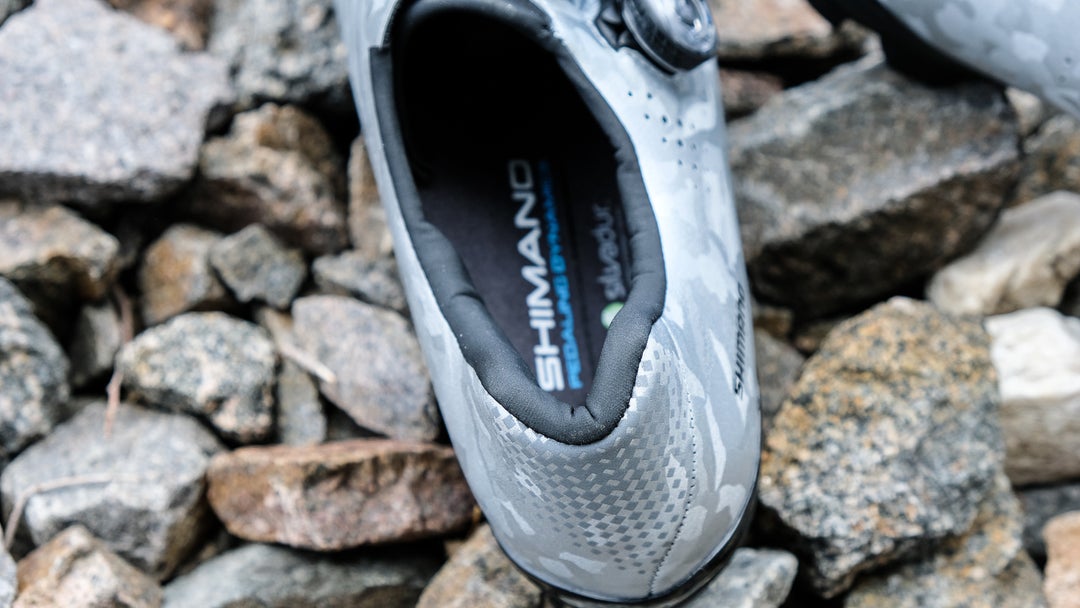 The RX8 shoes are one of the best shoes out there for gravel racers. Any rider who has more of an eye on adventure riding or sightseeing off the bike may want to look elsewhere for a shoe that's a little more forgiving while you're walking, and perhaps better vented. Think of this as a Kanza shoe, not necessarily a weekend bikepacker.