Smooth as a baby's derriére
As a cyclist shaving your legs is a right of passage. For men, it's a commitment to your sport
Heading out the door? Read this article on the new Outside+ app available now on iOS devices for members! Download the app.
By Nick Legan
As a cyclist shaving your legs is a right of passage. For men, it's a commitment to your sport. In doing so you set yourself up for possible ridicule (trust me, I started shaving my legs before I needed to shave my face). But like any job worth doing, it's worth doing it well.
I'll leave razor discussions for another time (I like Gillette's venerable Mach 3). We're here to talk about shaving cream. I've used everything from shampoo to soap to shaving foam to de-hair my spindly legs. After years of shaving, I do feel that I get a better shave, and skin that isn't as dried out after shaving, with shaving foam or gel.
Lately I've been using Leg Lube and Rapha Shaving Cream in a head to head comparison. Both of them are great, but for different reasons.
Leg Lube
$9
Right away you know that Leg Lube is directed at cyclists and triathletes; the bottle is just like those used by chain lube companies. It's a cool marketing tactic, but there's function in its form.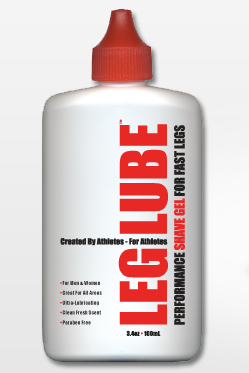 Not only is the bottle much smaller than a can of aerosol shaving cream (handy for travel) it also acts as a great applicator. The directions on the side tell you to wet the area to shave and apply a bead of the gel. After spreading the gel evenly over your leg, shave away.
Leg Lube's website heralds that, "one bead is all you need." And it's true. You don't need that much to get the job done.
The only sticking point for me is that Leg Lube is clear. I usually apply shaving cream to my entire leg and then use the white foam to let me know where I've shaved and where I need to shave. Can't do that with Leg Lube.
How long a bottle will last depends on how often you shave and how much you use each time. But I used Leg Lube for several weeks and the bottle is still pretty full. For $9 you'll get plenty of shaves.
I only used the gel on my legs, but Leg Lube does point out that it's safe to use on your legs, face, arms, head, bikini, back and chest (if that's how you roll).
The scent is nice and tingles a little while it's on your skin, but the smell isn't strong by any means. It quickly dissipates once you rinse off. Skin is left feeling smooth and fresh.
Apparently you can also use Leg Lube out of the shower, though I'm not sure who experiences shaving emergencies that can't wait until the next bathing. But there you go.
In all, Leg Lube is a great product. Give it a try. The aloe, eucalyptus and other oils keep your legs feeling great (at least on the outside).
Rapha Shaving Cream
$20
Just after the Leg Lube showed up in the office, a small black, screw top tin from Rapha arrived as well. Rapha already makes embrocation and chamois cream. So it wasn't a big leap for the U.K. company to produce a shaving cream.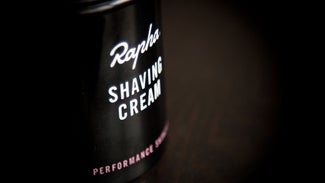 Like most things Rapha, a bit of poetry is mixed into the marketing speak for the Shaving Cream. "For road riders, shaving their legs is a treasured ritual that heralds the start of the racing season," says its website. It continues that the scent of the cream is "inspired by the flora surrounding Mont Ventoux."
Flowery prose or not, the proof is in the pudding. And Rapha's Shaving Cream is great. Unlike Leg Lube, you need to work Rapha's product into a lather, like a traditional shaving cream. Like the Leg Lube, you don't need much of it to get the job done. A small dollop lathers up well.
While Rapha lists several aromatic ingredients, the most powerful to my nose are pine needle and lavender. The cream does tingle a bit and also leaves your skin feeling fresh and hydrated. But the frangrance does stick around a bit longer than the menthol scent of Leg Lube. That's not a bad thing in my opinion, but if you don't like the smell of lavendar, look elsewhere.
That said, I find most of the scents from Barbasol and Gillette overpowering and obnoxious. The Rapha scent isn't nearly as powerful.
I have used the Rapha cream on my face and my legs (as Rapha intends the user to do) and like it a lot. At $20 it is pricey, like most things from Rapha, but it's also a high quality product that's worth it in my opinion.