Spotted: Astana rides special height-adjust posts at Tour
Vincenzo Nibali has been testing a height-adjustable seatpost for awhile now, but we got the skinny on what this post is all about, how it works, and why riders might change positions. The new post, which still doesn't have an official name, offers 20 millimeters of adjustment up or down, and…
Heading out the door? Read this article on the new Outside+ app available now on iOS devices for members! Download the app.
Vincenzo Nibali has been testing a height-adjustable seatpost for awhile now, but we got the skinny on what this post is all about, how it works, and why riders might change positions.
The new post, which still doesn't have an official name, offers 20 millimeters of adjustment up or down, and the rider can make those adjustments on the fly simply by turning the top part of the post clockwise to drop it, or counter-clockwise to raise it. Adjustments are made in one-millimeter increments, with a positive click indicating when the post has moved one millimeter. The bolt at the top of the post beneath the seat clamp adjusts the tension on the adjustment collar, so if you want more resistance when you're adjusting on the fly, you can set it that way (before your ride, of course).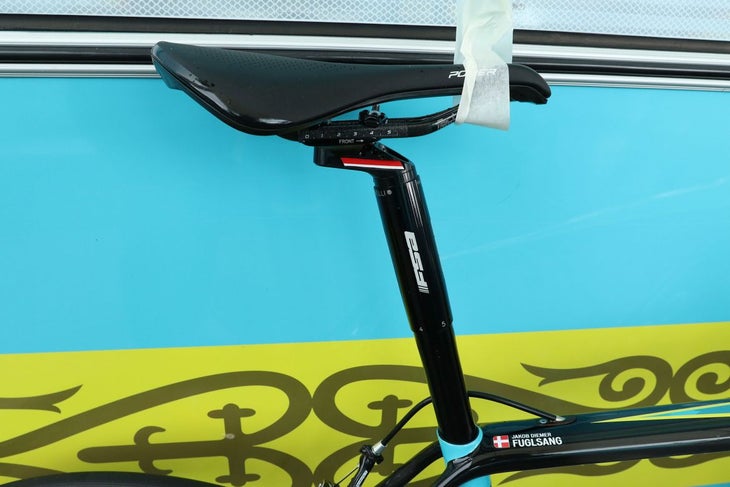 The post is currently only on Astana bikes and it's available to pro riders on the team in 31.6 millimeters and 27.2 millimeters. More sizes will be offered once the post goes to market. Unfortunately, no date has yet been set for release to you and your local bike shop.
Maurizio Bellin, FSA's European sales manager, says the post has been in development for three years. Vincenzo Nibali started testing it on training rides last year and was seen with it on his bike throughout 2016 races. He touted the versatility the post opens up for riders.
"During a three-week race, your muscles change," Bellin said. "You can adjust one millimeter at a time when those changes happen. The post is an anatomical and ergonomic solution for your legs. You can adjust on the fly to work through cramps or for comfort. It's the same concept as a dropper post on a mountain bike, but this is more incremental."
Of course, it would take several turns of the post collar to drop the post several millimeters, so it isn't a dropper post in that sense. But FSA's post opens up plenty of options for quick saddle height adjustments to accommodate cramping legs, other discomfort, or riding position tweaks.
FSA was tight-lipped about how the post works internally, but Bellin says early iterations had a simple threaded mechanism to adjust height. It's unclear how the new versions are any different. We'll have to wait to tear one apart.