Take your bike everywhere: Scicon Road AeroComfort 3.0 TSA 
With major U.S. airlines dropping their absurd baggage fees for bicycles recently, it has never been a better time to bring your bike along on your next getaway. Those fees used to easily run $150 each way. Now, if your bag weighs within the normal checked bag allowance (usually 50…
Heading out the door? Read this article on the new Outside+ app available now on iOS devices for members! Download the app.
With major U.S. airlines dropping their absurd baggage fees for bicycles recently, it has never been a better time to bring your bike along on your next getaway. Those fees used to easily run $150 each way. Now, if your bag weighs within the normal checked bag allowance (usually 50 pounds), it ships for the same price as a normal checked bag (generally $20-30 for a first bag).
PELOTON
Scicon is giving you one more reason to bring your bike along on that next adventure with the Road AeroComfort 3.0 TSA bike bag. This softshell bag makes packing and unpacking your bike unbelievably easy. No need to remove the pedals, handlebars, saddle or rear derailleur. The whole packing process can be done in under 15 minutes. But even though this bag isn't a hard case, its robust, steel Frame Defender base and pads for the toptube and handlebars protect your bike from even the most apathetic bag handler.
Packing a bike into this bag is a pretty simple process. One of our less mechanically inclined testers gave it an emphatic, "Greatest bag ever!"
Prepare the Bag
To get started, unzip the bag completely and remove the Gear Bag containing the extra pads and straps you will need to secure the bike.
Remove Wheels and Secure Dropouts
The AeroComfort 3.0 is compatible with both thru axles and quick releases and includes hardware for both. Place the rear dropout in first then adjust the front end to the proper length and secure the front. Don't forget to wrap the chain around the T-bar in the back for rear derailleur security. But if you want to be extra cautious, it doesn't take much time to remove a rear derailleur from a frame
Protect the Brakes
It's a good idea to place some of these plastic shims into your disc brake calipers to prevent the brake pads from getting stuck together in transit.
Put the Wheels in
There are two wheel pockets, one on each side of the bag. Deflate the tires and simply slide each wheel in.
Put on Bar and Toptube Padding
There are included pads for the toptube and handlebars for extra protection.
Fill Your Gear Bag
We like to fill the Gear Bag with a helmet, a pair of shoes and any tools needed to rebuild the bike. It's also a good idea to remember a battery charger if you have Di2 or eTap. You should also remove eTap batteries when traveling.
Secure the Straps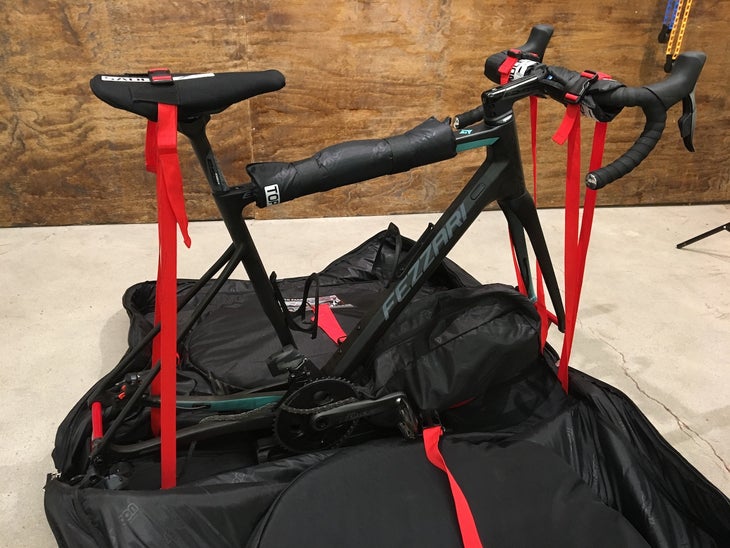 One of the best design features of this bag is the saddle cover which has slots for straps to slide through. It makes securing the rear end of the bike a breeze. The gear bag straps around the metal frame of the bike bag and slides in between the downtube and the fork. There is also room to include a small floor pump and water bottles.
Zip Up and Head to the Airport
Zip it up and you're ready to go. Scicon includes a TSA approved lock so that if (when) the TSA inspects your bag they don't have to break the lock. And trust us, you'll be seeing a lot of TSA bag inspection notices when you fly with a bike. Luckily this bag is easy enough to use that even they shouldn't mess anything up.
This bag is both thru axle and quick release compatible. And though it's marketed toward road bikes, we have been able to fit gravel bikes with 40c tires before. You may have to remove the handlebars, though, which tend to be wider or flared out on gravel bikes.
Our bag, with all straps and the Gear Bag included, weighs 20.15 pounds, meaning most any road bike should be well under airline baggage weight limits. And once you're at your destination, you can be ready to ride in just minutes. We can unpack a bike from this case in well under ten minutes.
$900; 20.15 pounds; sciconbags.com