Tech Update – Zipp reveals new carbon clincher 404 wheelset
As options in carbon clincher wheels continued to proliferate in the last few years, Zipp appeared to stay on the sidelines. No more.
Heading out the door? Read this article on the new Outside+ app available now on iOS devices for members! Download the app.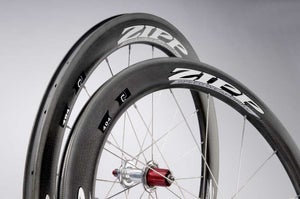 As options in carbon clincher wheels continued to proliferate in the last few years,  Zipp appeared to stay on the sidelines. The company cited brake heat buildup among other issues as a reason to avoid the growing crop of carbon clinchers, but customers still clamored for them. Never a company to let opportunity pass by, you had to figure Zipp would be up to something.
Well the wait is over – with the new 404 Carbon Clincher, Zipp officially jumps in the game.
The wheels have a new aerodynamic profile Zipp calls "Firecrest," which, like the 303, taps greater girth to achieve performance gains. The 404s also incorporate new materials technology developed in collaboration with Zipp's composite supplier. As a result, Zipp says the total weight for a pair of 404 Carbon Clinchers is 1557 grams.
The 404 Carbon Clincher is 58mm deep, uses rims manufactured in-house by Zipp, Sapim CX-Ray spokes (16 front/20 rear), and U.S.-made hubs with Swiss steel bearings. The wheels are available now from Zipp dealers for $2700 per wheelset.
In a press release, Zipp Technical Director Josh Poertner said, "This is a product that a lot of people have been waiting for, and we wanted to give them something unlike any other wheel on the market. We spent two years optimizing our carbon clincher technology and it's probably the biggest leap forward we've ever made."
Zipp tweaked existing rim profiles to come up with the new Firecrest shape. Always keen to maintain aerodynamics, the company made efforts to address the differences in airflow patterns between clincher tires and tubulars. As a result Zipp engineers developed the fully toroidal Firecrest profile with what they describe as "a complex set of high-radius curves that adjust the width of the rim from 25.5mmm at the braking track to 27.5mm at its widest point."
Zipp says the wider, less tapered version of its hybrid-toroidal profile used in previous clincher wheels improves the aerodynamics of the rear wheel as it rotates within the frame and makes the 404 Carbon Clincher the most aerodynamic clincher wheelset in its class. The company says the new rim shape also directs airflow so precisely that handling is noticeably improved. Additionally, the added rim width improves tire profile and cornering stability.
Because clincher tires are more susceptible than tubulars are to the effects of heat buildup from heavy braking on carbon surfaces, the 404 Carbon Clincher is manufactured with a heat-resistant resin based on the materials used in motorsports brake systems. Zipp says it offers more consistent braking performance and prevents spikes in tire pressure on long descents.