Head Shots: Singletrack.com Straps On Helmet Cams
The proliferation of helmet, or "wearable," cameras has never been greater, and there is one to fit just about every budget. Singletrack.com takes a look at the GoPro Hero, Epic Wide, the V.I.O. 1.5 and the ContourHD.
Heading out the door? Read this article on the new Outside+ app available now on iOS devices for members! Download the app.
By Tom LeCarner, John Kanaly (video), and Jamie Bate
Think back just a couple of years; you could probably count the number of people you knew on one hand who had helmet cameras — if you knew any at all.
Such novelties seemed reserved for the hardcore media junkies who could afford to drop hundreds, sometimes thousands, of dollars on a camera just for their bikes.
Not any more.
Even on local trails these days you can find riders cruising by with cameras mounted to their helmets, seatposts, handlebars, forks, or even across their chests to capture those moments that for so long seemed reserved for still photos and our memories.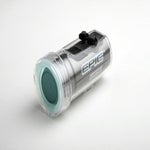 The proliferation of helmet, or "wearable," cameras has never been greater and there are literally dozens to choose from, and there is one to fit just about every budget.
Plug and Play
The crew at Singletrack.com tested a variety of what are also called POV (point-of-view) cameras that fall along the spectrum of price and technical specifications.
What we found in our testing is that all the cameras offer essentially plug-and-play operation. That means the cams can be taken out of their boxes, fired up, mounted, ridden, plugged into a computer and video played back without a degree in computer science.
That's not to say, however, there won't be moments of head-scratching or f-bomb dropping the first couple of times a camera is used. For example, a few of our crack staffers felt a bit like monkeys, um, making love to footballs when it came to getting the cameras securely mounted to helmets with the accompanying straps, bases, knobs and whatnot.
More often than not, we ended up using any means necessary to get the camera to fit securely and not jiggle around. That said, mounting gear for some cameras allows for a greater range of positions. For instance, the GoPro Hero offers a chest strap, the usages of which are limited only by one's imagination.
The RTFM Rule
As much as you'll want to rip the box open and take video of your rides, it will behoove you to employ the "RTFM rule" beforehand — Read The Freakin' Manual. While some of the cameras are more intuitive than others, if you RTFM it's less likely the various beeps, blinks, icons and whatnot will confuse and take the joy out of the killer ride just finished.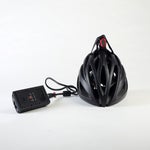 Speaking of intuitiveness, unless the camera you buy has built-in play back capabilities like the V.I.O., you will record your share of blue sky, treetops and blurry trail. That's because there is no way to see what's being recorded once you press the button until files are downloaded to your computer. In short, only experience will allow you to position your camera so that you capture all that trail glory, rather than clouds, in the frame.
All in all, once you've used any of the helmet cams enough, you'll be able to dial in the positions and settings to get the sweet video. And before you know it, you'll have joined the ranks of those hardcore media junkies.