Garmin Vector 3
This generation of Garmin's Vector power meter is far more reliable, bug-free, and data-rich than its predecessors.
Weight
316
Price
$1,000
Brand
Garmin
---
Heading out the door? Read this article on the new Outside+ app available now on iOS devices for members! Download the app.
Be gone, pedal pods! Garmin has finally released the Vector 3, a power meter pedal that looks like, well, a pedal.
This generation of the Vector power meter is far more reliable, bug-free, and data-rich than its predecessors. Best of all, installation is a breeze and it won't clutter your bike's aesthetics with a pod dangling from each axle.
When it comes to the fundamentals, the Vector 3 is competitive. Its 316-gram weight is heavier than a pair of Look Keo Blade Carbon pedals (220g), but that's to be expected, and the difference isn't that huge. Garmin claims the accuracy is within one percent, which is on par with competitors — Powertap claims +/-1.5 for its P1 power meter pedals. The Vector 3's battery life is claimed to be 120 hours — good, but not quite as long as some other meters, such as the Quarq DZero, which has a claimed battery life of 200 hours.
Beyond simple wattage measurement, the Vector 3 provides a number of interesting insights, when a Garmin head unit collects the data.
Using Garmin Connect, you can analyze pedal stroke to see when you power phase begins and ends. The pedals also measure where your foot is putting power down on the pedal platform, relative to its center. Garmin also has a novel method to determine what amount of time is spent standing and pedaling during a ride.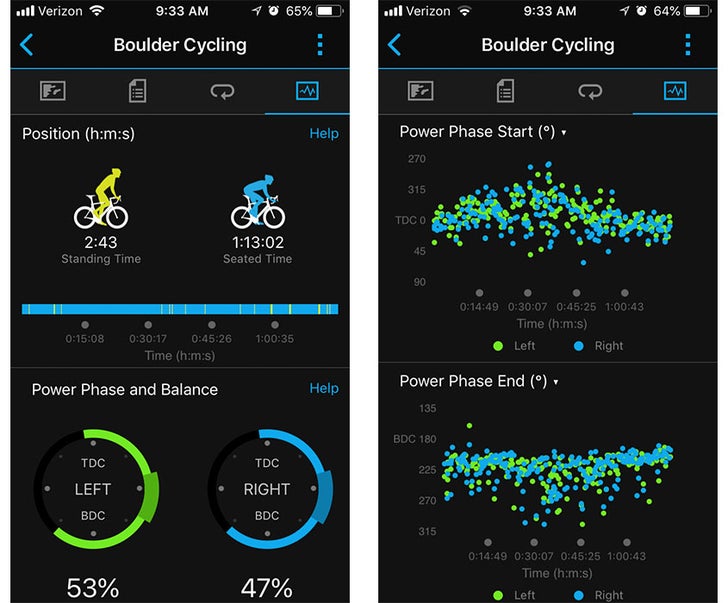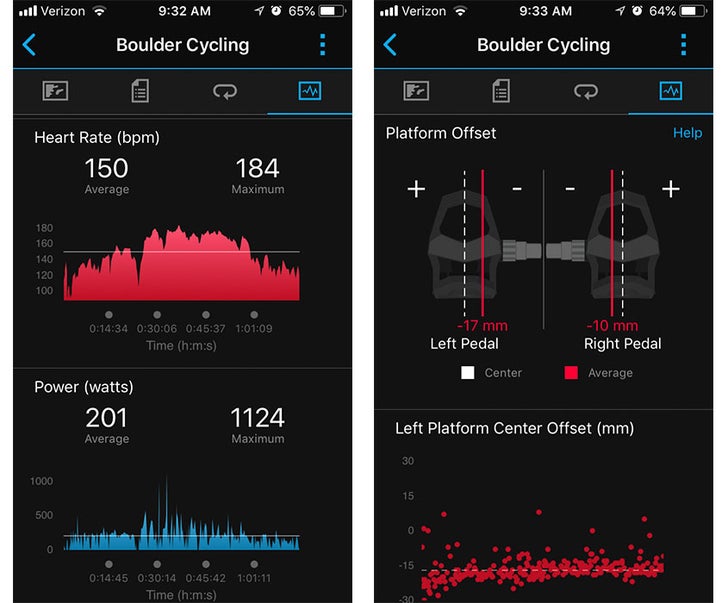 These metrics are interesting, but it's a little difficult to know what to do with them. If you have a good coach — or you're a smart physiologist — give us a ring, maybe you can lend some expertise.
If you ride with a different head unit, such as a Wahoo Elemnt Bolt (which worked perfectly well with the Vector 3, by the way), you can still access some of the more advanced data. You can look at all the fundamentals of power as well as right-left balance and cadence data.
Given that the Vector 3 can transmit Bluetooth as well as Ant+, it can easily connect to a smartphone via the Garmin Connect app to download firmware updates. Gone are the days of plugging in an ANT+ USB and fussing with the Vector Updater app on your laptop. Hallelujah!
While the Vector 3 was a set-it-and-forget-it component in the best way imaginable, there are a couple objections that might keep you from getting this specific power meter.
First, at $1,000, it isn't the least-expensive power meter on the market. A single-sided Stages crankarm, for example, starts at around $475 for a Gen 2 model. That said, if you dig data, having a dual-sided power meter is a must. In most cases, that means the price usually trends close to $1,000. Those Powertap P1 pedals, however, are a bit less at $800.
The second concern is that Garmin's power meter locks you into the Look Keo cleat standard. This is a very common cleat design — easy to find with a few different float options. However, if you're a devoted Speedplay rider or have an affinity for some other very specific pedal brand, it might not work to be forced to ride with a Look cleat.
Those two concerns aside, Garmin's Vector 3 is now a fixture on any bike we're riding, whether it's a personal rig or an itinerant test bike. There's really no excuse not to be capturing power on our daily rides.