Week in Tech: Kraftwerk Canyon, Focus e-bike, aero 3T
Focus unveils a roadie-friendly e-bike concept; 3T gets aero (again), Kraftwerk partners with Canyon, and new Lazer aero helmets.
Heading out the door? Read this article on the new Outside+ app available now on iOS devices for members! Download the app.
Here's the Week in Tech — all the gear news, tips, and announcements you need and none of the marketing gibberish you don't.
Limited-edition Kraftwerk Canyon Ultimate
As the Tour de France kicks off in Dusseldorf, Germany this weekend, Canyon Bicycles announced a very limited run of Ultimate CF SLX bikes that pay homage to German electronic band Kraftwerk. Twenty-one Canyon Ultimate bikes will get a custom black and white geometric paint scheme based on the band's iconic 1970s and 1980s aesthetic. Tony Martin will also roll down the start ramp Saturday on a Canyon Speedmax time trial bike with the same striking design. Kraftwerk founder Ralf Hutter is a passionate cycling fan and even named the band's 2003 album "Tour de France Soundtracks."
New Wilier endurance bike with suspension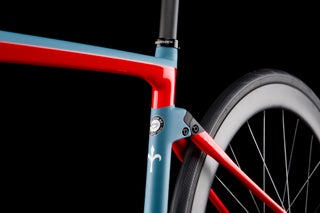 The Centro10NDR endurance race bike features Wilier's new Actiflex suspension system to help isolate road bumps from the rider. The linkage system sits at the seat stay-seat tube junction and can flex up to three millimeters over rough terrain. It can be tuned to different suspension levels by using three different weights of a technopolymer insert. The suspension system works in tandem with bike's chain stays that have built-in flex for compliance. The chain stay flex is primarily responsible for vibration damping while the Actiflex system controls both the compression and rebound of the flex for consistent movement. The Centro10NDR comes stock with disc brakes but can also run direct-mount rim brakes. With discs, the bike can fit up to 32mm tires and is available for $7,999 with Dura-Ace mechanical, $7,349 with Ultegra Di2, and $3,499 for the frameset only.
RacE-bike of the future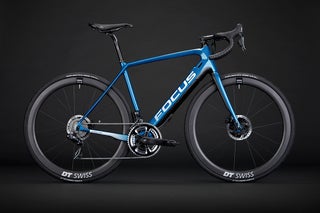 Focus Bikes takes a bold stand with its potential ProjectY e-bike platform, calling it the "race bike of the future." While it's still in the development phase, Focus is asking for feedback from the cycling community about its new pedal-assist platform. As worries of motorized cheating swirl through the pro peloton, Focus's e-bike is not meant to fool anyone. The obvious battery-laden down tube design and predicted 26-pound weight would quickly give it away in any race. The bike is one of the more traditional-looking e-bikes we've seen. Focus is shooting to offer a wide range of ProjectY bikes including different specs for different usages. Currently, the line-up is slated to offer a Dura-Ace Di2 race build, an adventure setup, and a build ready to take on adverse riding conditions. The ProjectY e-bike will assists riders with up to 400 watts of additional power or up to 15.5 miles per hour.
Adjustable vents on the Lazer Bullet aero road helmet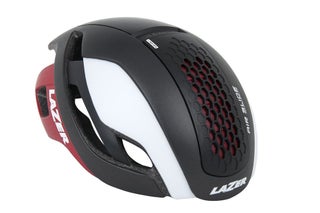 Lazer Helmets will present its new Bullet aero road helmet at stage 2 of the Tour de France in Germany. The Bullet features a large front vent called the Air Slide that can open or close depending on ventilation and aerodynamic needs. Hot day on the road? Keep the vents open. Going for a finish line sprint? Close that baby up. It weighs 315 grams (size small) and Lazer claims it can save up to seven watts at 45 kilometers per hour or 10 watts in a sprint. While André Greipel and his Lotto-Soudal squad will don the caps this weekend at the Tour, the Bullet will not be available for purchase until October.
New big-tire aero bike from 3T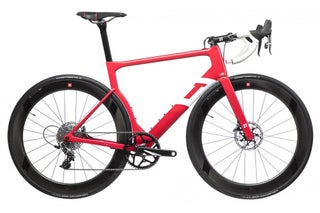 3T adds another unusual bike to its roster with the new Strada aero bike. Following in the footsteps of the Exploro aero gravel bike, the Strada combines two bike categories that don't typically blend: aero and comfort. It features an aerodynamically tuned frame with the company's Arcfoil tube shapes along with wider tire clearance for added comfort. The Strada also changes things up by using a 1x drivetrain to help clean up the turbulence created around the bottom bracket. 3T says a single-ring drivetrain reduces frontal area, creating space for unobstructed airflow and frees up the design of the seat tube to shield the rear wheel even better. The Strada will only be offered in a disc-brake configuration with no rim brake bikes on the horizon. It will be available starting in early August as a frameset only (frame, fork, seat post, headset) for $3,800.