Week in Tech: Win a Yeti SB6C, Campy disc wheels, and more
The latest news in the tech world includes a Yeti SB6C giveaway, disc brake wheels by Campy, and much more.
Heading out the door? Read this article on the new Outside+ app available now on iOS devices for members! Download the app.
Here's the Week in Tech — all the gear news, tips, and announcements you need and none of the marketing gibberish you don't.
Win a Yeti SB6C from Backcountry Lifeline
Backcountry Lifeline, a company that works to make mountain biking safer for racers, riders, and event organizers, announced a fundraising giveaway of over $10,000 worth of prizes, including a fully built Yeti SB6C. For a $10 donation, participants are eligible to win the Yeti as well as prizes from Fox, Maxxis, Evoc, Enve, Enduro MTB Training, and more.
Founded by four riders following a season marred by mountain bike tragedies across the nation, Backcountry Lifeline (BCLL) aims to provide racers and riders with the training, tools, and technology necessary to be more prepared and more knowledgeable for the types of emergency situations they may encounter in the backcountry. The group teaches First Aid, CPR, and Incident Command courses on days preceding various race events, and also hosts Wilderness First Aid Camps.
The giveaway will run through July 30 and donation entries may be made in person at Backcountry Lifeline events or online.
Campy finally releases first disc brake wheels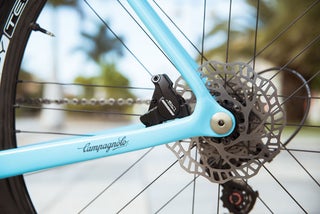 This spring, Campagnolo teased us with a sneak peak of its Disc Brake Project that we wrote about here. Now, we're finally seeing these wheels come to market with the official launch of the Zonda DB — Campy's first road disc brake-specific product. The Zonda DB enters a crowded wheel market. But Campy will rely on its history of high performance products to its loyal customer base. The Zonda DB's front and rear hubs are both compatible with thru axle and quick release.
Bianchi's Oltre XR4 Countervail bike hits the tarmac
Bianchi launched the new Oltre XR4 aero road bike, the company's fifth bike to feature its Countervail Carbon Vibration-Cancelling Technology. Bianchi claims this technology increases control at high speeds and reduces fatigue so riders will be able to hold an aero position longer. Developed for NASA, Countervail is a composite-material system that combines viscoelastic carbon material within a unique fiber to cancel road vibrations and reduce turbulences in the frame. The bike debuted at the 2016 Tour de France and is now ready to hit the consumer market.
New Fulcrum Racing Zero Competizione wheels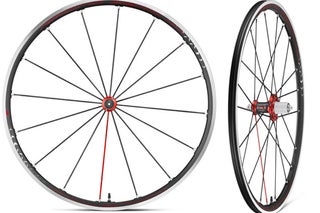 Fulcrum wheels released a new addition to its Zero family with the Racing Zero Competizione high-performance wheel. The new option builds on the well-established Zero platform and adds ceramic bearings, aluminum oversized spokes, oversized drive side flange, and race-optimized rim design. The new Competizione as well as Fulcrum's Zero and Zero Nite wheels will include completely redesigned C17 rim shapes that are wider and optimized for 25mm-28mm clincher tires.
Clement predicts a muddy cross season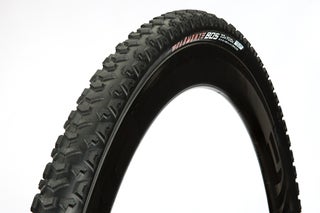 Clement released its new aggressive, mud-loving BOS 'cross tire — named in honor of Boston, Massachusetts, the original hotbed of North American cyclocross and home to some of the nastiest courses on the 'cross calendar. The BOS's aggressive tread features buttressed side knobs for added traction in super muddy corners and off-camber lines, while the center tread bites into the ground for sketchy descents. The 33mm tire is available in clincher and tubeless-ready varieties now, with a tubular version on its way later this fall. MSRP is expected to be $70 for the tubeless ready; $50 for the 120 tpi clincher; and $130 for the tubular.
Team Dimension Data and Zwift fundraising for Qhubeka
Zwift and Team Dimension Data are joining forces in a fundraising campaign to send 5,000 Buffalo Bikes to villages in need. Using Zwift's 3D cycling platform, users can unlock Dimension Data training kits and special edition bikes for their in-game avatars by donating to Qhubeka and supporting the team's mission to mobilize rural communities of South Africa with bicycles. The team training kits will cost $25 to unlock, while the team edition Cervélo S5 bikes will cost $183 — the cost required to provide, assemble, and deliver a Qhubeka Buffalo Bike to communities in need.
Easton partners with Race Face for new crankset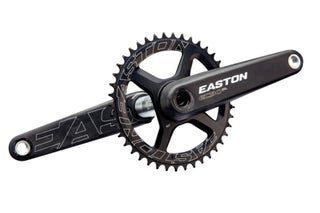 Race Face's featherweight carbon mountain bike crankset, the Next SL, provided the initial platform and drove design decisions for the new Easton EC90 SL. This cyclocross/gravel crank uses a direct-mount, single-ring system, eliminating the need for a front derailleur while reducing the bike's overall weight. The chainring has a narrow/wide tooth profile to optimize chain retention while reducing running noise and friction. Removing the crank bolt and Cinch lock ring allows you to quickly swap out chainrings or change from a single-ring setup to a double-ring.
The EC90 SL can also adapt to nearly all major BB standards using a 30mm spindle that's compatible with BB86, BSA 68MM, PF30 68MM, BB30 68MM, BBRight, and 386EVO. To support the use of its crankset on bicycles with all of these standards, Easton is also launching a new line of low-friction bottom brackets.
Wilier Cento 10 Air gets aerodynamic-upgrades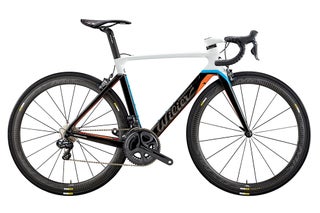 Wilier took a holistic approach to aerodynamics when designing its new Cento 10 Air aero road bike. Rather than focusing just on the front end of the bike, the frame was designed to maximize aerodynamic efficiency across the entire bike. The bike's tube profiles have been reshaped, departing from the traditional "thinner is better" school of thought. Using the company's Impact Front design, Wilier says the Cento 10 Air has 2.86 percent more frontal area than the Cento 1 Air, but has an 8 percent improved aerodynamic efficiency. The bike also uses an integrated bar and stem and wider fork legs to decrease wind turbulence. Wilier opted for direct mount brakes so the bike can accept 28mm tires without sacrificing aerodynamics.
The Cento 10 Air will be available in the United States in two complete build options ranging from $6,400 for an Ultegra Di2 built to $6,950 for the new Dura Ace 9100. Frameset options will also be available for $4,500 with the integrated bar and stem or $3,750 without.
Shimano's softer side: New soft goods for 2017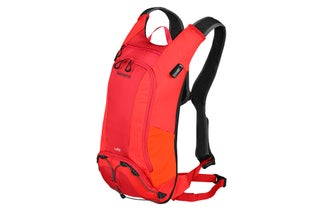 Shimano will offer several new updated and totally redesigned products in its performance riding apparel, bags and packs, and eyewear lines for 2017. Redesigned Unzen mountain bike trail packs will use Shimano's adjustable, form-fitting harness system. The Unzen 4 Enduro race pack was designed for all-mountain competition. It includes a full-face helmet holder, external bottle storage, goggle and helmet clip, and mesh back panel. Shimano's eyewear line includes seven cycling-specific designs that incorporate a variety of fits, lens options, and functions. Three new models will retail for under $75.