The Week in Tech: Argonaut disc, ENVE M Series 2.0, Chain drama
Here's the Week in Tech — all the gear news, tips, and announcements you need and none of the marketing gibberish you don't.
Heading out the door? Read this article on the new Outside+ app available now on iOS devices for members! Download the app.
Here's your Week in Tech — all the gear news you need and none of the marketing gibberish you don't.
Argonaut tailors to discs and wide tires
Oregon-based Argonaut Cycles has updated its road disc frame to better accommodate 30mm and 32mm tires. Each custom-built road disc frame features molded carbon dropouts designed to work with Mavic's Speed Release thru-axle. They've also redesigned the carbon lay-up throughout the frame to strengthen stress points specific to disc-equipped bikes. A "test flight" program in the San Francisco area allows potential customers to test the bike in any size before ordering one to their specifications.
Enve fights flats with M Series wheels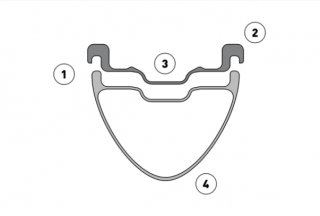 The first generation of Enve's M Series hit the scene in 2014. Off-road riding has changed since then, so Enve changed too. The updated M Series encompasses four main categories: cross-country, trail, enduro, and downhill. Each category gets an expanded rim width in order to accommodate high-volume tires. The trail and enduro wheels have three different rim width options (25, 30, and 35 millimeters internal). Furthermore, Enve claims its hookless bead system (and incorporated rim strip on enduro and downhill wheels) virtually eliminate pinch-flats. The new hookless bead rims Should allow riders to run lower air pressure while protecting against impacts that normally cause pinch flats. The cross-country wheelset (M525) and enduro wheelsets (M630, 635, 640) start at $2,800. The enduro wheelsets (M730, 735, 735E) and downhill wheelset (M930) start at $2,900.
Low-friction battle: CeramicSpeed responds to Muc-Off
When Muc-Off released its new NanoTube chain, the company claimed the NanoTube was 10 watts more efficient than CeramicSpeed's UFO chain. But  CeramicSpeed is fighting back with its own statement that says Muc-Off's testing does not account for the "slacking effect," which occurs when the chain "slacks" or slightly unloads as it snakes through the rear derailleur. Thus, CeramicSpeed contends Muc-Off's claims are misleading. Which chain is faster? We have yet to see any independent testing on either chain, but more competition is always a good thing.
Bike shop compressor in your pocket?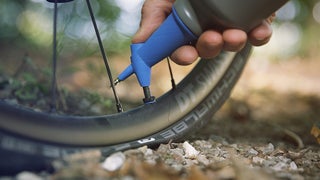 MilKit inflates tubeless tires in seconds while out on the trail. The company's first foray into the tubeless arena was a valve system that made refilling sealant quick and easy while allowing the tire to stay seated on the rim. The addition of the booster to MilKit's arsenal means you'll be able to reseal and reseat your tubeless tires anywhere. The mini-compressor can be charged with a normal tire pump. The booster recently met its crowdfunding goal and is ready to move forward with production.
Scott's new kicks have sights set on the racecourse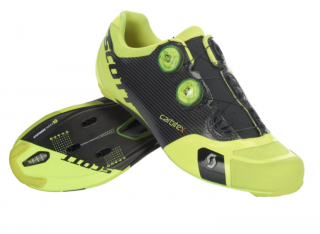 Scott's top-of-the-line carbon mountain and road shoes have gotten a makeover and Scott claims they have the best stiffness-to-weight ratio on the market. The new line includes two road models and two mountain bike models. For road, the lightweight RC SL has an eye on the racecourse, while the  RC Ultimate focuses more on all-day comfort and affordability. Scott partnered with Carbitex to create an upper that takes advantage of carbon's high-tensile strength and low elongation properties into a flexible form. This allows the upper to be both lightweight and stiff, while still conforming to the foot. A Boa closure system helps limit foot movement within the shoe. The RC SL road version weighs 245 grams, while the RC Ultimate is 10 grams heavier.
Say hi to the Mayans on Zwift
Zwift's Mayan Expansion adds new terrain to its platform. The Mayan course runs about eight miles, but it is only open to riders that have reached level 10 or higher. It is the first-time Zwift has released an expansion with an unlocking requirement. Fret not: Riders who haven't reached level 10 can access the Mayan Expansion by participating in an official Zwift event that utilizes the expansion.
Little Bellas has a grin for you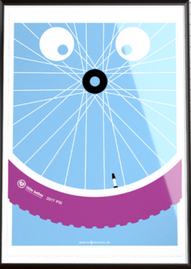 Little Bellas offers mentoring and empowerment to young girls through cycling. That puts a grin on our faces, so it's fitting that the organization is selling a limited-edition Smile for a Mile poster. You can pre-order the 18×24 print now; Little Bellas expects delivery to begin December 1. Only 100 prints will be sold for $20 each, so jump on this one quick.
Free stuff alert: Backcountry Lifeline
Backcountry Lifeline and the 139 Fund have teamed up to offer over $9,000 in giveaways, including the chance to win a Specialized Levo Comp 6Fattie e-bike. Backcountry Lifeline offers first-aid training for mountain bikers and race organizers. The nonprofit 139 Fund was founded in honor of Will Olson, who died in 2015 at the Big Mountain Enduro/Enduro World Series in Crested Butte, Colorado. A ticket for the giveaway is a $10 donation to the 139 Fund.