Week in Tech: Wooden bikes from whisky casks, helmet facts, and titanium
Renovo is making bikes out of recycled whiskey casks. Plus a new website for helmet safety, Ti bikes, and alloy wheels.
Heading out the door? Read this article on the new Outside+ app available now on iOS devices for members! Download the app.
Here's the Week in Tech — all the gear news, tips, and announcements you need and none of the marketing gibberish you don't.
Fine barrel-aged…bikes?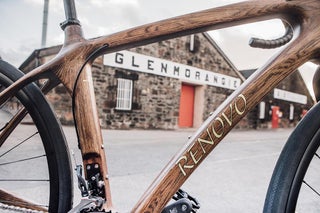 Renovo Hardwood Bicycles partnered with Glenmorangie, creators of Highland Single Malt Scotch Whiskies, to introduce wooden bikes made from used whisky casks. The Scottish distillery sends retired cask wood from its signature single malt offing, The Original, to Renovo after allowing the whisky to mature for a decade in the casks before bottling. Once the casks have been used just twice for whisky production, the staves (narrow wooden pieces that form the sides of the barrels) are shipped from Scotland to Renovo's workshop in Oregon where they are crafted into bicycles. Each bike is comprised of approximately 15 staves that reflect the curvature of the casks. A limited number of bikes will be available for $6,950.
Helmetfacts.com answers all your helmet questions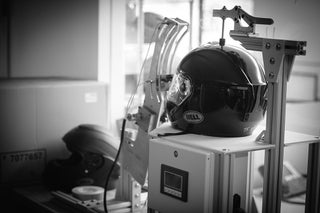 The Dome is an in-house lab that serves Bell and Giro, and it has launched a new website that will serve as an educational resource for consumers and helmet brands. Helmetfacts.org will include videos and a library of information regarding materials, standards, and testing protocols for helmet and head protection. Designed as an unbiased resource, the website can help reveal the difference between materials like expanded polypropylene and expanded polystyrene and address common questions like when a helmet should be replaced. It also provides information about the dozens of different standards and testing used across the globe for power sports, cycling, and snow sports.
Sage titanium 'cross bike gets a modern upgrade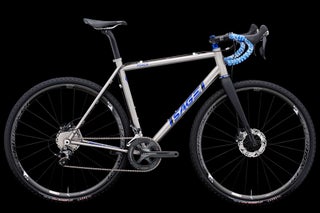 Sage Titanium Bicycles' 2018 PDXCX cyclocross bike is designed to tackle everything from mud to fast, technical courses, and it was first introduced in 2014. Updated for 2018, the bike draws inspiration from classic Belgian cyclocross bikes but offers modern upgrades like cable routing above the top tube to avoid contamination and preserve shifting performance. It also features a cable clip system that uses removable cable stops for external mechanical or stealth, internal Di2 routing. Designed for out-of-the-saddle, aggressive riding, the updated PDXCX bike has a lower bottom bracket and shorter chains stays as well as an oversized down tube for additional stiffness. The titanium frame is available for $2,900 or $3,652 for the frame, Enve fork, and Chris King headset and spacers. Full bikes are also available, ragingin in price depending on what components are selected.
Polished aluminum Sprint Wheels from Hunt
Hunt Wheels introduced its new polished aluminum Sprint Aero Wide wheels that combine fast-engagement Sprint Hubs with wide aero rims. Weighing 1,497 grams, the wheels aren't as light as a flashy carbon set, but the bling of the polished aluminum will certainly grab attention. The high polished aluminum rims are 31mm deep with a 19mm internal rim width and 24mm external width ideal for 25mm or 28mm tires. The rear wheel's Sprint Hub has 48 teeth on the ratchet ring and treble-tooth paws that provide 7.5-degree engagement for fast acceleration. They're built with Pillar (PSR) Xtra reinforced straight pull bladed spokes and will be available in November for just under $600.