Wrenched & Ridden bike reveiws: The iBike Dash turns an iPhone into a power-reading bike computer
Turn your iPhone or iPod Touch into an ANT+ power meter, or just a head unit.
Heading out the door? Read this article on the new Outside+ app available now on iOS devices for members! Download the app.
There are a few distinct philosophies when it comes to power meter head units. SRM takes a minimalist, black and white approach, providing only the basics. Specialized took 'size matters' to heart and hit their new offering with a shrink ray, making it the same size as a standard-issue cycling computer. CycleOps went for the data blitz, packing an enormous amount of information into their Joule. And Garmin's three wattage-reading GPS bike computers offer so many other features that wattage tracking, which they do quite competently, is almost incidental.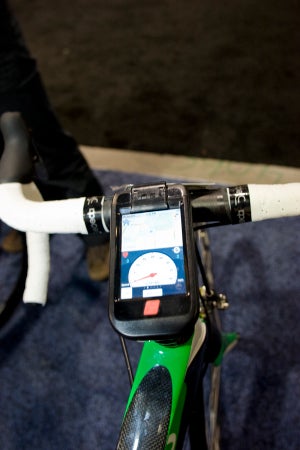 The iBike Dash took a completely different approach, using an already impressive piece of technology — an iPhone or iPod Touch — to present, upload, and analyze a ride in a unique and innovative way. Realistically, the sheer amount of data and the relative clunkyness of the unit itself won't be for everyone. But the Dash is perfect for those looking for the latest features packed into a high-quality 21st century display.
The Good
With the development of the Dash, iBike seems to have taken Apple's plug-and-play philosophy to heart. Plug an iPhone into the Dash's hard plastic Phone Booth case, which contains a rechargeable booster battery, accelerometer, barometer, and wind sensor, and it automatically prompts you to download the necessary app. Setup is easy, as your iPhone's touch screen walks you through the procedure.
The app itself is the heart of the Dash, and what makes it worth looking into. It is designed to take advantage of the iPhone's large touch screen, and includes a completely customizable display and a host of interesting, animated graphics.
Load up pre-built interval workouts (similar to those on a CompuTrainer), set the screen to show a map, or check out a graphical presentation of your workout, complete with colors around your heart rate and power numbers to quickly denote zones. Then when you're done, email the ride to yourself and check it out in Google Earth. In other words, geek out to your heart's content.
Due to the nature of the iBike's power measurement system, files include wind speed numbers in addition to the usual watts, heart rate, time, etc. Plotting wind speed against power makes efficiency and aerodynamic analysis possible. No other power meter can provide a visual representation of time spent pulling or drafting, riding into a headwind or with a tailwind.
iBike Dash
MSRP: $849 with power, $299 for just the head unit
The Scoop: ANT+ compatible head unit and power meter that utilizes iPhone or iPod Touch app platform
Pros: Numerous unique features, large iPhone display, easy setup
Cons: Large and clunky
More Info:www.iBikesports.com
In addition, though the Dash is built to be used with iBike's power measurement system, it is also ANT+ compatible so it can be used with any ANT+ power meter.
The Bad
The iBike's accuracy has come a long way in recent years, and the latest iteration gets a big step up with a new generation of sensors, certainly making the iBike competitive with other options over longer periods of time (it is also considerably cheaper). But a system that calculates power based on the forces working against a rider, rather than measuring the actual force being put into the bike, is inherently less accurate. Those seeking supreme levels of repeatability should look elsewhere.
Frankly, the looks aren't great either. The mount for the Dash replaces a headset top cap, jutting straight forward from the steerer tube. That means that anyone running a negative rise stem gets a big gap between their stem and the bottom of the Dash, making the already large and somewhat clunky unit stick out like a sore thumb — though the unit is certainly in no danger of falling off.