Technical FAQ: Saving that damaged carbon frame
A cracked or broken carbon frame can be fixed. Lennard Zinn checks in with Craig Calfee's repair shop.
Heading out the door? Read this article on the new Outside+ app available now on iOS devices for members! Download the app.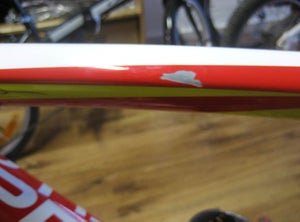 Dear Lennard,
I had a bad crash last week where the handlebar swung around and hit the top tube of my Pinarello. Do you have any idea, looking at the pictures, if it can be fixed?
Would x-ray-ing the frame show if the damage is serious or not? Do you have any other ideas on how I can assess the damage and if the frame is safe to ride?
Johnny
Dear Johnny,
Absolutely that can be fixed. And I recommend against riding it without repairing it. There is no question that you now have a weak spot there, so why tempt fate?
I was just at Craig Calfee's shop in Watsonville, California, last week and I am still shaking my head in amazement at the incredible repair work they were doing there on dozens of carbon frames that most people would assume were totaled. Calfee even is the authorized repair service for a number of brands.
I saw Calfee technicians repairing frames that had seatstays that had been completely severed, and they looked good as new when done. In the dozens and dozens of frames of all makes that were in the shop for repair, I saw plenty that had minor cracks as well as ones that were cracked through all of the layers so that, for instance, a big section of the down tube was gushy and would push in with light thumb pressure. And all of these they could fix.
If your tube is cracked all of the way through all of the layers, then that entire section must be sanded, all of the way through, before the patch is applied, whereas more surface damage requires a larger surface patch. And Calfee has sent repaired tubes out for testing, comparing them with new tubes, and found that the repaired tube is at least as strong and fatigue-resistant as the original tube.
Most amazingly, when the repair is done, it looks like a new frame again. Calfee has an amazing painter who can match all of the painting detail on even a frame like yours with a complex paint job. The accompanying photos I took of a recently repaired Trek Madone illustrate what I'm talking about.
This frame had a large crack at the letters "R" and "E" on the main down tube decal. Now, if you look closely, you can see that after the repair, the black area of the down tube looks slightly different, showing some woven carbon fibers under the clear coat. And the pink stripe on close inspection is a slightly lighter color and more metallic, but at a distance, nobody would guess that this frame has had a major repair done on it.
The only question for you is cost. The minimum repair price is $200 ($50 to do an inspection and price quote that is credited toward the repair), whereas a crack penetrating all of the layers carries a $300 repair price. Of course, paint will cost you extra.
Heather Ross manages the Calfee carbon repair department. Contact her or email the repair shop directly for estimates and lead times.
Lennard
Got some mountain bike tech questions? Check out Lennard's FAQ on Singletrack.com

---
Follow Lennard on Twitter at www.twitter.com/lennardzinn
---
Technical writer Lennard Zinn is a frame builder (www.zinncycles.com), a former U.S. national team rider and author of numerous books on bikes and bike maintenance including the pair of successful maintenance guides "Zinn and the Art of Mountain Bike Maintenance" – now available also on DVD, and "Zinn and the Art of Road Bike Maintenance," as well as "Zinn and the Art of Triathlon Bikes" and "Zinn's Cycling Primer: Maintenance Tips and Skill Building for Cyclists."Zinn's regular column is devoted to addressing readers' technical questions about bikes, their care and feeding and how we as riders can use them as comfortably and efficiently as possible. Readers can send brief technical questions directly to Zinn. Zinn's column appears here each Tuesday.