Technical FAQ with Lennard Zinn: Cordless pumps, hanging bikes and more on road tubeless
Lennard takes questions on electric tire pumps, hanging bikes form hooks and gets more feedback on road tubeless
Heading out the door? Read this article on the new Outside+ app available now on iOS devices for members! Download the app.
Q. Dear Lennard,
In my workshop in my basement, I hang all my bikes by a wheel with a traditional wheel hook.
I recently purchased a 2011 GT GTR Team with Mavic Cosmic Carbon SL wheels.  I want to know if by hanging the bike off one of the rims will I incur any potential damage to the carbon, especially since it seems the carbon is nothing more than a fairing?
— Brent

A.Dear Brent,
I don't think it's a good idea, although I do it myself and haven't had any problems. I just don't have the space in my garage to store my bikes any other way. I do put the hook right against a spoke, so the rim is most supported there, and if it's a soft rim cover, I cut a piece of closed-cell foam to fit as a pad.
— Lennard

Q. Dear Lennard,
While at the Allegheny Gran Fondo last month, I noticed the organizer of the event had a cordless handheld air pump. It looked exactly like a cordless drill, but had a tube and a Presta chuck on the end. VERY convenient for group rides and quick topping off. I have looked at various websites, but haven't found one yet. Are you familiar with these tools and where can they be found?
— WW

A. Dear WW,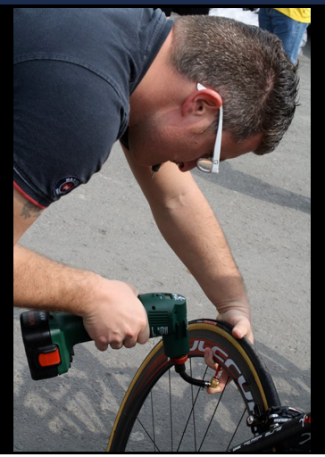 Craftsman makes one. Reviews seem to be mixed.
— Lennard

Q. Dear Lennard,
This email was prompted by an email sent to you by Chris and recently printed in your column on VeloNews, wherein he stated that the automotive industry has found that tires do not improve with age. Not mentioned is the issue of vulcanizing.  All automotive/truck/heavy truck tires are vulcanized in a process using lots of heat.  The better quality tubulars of yesteryear were cold-vulcanized, a process that affected the rubber very differently than hot vulcanizing.  And, if I'm not mistaken, the two processes use rubber prepped specifically for that process.
I'm quite sure that the best-quality tubulars today are still cold-vulcanized.
— Bill

Q. Dear Lennard,
Just a quick note on Rob's reply on your column regarding my published my email.
If you look at max applicable pressures on tubeless setups, Rob's correct: you can go to around 5bars/75psi. And there's no need to look for SUV tires (which are anyway NOT mounted on the rim by hand or with plastic levers…); also our MTB tubeless tires have a similar max pressure. But two comments have to be done on that: performance at such high pressure aren't ideal, and by performance I mean cycling-wise (rolling resistance, grip, comfort), not SUV-wise (which is to sustain the load of full cargo without incurring frequent punctures). Secondly, 75/80psi isn't the pressure road bikes are commonly used at. Joe in the answer right below talks very nicely on some features of the tubeless, speaking of a fantastic cornering behavior: do you think you can have it a 5bars when you enter full speed into a corner?
The point, as I said in my first email, is not about the tubeless concept, which is proven to be higher performing than a clincher setup (by the automotive industry first), the problem is the real tire you have to compromise to in order to have it mountable and performing and safe at the same time.
Equip all bike shops with hydraulic tools like the ones automotive shops use to mount tubeless tires, and we'd all be fine with road tubeless.
— Samuele Bressan
Product Manager & Designer
Vittoria
Q. Dear Lennard,
A recent letter from a fellow racing on a team sponsoring tubeless Stan wheel systems was very misleading. Despite the disclaimer his touting of this system was totally non-objective.
Could you report on whatever actual objective evaluations of safety frequency of blowouts cornering adhesion etc there might be comparing tubular clincher and tubeless?
Thank you from a long time loyal fan of yours.
— Bernard

A. Dear Bernard,
As of yet, I have never heard of a tubeless road tire blowing off of a rim that was intended for tubeless tires (or actually off of any rim). I have seen non-tubeless tires set up as tubeless blow off of rims.
Tire cuts happen with any of them.
We all know of rolled tubulars not glued well.
Clinchers don't tend to come off, either.
As for objective evaluations — real studies of it — on the various types of tires, I know of none that have been done.
— Lennard

Q. Dear Lennard,
You've had quite a few mentions of tubeless technology recently but there's one thing I just can't shake as it applies to tubeless on the road. Everyone touts lower pressures as a huge advantage but it would seem to me that running low pressures on a road tubeless setup is basically asking for catastrophic failure.
To explain … I ride downhill quite frequently and run tubeless on all my dh/fr bikes using wire-beaded heavy ply DH tires and Caffe Latex sealant, though I used Stan's previously with similar or less success. I've used both dedicated UST tires and a variety of non-UST dh tires, all with similar results … In any extreme riding below roughly 32-34 psi on a high volume 2.4" tire will almost surely 'burp' air from the side and leave me with a significant pressure loss by the end of a few-minute-long race run.
I have even had issues on longer runs where I've begun with too little pressure and lost enough on the run that the tire came completely off the bead. Running just a couple extra PSI and keeping everything over 36psi solves the problem completely, enough to indicate that pressure is a huge factor in securing the tire. Just the same, it seems that doing 60+mph screaming into a decreasing radius turn at -10% on asphalt would be a really bad time to potentially get Beloki'd by a loss of pressure.
Is there anything specifically done with road tubeless tires that better ensures they're not apt to burp air or unseat from the bead? Or is it just that the with road tires being so high pressure in comparison to larger volume tires, the volume of air required to support a person would never result in a pressure low enough to be cause for concern on the road?
— Troy

A.Dear Troy,
At road pressures and with those tight beads, I cannot imagine ever burping any air. I've never seen it happen. With tubeless cyclocross tires (much lower pressure and perhaps double the air volume), I've seen (and heard) it happen often.
— Lennard

Q. Dear Lennard,
Here in Tucson we have lots of old asphalt and chip seal so I tried tubeless this spring looking for improved ride quality.  I mounted Hutchinson Fusion 3's on my training wheels using a Stan's kit and have logged about 1,500 miles on them. The ride quality is the big payoff, much improved with great vibration dampening and good handling.  I have had several punctures that the sealant has handled promptly but one that required a tire patch, although the pressure did hold just enough to get me home.
Compared to the Vredestein TriComps and Maxxis clinchers that I have ridden, the Fusion 3's are easier to puncture, I would speculate due to a softer compound rubber and perhaps the weave and thread count.
In July I rode l'Etape du Tour from Modane to l'Alpe d'Huez and treated myself to some DT Swiss Tricons, which are tubeless ready. On these I mounted Hutchinson Atom Tubeless and found this setup to be light, quick, and handle beautifully. The narrower tire, rounded profile, and soft compound makes for great cornering; descending Galibier was a blast. But after getting back to home roads I punctured the Atom rear and the sealant once again got me home but the tire required a patch. The rubber compound is noticeably softer than the Fusion 3 and far softer than the average clincher.  In fact on the initial mounting of the tire I had to be careful not to rip the bead with my tire lever.
So while I remain a fan of the tubeless setup I would like to see more practical tires (I have not tried Hutchinson Intensive or the new Maxxis Padrone) as the Hutchinson's seem much less resistant to punctures than standard clinchers. Perhaps the coming Giant products will bring a useful option.
As a point of reference regarding the debate over tubeless applications other than cycling I would note that an automotive tubeless tire is also mounted on a one-piece wheel using a "tire lever machine" that forces the bead into place.  I think it is hard to say how much force is required to stretch the tire enough to get it over the rim, but I would guess that the forces are similar. A better question is the level of manufacturing standards, automotive tires and wheels are rather tightly specified. I have had widely varying experiences mounting tires on wheels, some you can almost put on with your fingers and some are nearly impossible.  And that is before the tire stretches.
One last example of high-pressure tubeless tires are mounted on my trusty Boeing 727, which are inflated with nitrogen to 170 psi.  But they actually support the point of Mr. Bressan since these tires are mounted on two-piece rims, which are bolted together with the tire already in place, since the tire is manufactured such that it cannot be allowed to stretch to the point of slipping over the rim of the wheel.  Which I find comforting when hitting the runway in a 150,000-pound machine traveling at 160mph.
Thanks again for helping me have fun on my bike.
— Jon

Q. Dear Lennard,
I've followed your column for many years and have read about your fondness for tubeless tires. I recently purchased a pair of Hutchinson Atom tubeless tires.  After mounting the first tire, I was very unhappy with the width of this tire.  It is labeled 700-23 but only measures 19mm.  It is actually narrower than my rim at 20mm.  I'm 6'4" and weigh 185lb and a tire this small simply won't work for me. I consider a 23mm to be minimum size and prefer a 25mm.  Sooo … are there any suitable tires out there?
— Tom

A.Dear Tom,
The Hutchinson Intensives are labeled 700 X 25, and I measure them at 23 — same as the Fusion 3. I know of no other bigger choices.
— Lennard