Technical FAQ with Lennard Zinn: Vibration relief, wide-range gearing options and nano health
Vibration relief, wide-range gearing options and nano health
Heading out the door? Read this article on the new Outside+ app available now on iOS devices for members! Download the app.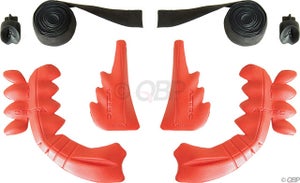 Q. Dear Lennard,
I have rheumatoid arthritis that mostly settles in my hands and wrists and sometimes I really suffer from a long ride or rough roads. Especially when the weather gets cold and damp. Where can I get the best relief (vibration damping / shock absorption) for my hands — frame? bars? forks? wheels? big fluffy padded bar tape? Funky dampeners in the bar plugs?
I don't race, but I do enjoy the occasional fast century. And we have some really terrific hills to climb here in Northern California.
My current ride is a Pinarello F4:13 with Campy Khamsin wheels, a Cinelli anatomic aluminum bar and Logo stem. I love the bike, so am not really interested in major changes, but I'd happily spend a reasonable sum to get some relief. I'm a fairly big guy — 6-foot-1, 180 lbs. I'm running on 23mm tires right now but am thinking I'll go to 25mm when these wear out.
— Peter
A. Dear Peter,
Your first line of suspension and vibration damping on a road bike is your tires and tire pressure. I would use at least 25mm tires, maybe 28mm if your bike will fit them. Run them at lower pressures than you have been with 23mm. With your weight, you can probably get away with 70psi on 28mm rear tires and 80psi on 25mm, and a bit less on the front.
If you were to run a lower-profile rims, you could bet a bit more compliance (the Khamsins are medium-profile), and while you're at it, you could get tubeless-compatible rims; this would allow you to use a tubeless road clincher tire, which you can run at lower pressures than clinchers with tubes. Especially if you can't fit a 28mm tire into your bike, the 25mm tubeless option would benefit you.
Gel stuff that goes under the handlebar tape is also a great idea. Lots of companies offer it; I've used Fizik, Specialized, some others I can't recall…
These are good places to start.
— Lennard
Q. Dear Lennard,
I have two main bikes, a Tesch with 10-speed Chorus and 13-29 cassette and a Giant with 10-speed Ultegra with a 11-28 cassette. Both have a compact crankset. I find the 11-28 range to be far more user friendly requiring a 1/3 less shifting particularly on the front. I have White hubs on the Tesch. Is there a reasonable way to get an 11-28 range on the Tesch in place of the 13-29?
— Don
A.Dear Don,
You can send in a Shimano 11-28 cogset to Wheels Mfg. to get it converted to a Campagnolo-compatible one.
— Lennard
Q.Dear Lennard,
Sram's new Apex group sounds very alluring in that you get the low gearing of a triple chainring without a triple chainring. Can I achieve similar results mixing Shimano road/mtb components? For example, can I combine 105 double shifters (10-speed) with an XT Dyna-Sys (10-speed) cassette (11-32) and rear derailleur (RD-M733-GS)? If so, what 10-speed chain is compatible, 105 or XT?
— Gregg
A. Dear Gregg,
You cannot use the Shimano 10-speed MTB rear derailleur; Shimano's 10-speed road and mountain derailleurs and shifters are not cross-compatible. But you can use the combination you describe substituting a 9-speed Shimano MTB rear derailleur, and it will work fine.
As an example, for a customer who wanted an extremely wide gear range, we recently set up one of our custom coupled titanium road frames with a 64/104mm BCD mountain crank with 20-36-48 9-speed mountain chainrings (the 20T was a titanium ActionTec ring), Ultegra STI 10-speed triple road levers and triple front derailleur, an XTR 9-speed rear derailleur, an 11-36 SRAM XX cogset, and a SRAM 10-speed chain. It's working great, and the customer has already ridden in Europe and the Caribbean with it and is very happy with the shifting. It was sensitive to the chain selection, however. The shifting was sluggish with a Wippermann 10-speed chain, but it was just fine, front and rear, with the SRAM chain.
— Lennard
RE: Breathing carbon dust:
Dear Lennard,
I have added a couple of links that might or might not shed light on the safety of breathing in nanomaterials. The CDC and OSHA have some information about the potential hazard of breathing in nanoparticles. They are looking into regulations concerning nanomaterials in the work place. It is a developing field as we know. The regulations are usually reactive to a problem and not proactive so there are a lot of folks just like Daniel out in the workplaces.
CDC website
OSHA website

My suggestion would be for Daniel to contact the company's Industrial Hygienist to assess the situation.
— Tim
Q. Dear Lennard,
I suspect others may also point you to a recently broadcast show on PBS Science Now – Making Stuff Smaller.
In the program the show discusses carbon nano tubes and how they are being used in many different applications to make things smaller; however in the show they do mention there are unknown potential health risks. If I recall the program correctly, they mention the carbon nano tubes (in some cases depending on the shape, length and width of the nano tube) can be very similar to asbestos fibres and they were extrapolating they may have similar health impacts. (Basically along the lines of the statements by Mr Richard Matthews – the Cervelo engineer)
Watch the full episode. See more NOVA.
— David

Q. Dear Lennard,
Here are a couple of research reports on carbon and health concerns:
Science Daily also published an article on the similarity between carbon nanotubes and asbestos.
— Michael