The science of being seen
At the end of the day (or during the middle of the day) your lights just might be the most important component on your bike.
Heading out the door? Read this article on the new Outside+ app available now on iOS devices for members! Download the app.
You've likely never heard of Darlene Edewaard. But if you even occasionally ride a bike on open roads with cars, she just might save your life. Edewaard is a Ph.D. candidate in the Human Factors Psychology program at South Carolina's Clemson University and specializes in studying vision science and then applying that knowledge to transportation safety.
"Specifically, I study ways to enhance pedestrian and bicyclist conspicuity on roadways so that drivers can see them from farther distances and avoid collisions," explained Edewaard.
The reason you're reading about her now is that a few years back, after Trek president John Burke became upset about the increasing number of cyclists being injured or killed by motor vehicles, his company reached out to Clemson, hoping to find someone doing the exact type of research Edewaard specializes in.
"Trek visited our lab in February of 2015, and it was clear we all share the same goal — to find ways to save lives," recalled Edewaard."The rest fell into place."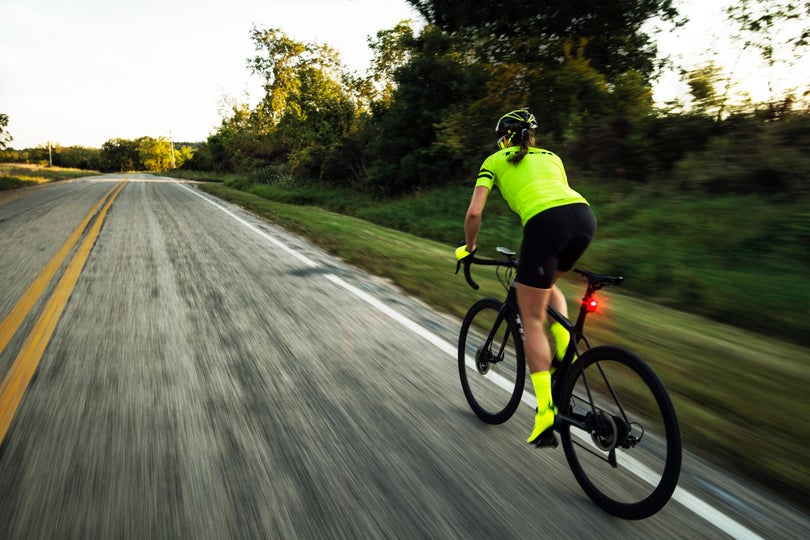 Indeed, since that serendipitous meeting, Edewaard's lab has conducted a series of experiments in collaboration with Trek to better understand how bicyclists can better be seen by drivers both during daytime and nighttime via the use of lights and high-visibility apparel.
The majority of the research was done using closed-road and open-road procedures to conduct experiments. For closed-road methods, they had participants (who were undergraduate students at Clemson University) sit in a stationary vehicle parked at fixed distances away from an array of stationary bicyclists who displayed various configurations of lights or apparel being assessed. The participants were then instructed to look at each cyclist and asses how visible they were.
During open-road testing, the researchers typically drove participants around a designated route, and the participants were instructed to press a button on a keypad when they saw a cyclist who would display various configurations of either lights or apparel.
From those button presses, Edewaard and her team obtained and analyzed the distances from the test vehicle to the cyclist at the moment of recognition. This allowed them to determine the average distances that a cyclist could be seen by drivers while using various visibility aids such as lights and high contrast or reflective clothing.
Generally speaking, that research showed that cyclists drastically overestimate the distance at which they are seen by motorists, and unless they are actively doing something to increase their detectability (be it with lights and/or visibility-enhancing clothing), they may not be seen at all. That's a scary thought, especially for anyone who's ever headed out for a spin at dawn or dusk when available light is low.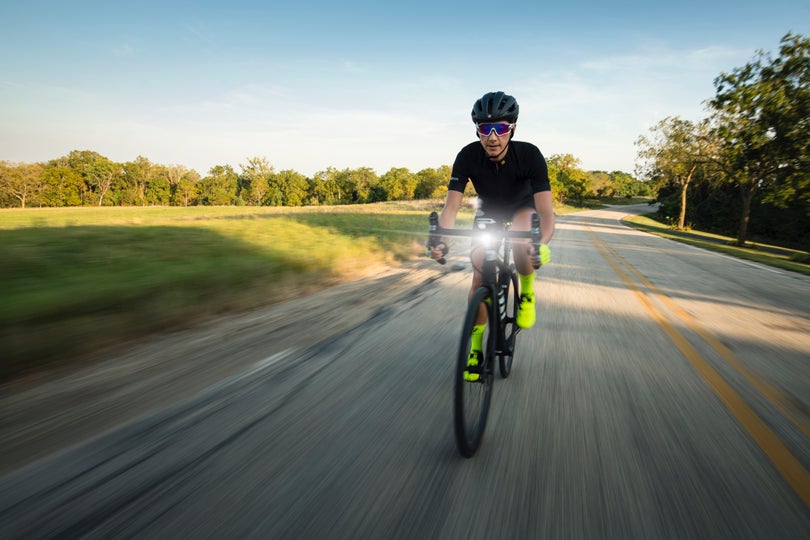 That initial research played a significant role in the development of Trek's ABCs of Awareness protocol, which stands for Always on, Biomotion, and Contrast.
"Using daytime running lights is a great way to be noticed, if you are going to do one thing to make yourself more visible, ride with a daytime running light," explained Trek's Alex Applegate. "But we also found is that a combination of daytime running lights, highlighting your body's moving parts (a.k.a. biomotion), and choosing gear that contrasts with the surrounding environment can yield even greater visibility."
Trek and its component/apparel brand Bontrager used this information to create an initial line of products (lights, clothing, and even shoes), all of it with the end goal of making cyclists safer. Now, three years later, they've launched a second generation of lights, including an all-new Flare RT, an update to the original daytime running Flare R light. The new light is 36% smaller (weighing only 23 grams), but also 30% more powerful, while also featuring run times that are up to 20% longer.
More importantly, thanks in part to the collaborative research with Edewaard and her team, the Bontrager Flare RT uses a more intense interruptive flash pattern that is visible from up to two kilometers away during the day.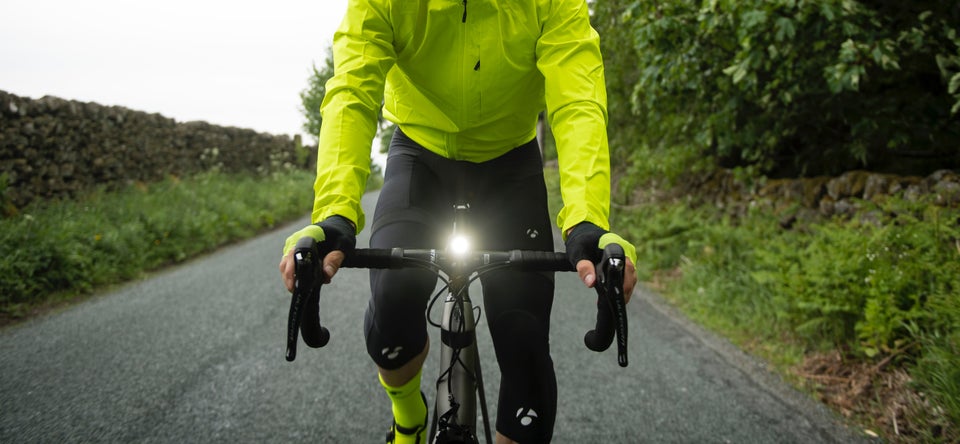 Also new are the Ion 200 RT and Ion Pro RT, which are forward-facing daytime running lights that are visible from two kilometers in day flash settings, and have to-see steady settings for nighttime riding.
"We took what we learned from the research we did with Clemson and translated it directly into better products," said Applegate. "For example, the interruptive flash pattern of the Flare RT has a more powerful 90 Lumen initial pop (versus 65 Lumen before), which we found did a better job of alerting motorists that there's a cyclist up the road."
Read the abstract of the study conducted at Clemson >>
And just in case you are skeptical, research has shown a whopping 270% increase in driver recognition of a cyclist with a flashing rear light compared to without, while another study revealed a 33% decrease in accidents for cyclists equipped with daytime running lights.
"It amazes me that some cyclists are surprised when I advise them to use bike lights during the day," said Edewaard. "They seem to think that the amount of ambient illumination provided in daylight is sufficient, meaning there is enough contrast between themselves and their surroundings to help drivers to see them from safe distances. However, bike lights can help drivers see bicyclists from much farther distances, even during daytime."
The reason is that while during the day there is more contrast between an object and its surroundings than there is at night, bike lights can maximize the contrast between the light and the light's surroundings. Cyclists who use lights increase their chances that approaching drivers would see them from distances that are far away enough that the drivers could safely react to avoid collisions."
Another misconception revolves around the specifications of bike lights. Not all bike lights are created equal, and what you see in the store may not be representative of what drivers see out on the road. Indeed, a light may look impressive up close in the store, but from distance, it may not even be visible because the beam is scattered instead of focused. Edewaard's advice to cyclists purchasing bike lights is to make sure that the light is visible from far distances before pulling out their credit card. A true daytime running light will have specific flash patterns designed to capture attention along with a focused beam that is visible and noticeable from far enough away for drivers to see the light, recognize the cyclist and react safely.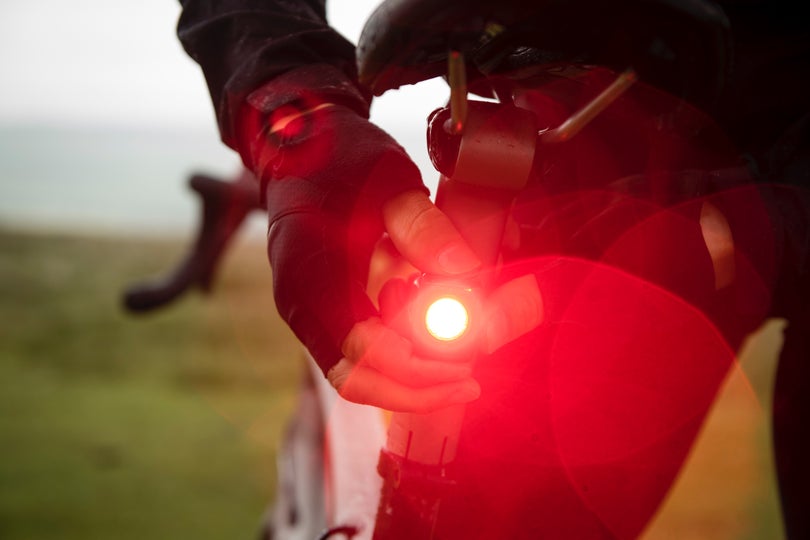 Edewaard also emphasized the importance of light placement, noting that during research they had the four bicyclists display different placement manipulations of taillights. One had a seatpost light turned off. Another had a steady helmet light. A third had a steady seat post light, and the last rider had half intensity steady lights mounted to each ankle.
The results showed that the rider with the ankle lights was significantly more conspicuous than the other three riders even though the intensity of the ankle lights were half that of the seatpost and helmet lights. This was further evidence to the importance of biomotion, which is essentially the idea that humans have increased perceptual sensitivity to the movement of other human beings.
All that said, bicyclists should use taillights while riding both during the daytime and nighttime, and whenever possible emphasize their movement with lights or high visibility material (fluorescent during the daytime and retroreflective at night) to help drivers see them from safe distances.
Bontrager's new lights are certainly a useful tool to achieve that end, and in an effort to make its daytime running lights easier to use, they've added ANT+ and Bluetooth communication to allow them to connect with certain Garmin Edge units to automatically power on at the start of a ride. The connection also provides control of the lights and shows real-time battery life through the Bontrager Light Control App that is downloadable at Garmin Connect IQ. Because at the end of the day (or during the middle of the day) your lights just might be the most important component on your bike.