Review: Viathon R.1 Road Bike
Viathon ticks almost all the high-end boxes for a bike with a lower pricepoint. But does it have enough soul and personality to compete with more established brands offering quality bikes at a similarly low price?
Size Reviewed
56cm
Price
$5
Brand
Viathon
---
Heading out the door? Read this article on the new Outside+ app available now on iOS devices for members! Download the app.
When assessing the new Viathon R.1 road bike, I first chose to judge the proverbial book by its cover. The bike's graphics are understated, which is fitting to the overall narrative of this bike. It's difficult to separate the Viathon from its business connection to the retail giant Walmart. The graphics leave much to be desired, and the brand name lacks some enthusiasm. Some bikes immediately bear their souls to its rider. The R.1 comes off a bit aloof.
Like books, we cannot judge a bicycle solely on its cover—in this case the graphics and business connection. Thus, I gave the Viathon a more thorough riding test. Viathon's goals seem to be crystal clear with the R.1: Build a race-ready road bike for a high-end audience without the high-end price tag. In that sense, Viathon hit the nail on the head. The Shimano Dura Ace build with hydraulic disc brakes costs $5,850, and the Ultegra disc brake model is $3,575.
The question is, what sets it apart from other high-end bikes at this pricepoint or higher, if anything?
The answer? Not a whole lot. But that's not necessarily a bad thing.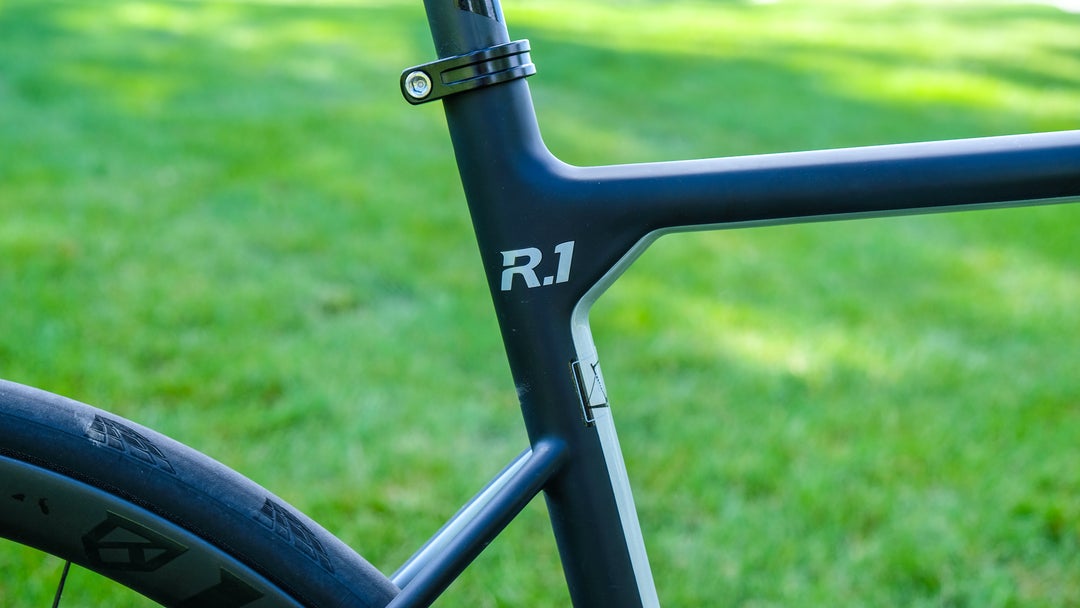 Here's what it felt like to interact with the R.1. The Shimano Dura-Ace R9120 groupset, with mechanical shifters and hydraulic disc brakes, is the same you'd get on many high-end bikes out there, which means you're judging this bike based on the frame and fork, and how those two components interact with the build. So we're considering lateral stiffness, vertical compliance, weight, ride feel, cornering stability, and even the finish.
The R.1 feels like a high-end bike, except for one minor nitpick: While most high-end race bikes have taken great efforts to hide all cables, the R.1 has all four cables exposed around the cockpit. They enter the frame at the downtube, so this is an internally routed frame, but the handlebar and stem are fairly traditional in the sense that there's no internal routing to get rid of those round tube shapes at the front of the bike. You could, of course, upgrade your cockpit to achieve that svelte, hidden-cable look, but you won't get it with the stock model.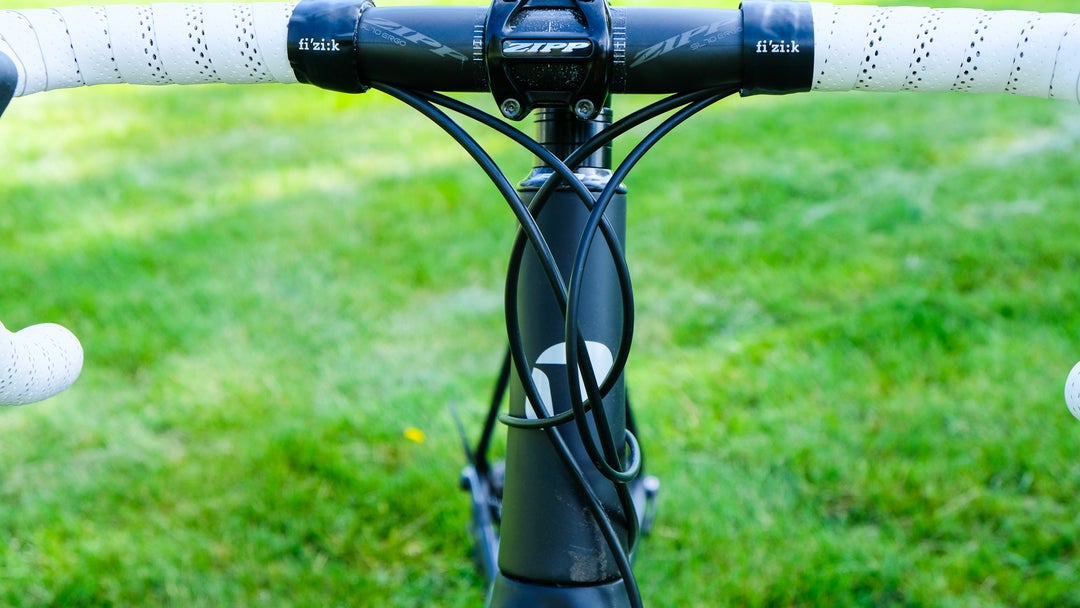 Okay, aside from that, yes, you're riding a high-end race bike, so you generally know what to expect. But there's nuance to this ride, so if you're more discerning than that and are after more than just a good bike at a decent price, read on. This bike has character, like all bikes do. It's wise to see if that character fits with yours.
For starters, despite its slim tube shape and dropped seat stays, the R.1 is definitely less compliant than expected. It bordered on jarring on frost-heaved pavement, especially in the front end.
Steering responsiveness feels more akin to an endurance or aero bike than that of an all-around bike. It's possible that was done on purpose to appeal more to a wider swath of riders — namely, non-racers. The R.1's trail figure measures 59.7mm, which is quite long for an all-around bike. As it happens, I prefer this kind of steering, which you'll commonly find on aero bikes and endurance bikes with longer trail figures.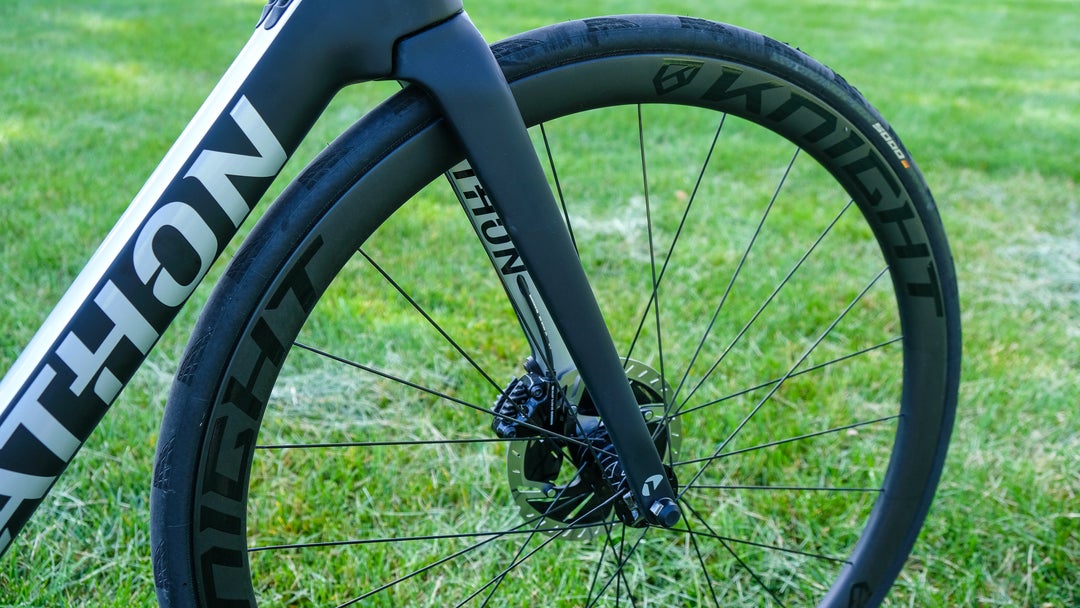 For those riders hoping for a super-reactive bike that follows your every twitch, I suggest you look elsewhere. If you're after more stability and prefer a bit of forgiveness in your handling, you'll be comfortable here.
The R.1 does feel responsive and supportive when you stand up to sprint. That also translates to some good pep when you're climbing out of the saddle. It lacks some of that impossible-to-define character that makes a climbing bike inspirational, especially when you're toiling away on a tough climb. But it gets the job done. That fits the narrative of this bike overall: It may lack the personality of a racing bicycle that costs twice as much, but it shows up for work and does its job reliably. That's one of the wonderful things about this bike: You get reliable bike with a great build for less money.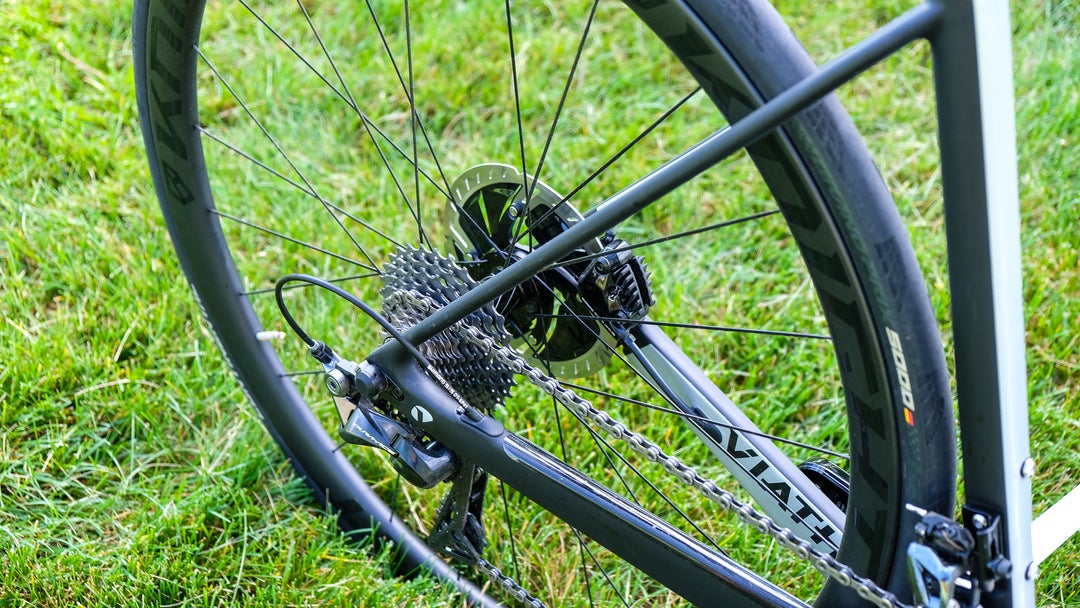 That's not to say this bike is cheap. The $5,850 price tag for the Dura-Ace build is still a lot of money for many consumers. And the two price points for Dura Ace and Ultegra place the Viathon alongside some of the budget-friendly racing bikes from Canyon that feature equally impressive component specs.
Had Viathon hit the market five years ago with this narrative, it would have owned the high-end-value space. As it is, other brands are becoming wise to consumer demands for affordable, high-end bikes, so Viathon has enough competition to make one wonder whether this new brand can stick with the big boys.
Fortunately for Viathon, the R.1 has a quality spec and a respectable — though not exactly inspiring — ride quality. It will be interesting to see if Viathon can find a foothold in a high-end market that often relies on name snobbery above all else. It will be an uphill battle for a brand that could use a bit more personality. The question is, does a bike's soul matter more than its value and performance? Viathon aims to find out, and it's got a good product to perform that experiment.