Alexey Vermeulen wins Belgian Waffle Ride after dropping Alex Howes
Vermeulen attacks a group of seven in 137mi gravel race and rides last few miles solo.
Heading out the door? Read this article on the new Outside+ app available now on iOS devices for members! Download the app.
SAN DIEGO, California (VN) – "Alexey, I thought we had a deal, man!" Alex Howes joked after the finish of the 137-mile Belgian Waffle Ride, which his late breakaway partner Alexey Vermeulen won solo after dropping him. "We got beat, bro!"
Vermeulen (Jukebox-Enve) was not beaten, and he won solo by minutes ahead of Matt Beers (Toyota-Specialized) and Griffin Easter (OpiCure-Orange Seal), who sprinted in for second and third after they caught Howes in the closing miles.
Vermeulen, Howes, Beers, and Easter rode in a select group of seven for much of the latter portion of the race that featured 23 gravel sectors.
Vermeulen was responsible for that selection of seven with a hard tempo at the race's midway point, and his attack with 40 miles to go that drew out Howes wasn't a fluke, either.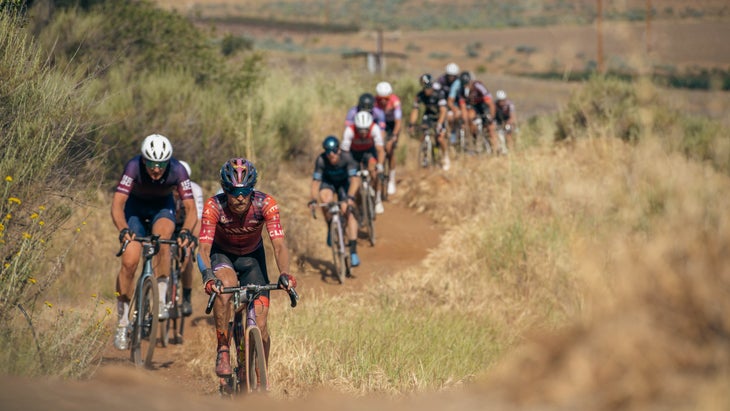 "I just didn't want to leave it until the end," Vermeulen said. "Last year I flatted out of the winning move, and in this race you have to take every chance you have. So I used knowledge from last year and just pushed the pace a little bit."
Also in the group were Sandy Floren (Mike's Bikes), Lance Haidet (L39ion of Los Angeles), and national cyclocross champion Eric Brunner (Blue).
Also read:
Vermeulen pushed the pace at a few points, and then attacked on the steep Bandyweg hill with 40 miles to go. Brunner tried to follow, but then faded. Howes fought his way up to Vermeulen over the course of a few miles, and, for a time, the two rode together.
But sensing he had the EF Education rider on the ropes, Vermeulen attacked again on a climb, and dropped him for good.
"Alex and I ride all the time at home [in Colorado], so it felt like a very hard group ride together," Vermeulen said. "I think we both knew where he was standing and where I was standing. And it was just a matter of time."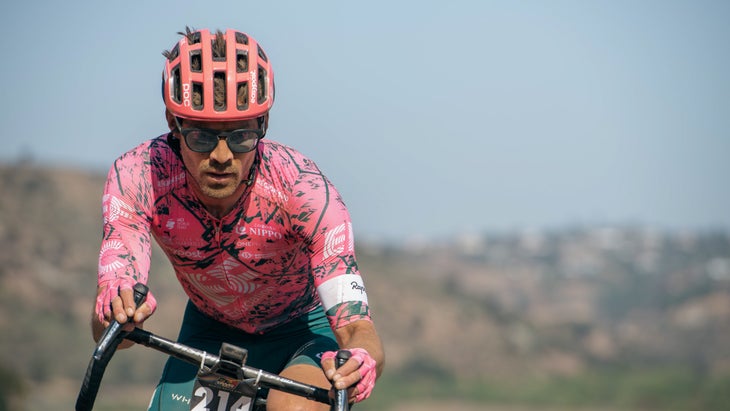 Soon, all that lay in between Vermeulen and the finish line were a steep climb, a windy dirt descent, and a hiker. Despite crashing into the hiker on the last dirt section, none of the three held Vermeulen back from winning.
Beers and Easter came in together to round out the podium, with Howes coming in just behind, followed by a resurgent Pete Stetina, who was dropped at the race's halfway point when the choppy terrain became too much for his recently broken wrist.
New course, new dynamics
For the first time this year, Belgian Waffle Ride started with a stiff climb, which race organizer Michael Marckx hoped would whittle down the massive field before it plunged into singletrack. It worked. 
Instead of a few hundred riders fighting for position, there were perhaps 50 riders who filed into the first singletrack, with a huge long line of some 1,600 riders behind.
That first sector — think rolling hiking path with sharp corners and an often-loose surface — was also largely uphill, stretching the group further.
Coming out of the dirt, small groups consolidated back together into the rough group of 50 on the rolling pavement. This regrouping wouldn't be happening much more.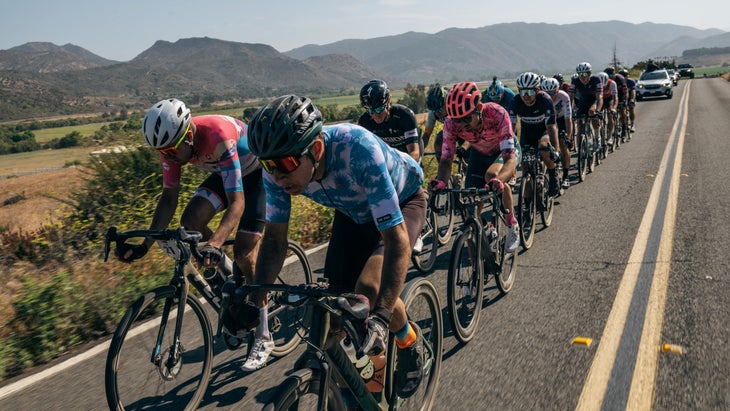 In the singletrack sections, Floren would often take to the front with his mountain-bike skills, with riders like two-time winner Pete Stetina and Brennan Wertz (Pinarello) keen to stay up there and out of trouble. Floren, second to Stetina in 2021, was clearly in his element, his body relaxed while others were fighting their bikes.
In seemingly each of the 23 sectors, more riders would be shed from the front. 
Out of the Sandy Bandy sector, a group of about 15 riders emerged that would ride together for much of the day. That group included Vermeulen, Howes, Floren, Stetina, Wertz, Paul Voss, Michael Van Dem Ham, Brian Scarborough, Beers, Haidet, Freddy Ovett, Brunner, and Kiel Reijnen.
The Hatfield Kreek sector proved decisive, with five riders dispatched, including Ovett, Reijnen and Voss. 
Behind, EF Education development rider Ethan Villaneda chased behind with four others. Behind them, it was a long way back to the 1,600 or so others in the Waffle. 
Into the Wilderness
At the far end of the out-and-back course, Vermeulen drilled it on a rough climb on the Wildeman Wildernis sector, shedding a number of riders including Stetina, Wertz and former road pro Rob Britton. Then he kept on the gas or, more accurately, stayed off the brakes on the choppy descent. Only Haidet and national cyclocross champion Brunner were near him at the exit of the sector.
"That was the first time I wanted to push the pace," Vermeulen said. "There were a lot of brake bumps going up that hill, so there was just one line. So I did a hard tempo, and in that area, if someone opens a gap, you have to go into the brake bumps and come back in. I just went hard, and took some risks on the descent. And obviously those 'cross guys [Haidet and Brunner] are good on the descent too." 
In fact, Haidet was so good on the descent that he was jumping off berms for fun while gapping Vermeulen and Brunner.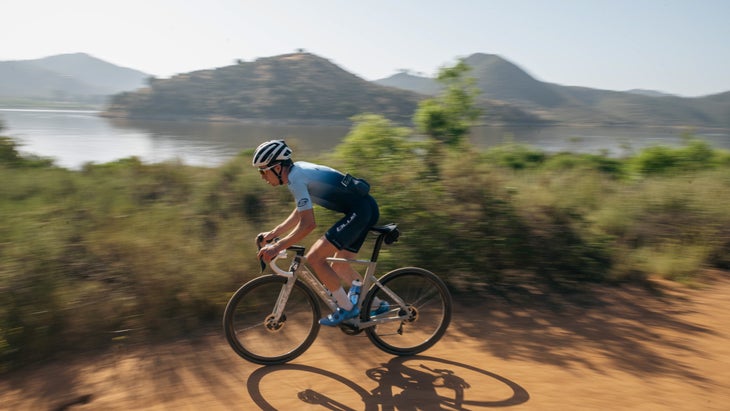 On a grinding false flat across a deep sandy road, the front group reassembled, and there were now only seven: Vermeulen, Brunner, Haidet, Beers, Easter, Howes, and Floren.
On the paved Pomoberg, Floren was dispatched by the steep gradient.
Then six temporarily became five, as Beers dropped his chain, then chased back on.
"I dropped my chain three times today!" he said. "I don't know what was going on, but it takes energy to come back to the group."
On the aptly named Sandy Bandy sector, Vermeulen pushed the pace on the sandy ribbon of singletrack, with Howes at the back of the group. Once over a cyclocross-style dismount and back on the road, Vermeulen attacked up the steep Bandyweg, and only Brunner initially followed. Soon Brunner faded back, and as no one else responded, Howes went all in to try to make it across.
Over the peak and down a blistering, serpentine descent, Vermeulen wasn't waiting for Howes or anyone else.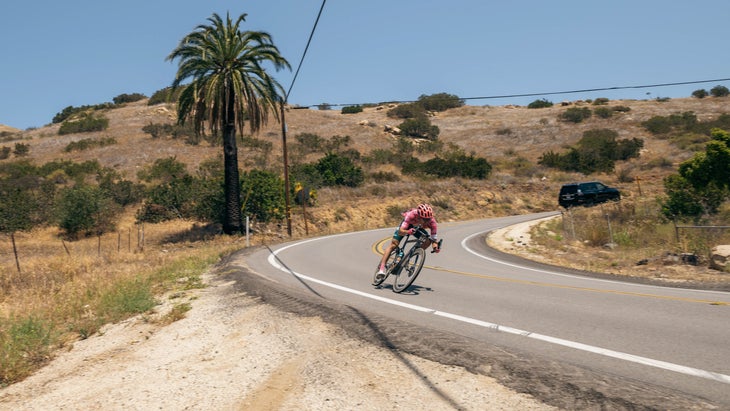 Howes did manage to claw his way back up to Vermeulen after taking some risks on the fast descent, but his grasp on the Jukebox rider was tenuous. Whenever Vermeulen sensed opportunity — whether on singletrack or on a steep pitch, Vermeulen pushed the pace. Eventually, he sensed he had Howes on the ropes and attacked on a short paved climb. He looked back a few times to confirm Howes wasn't coming back, then he put his head down and motored alone to the finish.
Behind, Beers and Easter worked together to catch and shed Howes before finish, and Stetina clawed back from being well down to finish fifth.
When asked at what point he felt he was the strongest out there, Vermeulen smiled, and took a second to answer.
"The nice way of saying it is, pretty early on," he said. "But that doesn't mean that you are going to win."
On Saturday at Belgian Waffle Ride California, though, win is exactly what Vermeulen did.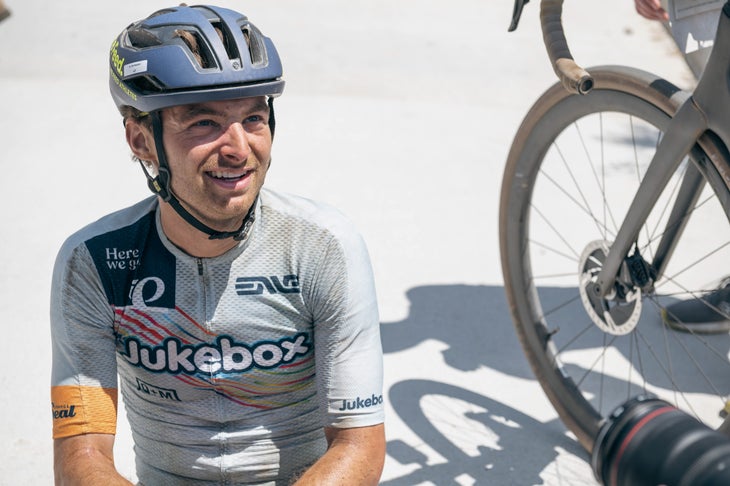 Belgian Waffle Ride California
Alexey Vermeulen (Jukebox-Enve), 6:34:33
Matt Beers (Toyota-Specialized), 6:40:40
Griffin Easter (OpiCure Foundation-Orange Seal), 6:40:40
Alex Howes (EF Education-EasyPost), 6:40:45
Pete Stetina (Privateer), 6:44:38
Eric Brunner (Blue), 6:46:37
Lance Haidet (L39ion of Los Angeles), 6:49:14
John Borstelmann (Abus), 6:57:43
Freddy Ovett (L39ion of Los Angeles), 6:59: 02
Brenna Wertz (Above Category), 7:01:04
You can see full results here.