An unofficial Unbound XL finish proves that the spirit of gravel is strong in Emporia
Peter Rajcani finished his Unbound XL course in just over 47 hours and couldn't be happier.
Heading out the door? Read this article on the new Outside+ app available now on iOS devices for members! Download the app.
No finish-line chute dominating Commercial Street, the banners were packed up, and most of Emporia, Kansas, was back to its normal small-town glory.
However, the event wasn't over for everyone. One man was still working his way to the Unbound XL finish, even after everyone else had headed home.
Unbound is, without a doubt, a bucket list event for gravel cyclists. Most would consider the 200-mile course the must-do challenge, with the 350-mile XL an insane task.
No matter what distance you choose, Unbound has become quite the spectacle, with all the pro racing hype and so much gravel beef. While the media coverage for the event is dominated by new products and the who's who of fast gravel, for most, the event remains grassroots.
The "spirit of gravel" sometimes gets shadowed, but it is people like Peter Rajcani that remind us that Unbound is whatever you want it to be. No matter what the official results say, getting to the finish and celebrating an amazing accomplishment is reward enough.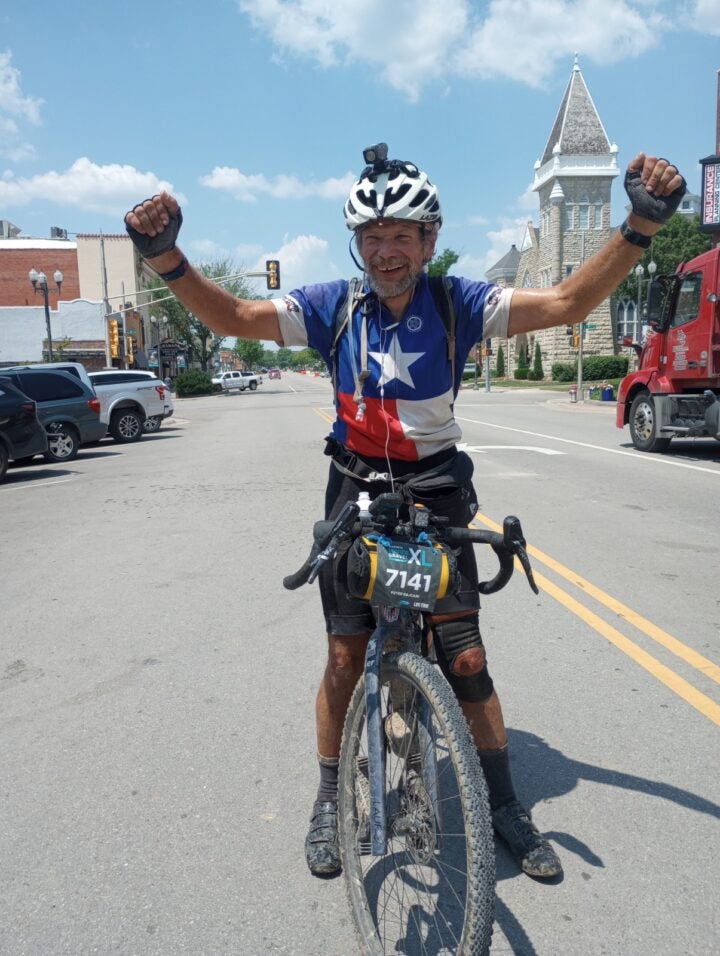 Getting to know Peter and his Epic Unbound XL ride
Where are you from, and what got you into endurance cycling?
Peter Rajcani: I was born in Slovakia, I moved to the US in 1991, and I live in Arlington, TX. I got into cycling 25 years ago to lose weight, and as my rides got longer and my endurance increased, I discovered that my body could recover quickly during a long ride, so I decided to try endurance racing. I did my first endurance race in 2001 (The Wild 100k adventure self-navigated race in West Virginia) and got into solo 24-hour mountain bike racing (completed 16 24-hour solo races including 24 hours of Adrenalin World Championship in Whistler, BC in 2005 and 24 hours of Moab in 2008). I also competed in the NUE mountain bike endurance series – finished the series by completing four races in 2008, 2014 (placed 10th in Masters), and 2015. I also competed in the Texas State Championship MTB Marathon Series – placed 3rd in 2013, 4th in 2012 and 2015, and 5th in 2011. My first gravel endurance event was Red River Riot in St Jo, TX in 2010. In the past four years, I have been focusing solely on gravel endurance events.

Have you ridden any of the other distances at Unbound?
PR: I finished the Unbound 200-mile race in 2019 (called Dirty Kanza back then) and 2021. I also finished the 300-mile Long Voyage race at Gravel Worlds in Nebraska in 2022 and completed several 150-mile races (Gravel Locos, Gravel Worlds 2019 and 2021). I completed many 100-mile gravel events. I also completed 1000-mile Race Across Texas 5 times (3 times self-supported: 2023 (ITT), 2021 (Group Depart), and 2020 (ITT); and as a supported stage race in 2018 and 2019)
What kind of training did you do before taking on the XL?
PR: I did shorter rides during the week and a long ride (100+ miles) on weekends. I also did a 600k / 380-mile road ride in May and a self-supported 1000-mile ride across Texas in April.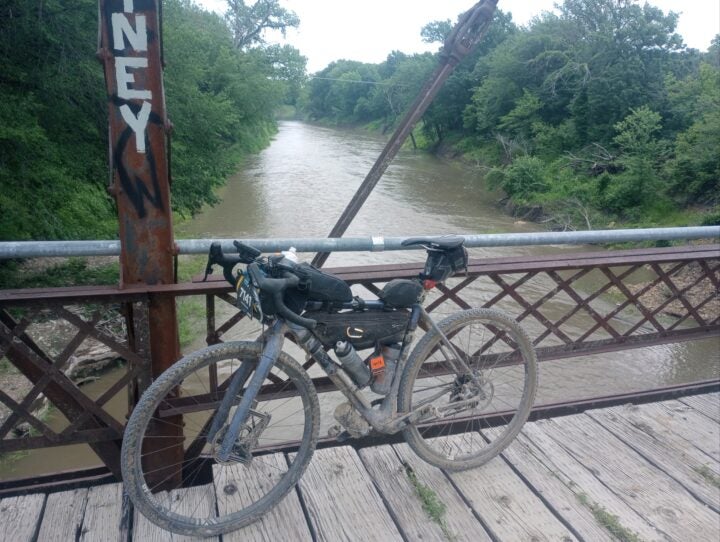 Planning a 350-mile ride is no easy task. What bike did you choose, and what did you bring with you?
PR: I rode my Lauf True Grit which is an awesome gravel bike. The Lauf suspension fork helps to reduce fatigue and helps me to stay in control on rough descents. I brought two sets of lights (one for each night), plus a backup headlight and a taillight. I also brought a rain jacket, arm warmers, and long-finger gloves, which came in handy on Saturday when it was raining and the temperature dropped significantly. I also brought a cog brush, mud stick, Muc-Off drivetrain cleaner (small spray bottle), and chain lube. All these came in handy when I needed to clean my bike several times after passing through each muddy section. I also brought three water bottles (electrolyte drinks), a hydration pack (2.5 L – water), bike tools, sealant and CO2 cartridges, a charging cable for the Garmin, and a portable charger. And, of course, food (energy bars, GU gels, and waffles) and electrolyte supplements.
47 hours is a long time on the bike. Was it always your plan to be out there that long? What was your target time?
PR: No not at all. My target was to finish by 1 am on Sunday for an official finish time.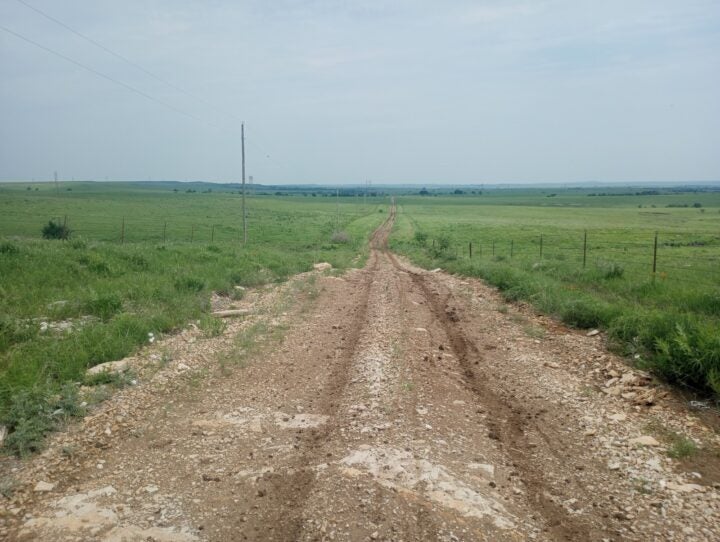 When did you realize you were not on pace to make the cutoff, and how did you mentally persevere?
PR: When I hit the muddy section at mile 180. It was around noon on Sunday, and it took me 21 hours to ride 180 miles. With 170 miles to go and only 15 hours left, it was clear that I would not make the cutoff. At the same time, I realized that the XL does not have any cutoff at checkpoints/refueling stops, so I can still finish the distance which was my goal. It didn't matter that I would not make the finishing cutoff. The accomplishment of finishing the event and not bailing out was my motivation.
You obviously have a lot of experience with ultra-long endurance events, how does the Unbound XL compare?
PR: I think this was the hardest event I've ever done. Between the weather conditions plus the roads are more rugged. Unbound XL utilizes a lot of what they call type B roads that are essentially unpassable by most vehicles and have no maintenance. Other events rarely use these types of roads. They are very rugged and, in the dark, make for very slow progress. When wet, it is only harder and slower.
Was there ever a point when you considered stopping?
PR: Eureka was where I really contemplated calling it quits at mile 225. It was 7:30 pm on Saturday, and I knew it was really the last feasible place for someone to pick me up easily. I spent about 30 minutes there until I finally decided I didn't want to bother anyone to come get me. I knew I wasn't making the finish cutoff, but I also felt like I could finish.
You made a game-time call to take a detour. Can you tell us a bit about that?
PR: After I got stuck in the mud for the fourth time at mile 240, I decided to take pavement past mile 250, where the course intersected with a highway, and ride back to Emporia on the pavement. The mud just seemed relentless, and I was so tired. When I reached Hamilton around 3 am, I was very tired, so I took a break and slept in the post office lobby for several hours. When I woke up at 6:30 am on Sunday, I felt better and decided to get back on the course and finish it. My detour cut off a few miles, but for me it was about getting to the finish and in the moment it was the right call.
That means you finished on Sunday at 2:22 pm. How many people were there to celebrate your accomplishment?
PR: It was a large group – about 10-15 people. They gave me a very warm welcome. It was awesome! The celebration was a big surprise. I didn't expect anyone to be there.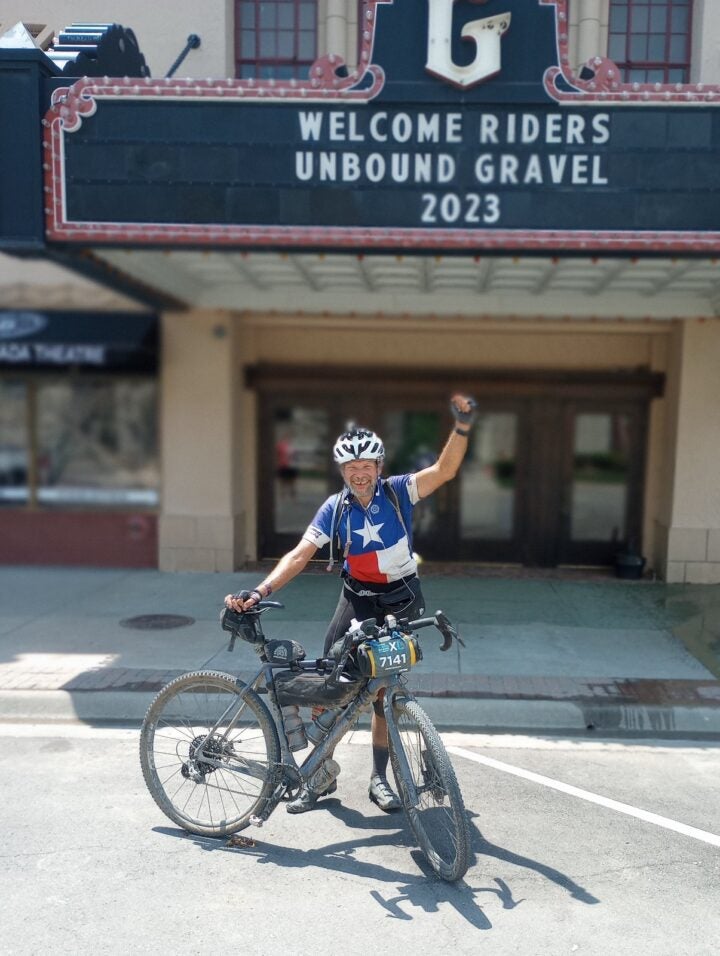 After such an eventful ride, what is your next event? And do you plan to come back next year to better your XL time, or was one enough?

PR: My next event is the Breck Epic in Colorado in August. I am also considering doing the Gravel Worlds Long Voyage (300 mi). I am also planning on doing the 1000-mile Arkansas High Country race in October. Yes, I would like to come back next year to get an official finish. I plan to enter the XL lottery again in December.
Last question, did you fly or drive to Unbound?
PR: I drove, and my wife stayed home, so I was solo for this event. After I finished, the Lifetime team let me get a quick show at their HQ, and I packed up what little things I had and hit the road. It is about a seven-hour drive. I had to stop two times to get some very strong coffee, but it wasn't until the last hour of driving that it really hit me, and I felt tired. It was also dark. I got home a little past midnight.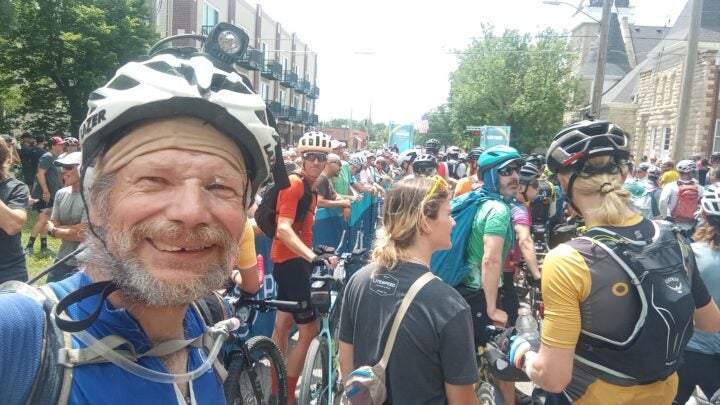 Getting ready to set off on his Unbound XL ride.
XL racers have a tracking device, and someone realized that there was still one on the move well past the cutoff, over 11 hours past the cutoff. Between a few social media posts and phone calls, locals and people still in town gave Peter a warm welcome back. That is the spirit of gravel and gives me hope that the community and Unbound are still in it for the right reasons.
Peter is what I think many of us want to be, confident and committed enough to fight through the tough moments so that we can truly appreciate the challenge. With 191 others, he was one of the few that took on the challenge of 350 miles. As many know, it was an extremely tough year, with mud not only slowing forward progress but causing many riders to abandon due to mechanical issues. While I have never even considered the XL, I personally know how mentally and physically demanding the Flint Hills can be. I have only finished one of my three attempts at the 200-mile race, and for the two I haven't finished, I wish I could have been as strong as Peter. For this reason, I know that no matter what the results say, Peter is a finisher in my book because it takes way more than strong legs to accomplish what he did.
Peter obviously has lots of experience doing endurance events, but just like the rest of us, he works a regular job and fits his training in when he can. No matter if you are challenging yourself to ride the 25, 50, 100, 200, or even the insane 350-mile XL, getting to the start can be tough, but getting to the finish is an experience worth working for.