Commentary: Let's celebrate the smaller gravel events
Guest contributor Clare Paniccia, the founder of Oklahoma's Truffle Shuffle gravel event, suggests an antidote to the 'pro-ification' of gravel.
Heading out the door? Read this article on the new Outside+ app available now on iOS devices for members! Download the app.
If you haven't noticed, it's close-knit down here in the world of "minor" gravel cycling events. It's not wrong to say there is a palpable difference between Unbound Gravel and events like Grounded Nebraska — and it's not just the price tag. It's also the lack of drama, the lack of coverage. But, most of all, it's the community.
Although at this point, I'm not even sure this word holds as much weight as it once did. What is a community? We frequently hear the phrase "bike community," but to which bikes (and riders) are we referring?
Even within the so-called bike community, different factions and groups of riders clash against what it means to ride a bike — on the roads, the trainer, or the gravel path. Lately, it seems that most are more concerned with defining how others may pursue joy on a bike rather than focusing internally on the self, on the individual cyclist.
It's a self-defeating practice. The more nit-picky someone gets about a bicycle, the less someone else wants to become involved. We say that we welcome everyone into the fold, but once they enter, we're relentless critics — don't wear this brand, don't ride that bike, don't join X team, don't think you're an actual athlete … Where's the community in that?
Many of these quick-to-judge feelings can be found blatantly out in the open at larger events, which emphasize pro-dominated coverage during races and a lack of mid-pack (and back-of-the-pack) coverage. As Peter Stetina has said, "the pro-ification of gravel is complete."
Many industry brands will only work with gravel events with large race fields (2500+ riders) — particularly the recognizable brands that go hand-in-hand with gravel events and gravel cycling. Many industry brands will only work with gravel events if they have a pro lineup. This back-and-forth creates frustration within the gravel ideology: what is the Spirit of Gravel? But first, we must think about why gravel cycling even exists.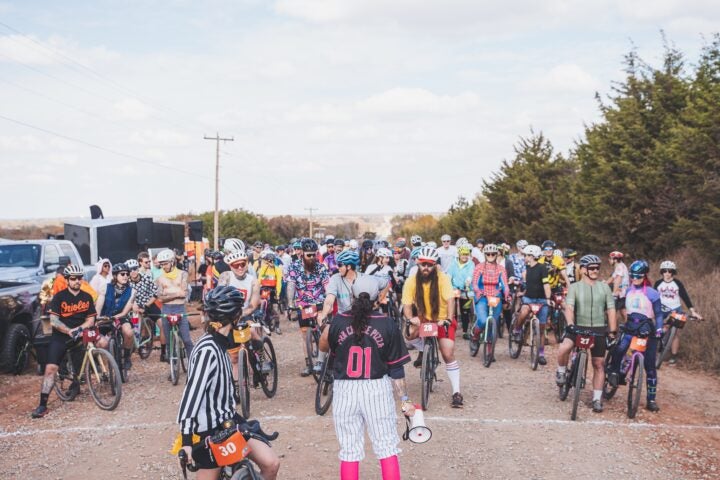 Before COVID, gravel cyclists were the "oddballs." We took to lesser-known roads to ride on chunky dirt, rocks, ruts, and singletrack — to get away from the pavement and the people, where cycling accidents are all too common. Not that there aren't accidents on gravel, but the isolatedness of gravel riding allows the rider to focus on their ride, think about their route, where they're going next, or even lets them take in the scenery. It's calmer. There aren't horns blaring, people walking … It's a personal haven of cycling that, at its most basal, relies on the road less traveled to form identity.
Cyclists flock to gravel because the surface doesn't care who you are or what you ride. Gravel slows everyone down — some say it's the great equalizer. There are more opportunities to ride alongside each other and share a conversation. Gravel became a type of escape from the racing world, from a world concerned with numbers and data; instead, it concerned itself with land and history. Gravel naturally became a haven for marginalized communities because of this idea of slow life, of accepting everyone around you, and believing in the process of the journey (not crossing a finish line). Of believing in togetherness.
The ideology of gravel is the antithesis to "The Rules," a damning list created by the Velominati. Many of the Rules are exclusionary. For example, "It's all about the bike," "Harden the Fuck Up," "Family does not come first, the bike does," and "Shave your guns" are all included in The Rules.
Now, I know that The Rules were made in jest – in parody of the snobbiness of cycling; however, over the years, The Rules have actually become that: snobby, exclusive, prohibitive, and – dare I say it – too patriarchal.
Professional gravel cycling follows a set of its own rules, which often change. Large events are more inclined to follow UCI/USAC guidelines. In contrast, minor events are not usually sanctioned and lack rules or have rules that are made specifically for the event itself. Not only have professional gravel rules materialized — professional gravel "sportsmanship" has, as well. Arguments have been made over the legality of feed zone stops, over the best kind of bike material, whether gender diverse riders can ride the category with which they identify, whether women cyclists should start separately from men.
Rules. Rules. Rules. The Spirit of Gravel isn't in the rules. It's not in the ethos of big industry brands. And it's certainly losing its presence at large gravel events that rely on high participation without appropriately recognizing all of their participants.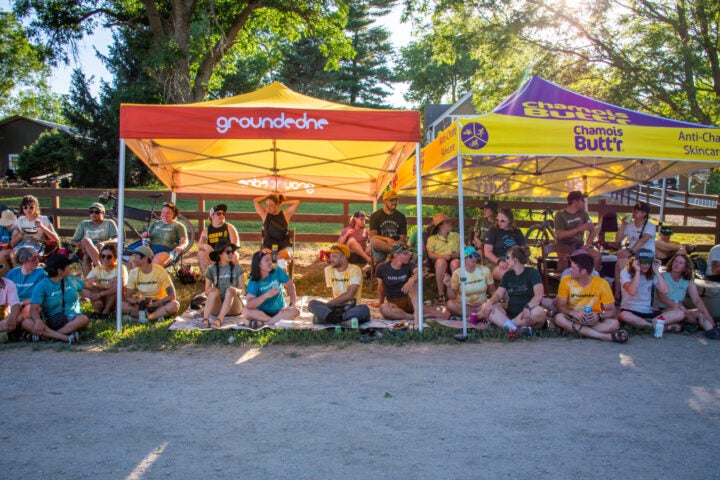 So, where is the Spirit of Gravel? It's right here, on the gravel path. It's at the event with less than 200 riders. It's three miles from a paved road or highway and one mile from a rundown convenience store in a town with a population of 585. It's in the eyes of other riders who ride with you for a short while or those who stick with you for the whole ride. We spend our time looking at big-name events for direction, to learn "who is who," and to see what new innovations will be changing the face of gravel cycling in the future.
But these events aren't changemakers. They're simply the high-end, the pro athletes, the one-sided coverage, the paparazzi. These events don't need to promote themselves; we already know they exist. We already know their reputation.
The Spirit of Gravel does not enjoy glitz and glam. The Spirit of Gravel is a mud puddle that looks rideable but is actually 3 feet deep. The Spirit of Gravel is riding your steel bike at 8 mph because you want to take in the joy of the land around you. Sure, the Spirit is guiding some to race in the strongest definition of the word, but it also asks these riders to learn how to be gracious and how to eliminate ego. As I said, it's the great equalizer.
Now, here is where minor gravel events come in. Stetina's "pro-ificiation" of gravel can be seen as an expertly-crafted wedding cake that is frosted to perfection. There's money in that frosting and sponsors, too. If we scrape all of the frosting off — and smear it into the trash so that only the CAKE remains, we see that it's the foundation that beautifies the exterior, not the cherry on top.
Minor gravel events operate on minuscule budgets (if at all). Pros don't attend them (typically), but instead, minor gravel events have higher turnouts of LGBTQIA+, BIPOC, differently abled, and marginalized riders. Minor gravel events aren't widely recognized by the pro-gravel community. Large gravel events do not see minor events as a threat.
Quietly, in the background, minor events knit the community into their scaffolding, making it an essential part of survival. I cannot be the only person who has noticed a veritable spring of gravel events forming throughout the country — signs that there are still people who understand why we ride gravel and what that choice signifies. However, I also cannot be the only person who has noticed that these events do not confer with, promote, or draw attention to their so-called "competitors" for fear of losing what audience they've been able to claim.
I am calling for minor events to take up arms together, to promote one another, to share each other's stories and experiences so that the community at large becomes tight-knit — an indestructible place within which we oddballs rely on the power of each other to promote our events as safe spaces, as unsanctioned havens, as experiences meant to honor the community rather than cover it up.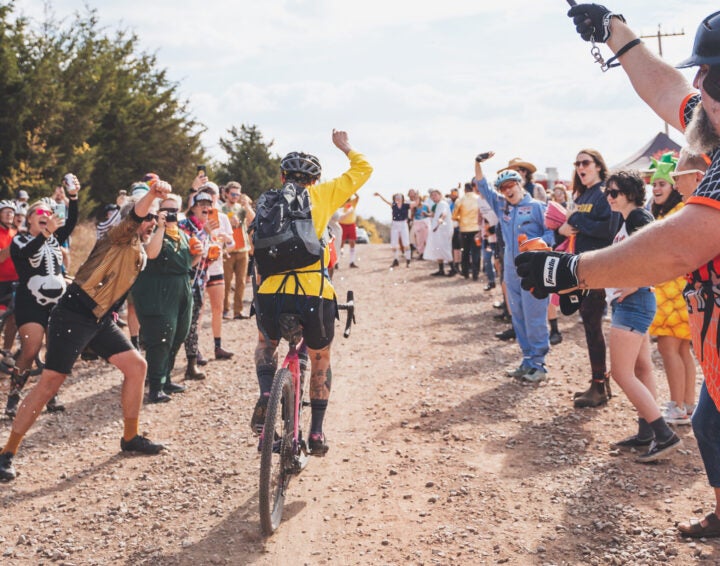 To ride gravel is to know why gravel exists. The pro-ification of gravel does not have to influence our progress in defining a gravel counter-culture around events where the ultimate goal is to celebrate people who ride bikes at any speed. These are the events that need recognition more than ever.
Event Directors, I ask you to share posts from other events, comment on other events' joy, and raise up the individuals who are, just like you, trying to reclaim an idea of gravel that has been diminished over the last few years. Donate to their events. Tell your riders. The community is already forming; events like Grounded Nebraska share and promote posts from The Truffle Shuffle, which in turn promotes Grit Fest, Osage Passage and G3 and…
It's like your grandma's email chain but with purpose. We can't pretend that other minor gravel events don't exist. They do, and they're thriving. Let's avoid the pro-ification of dramatic event culture and do the opposite: get more people on bikes. The only way to establish and enforce an idea of a gravel cycling community is to create it — to stoke the fire of its creation and use it to burn down constructs about events, about riding, about what gravel is and what it means.
It's simple. Gravel means us. It's a group of people standing together at sunset, holding their bikes and sharing a beer. It's an over-the-top aid station. It's promoting other event registration dates and working together to avoid conflict. It doesn't cost a dollar to share and promote, and hell does it feel good. Why don't we already do this? We shouldn't have to wonder why we aren't promoting one another. We're all in it for the same reason: to build a real community foundation centered on the most important thing — that, fundamentally, riding a bike creates joy. Won't you celebrate with me?