'The greatest joy isn't necessarily tied to the hardest thing:' Inside gravel's short courses
Gravel culture has normalized insanely long events. But they aren't the only option.
Heading out the door? Read this article on the new Outside+ app available now on iOS devices for members! Download the app.
It takes incredible energy to get to the start line of a gravel race. Training hours, expensive gear, long travel days, finding the perfect chamois, and pre-dawn wake ups. It takes so much effort that even professional cyclists, those at the "pointy end" of the race, often still feel like they could be doing more to prepare.
While the professional racers are incredible, inspiring, and jaw-droppingly fast, always racing the longest or hardest or most epic races, that doesn't mean that we need to, as well. Perhaps not everyone needs to aspire to cram in the kind of preparation needed to race these distances in addition to the pile of other jobs we have, from working 9-5 to raising kids, to tending to ourselves and our communities. One of the best parts of athletic endeavors is reaching a goal — and maybe we can take a look at what's realistic and attainable for us starting with distances we chose at gravel races.
It is undoubtedly a massive accomplishment to complete a long course race and to line up a few rows behind people we idolize. There is also a sense of confidence we gain from stepping up to do the hardest thing on the day. I have spent many years doing that, feeling like I always had to do the absolute hardest option, but when I signed up for the short course at the Last Best Ride in Montana a few weeks ago, I found a new joy in accepting where I was on the day and knowing I would have a better day on a 48-mile course, instead of the "marquee" 91-mile option.
And lest we forget, 48 miles is still plenty of miles. Many people outside of gravel racing couldn't even fathom this kind of feat.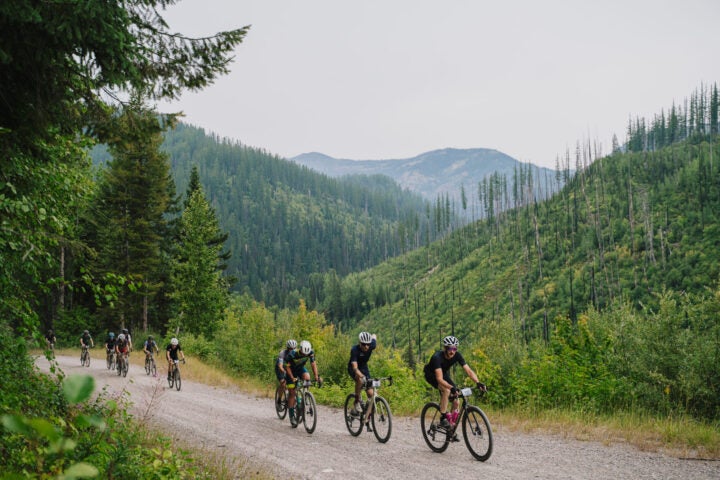 Gravel racing has normalized riding epically long distances. Races that were once niche ultra-events are attended by thousands of eager participants. However, most of these events also offer a short course option. When organizers plan with intention, the short course can be an incredible choice, offering riders a great day on the bike where they can find the fleeting feeling of accomplishment without the all-out dawn-to-dusk suffer fest.
The Last Best Ride is a gravel race in Whitefish, Montana, put on by Jess Cerra and Sam Boardman. On Sunday, August 6th, 550 riders lined up for the race, split between the 91-mile long course and the 48-mile short course. The long course left at 7:30 with the typical lineup of professionals handing off jackets to partners and looking calm in the face of a few cameras. As Cerra outlined the course hazards, rough roads, and sketchy intersections, riders played it cool while likely sizing up the folks next to them.
Fifteen minutes later the 48-mile short course lined up. The group filled in the start chute with a different sort of excitement. This was still a long race, but the air was a bit lighter. One rider kissed her baby and handed her off to a grinning family. Another group asked me to snap their picture on the start line. Cerra gave a similar pitch about the obstacles of the next 48 miles and with the same gusto and gumption, the gun went off and we slow-rolled behind the moto until the race took off a few miles in as we veered onto the first gravel road.
Although there may be a myth that short courses can be a rather unexciting out-and-back or a loop that doesn't get into the heart of the terrain like a long course does, this isn't the case at The Last Best Ride.
"So much focus always goes into the longer/harder courses at races," Cerra said. "At The Last Best Ride we don't want the short course to feel like an afterthought or a throwaway. We design the course so that riders get to experience the epic beauty of our gravel roads–like they really get out there – while being challenged just enough to feel like they conquered something they were a tiny bit nervous about, without making it so intimidating that it rules folks out from trying the course."
Cerra succeeded — both the long course and the short course are epic routes, each forming loops through the stunning mountains of northwestern Montana. I watched numerous riders finish the short course and approach Cerra, expressing their gratitude and noting that this was the best race they've ever done. Clearly, by building out the inspiring short course, Cerra allowed folks across the event to fill their cups with the joy and effort of gravel racing.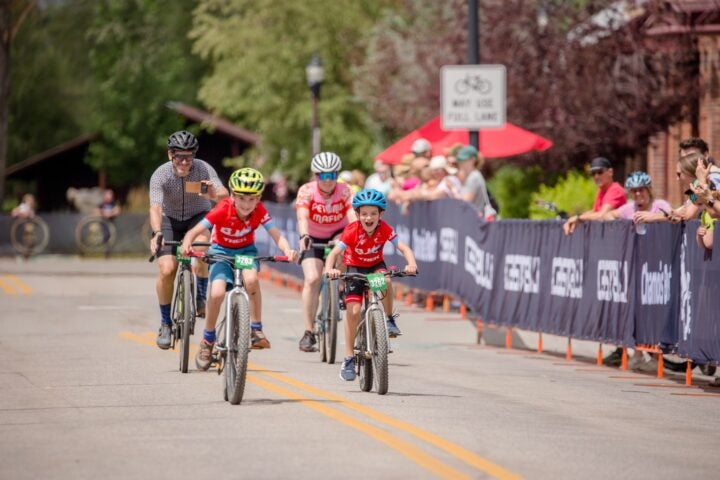 Like the Last Best Ride, SBT GRVL, a gravel race in Steamboat Springs, Colorado on August 20, also offers different length courses people can feel great about. SBT GRVL offers four different options ranging from 36 miles to 142 miles. Participants are able to change courses at any time, even during the race — a way to honor the messiness of setting goals and then preparing accordingly.
"We collectively started to normalize these really long rides and we are actually seeing a trend that, at SBT, that our first couple of years, our longest course, the Black Course, was most popular and now we are finding that our Blue Course, the 100 mile option, is most popular and then Red is number two, and that's our 60 mile course," said Amy Charity, the founder of SBT GRVL. "We are actually seeing that people are deciding how they want to spend their day and we want to honor and value each of those choices."
Charity also said that the age group riders in each race have their own podium and each course includes great aid stations, big infamous climbs, and just as much excitement from volunteers.
"The distance is really just a choice and it's more about the experience we create for every rider who is out there," she said.
For organizers like Cerra and Charity, the goal is to honor each rider and offer options so individuals can tune into what they need on the day, noting that each of us is on our own journey within cycling.
With these options though, it is up to participants to check in on their own goals for the day. Is the goal to do the hardest route possible? Is it to enjoy the champagne gravel and big views? Is it to finish the race feeling empty of energy and full of gratitude? Is it to spend time at each aid station and connect with the community? Or is it to have enough energy to go on a family hike the next day?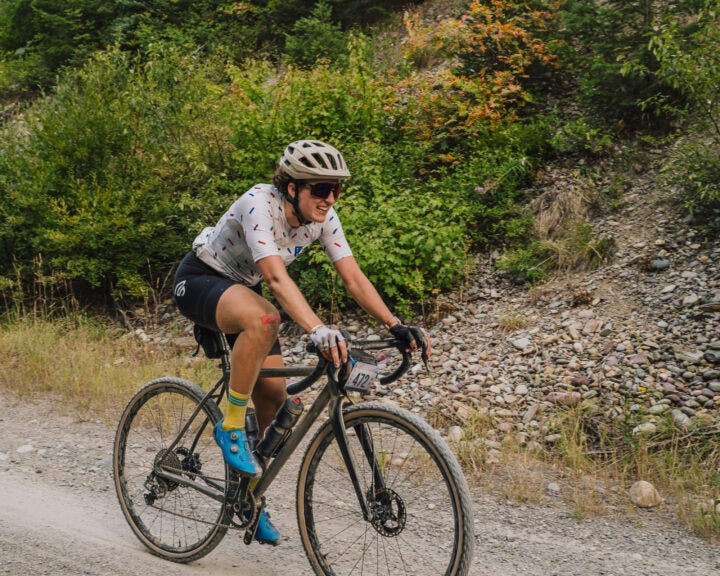 Dominique Powers, a cycling photographer, rode SBT GRVL last year and chose the 100-mile course, one step down from the longest 142-mile option.
"For me the weekend is about so much more than thrashing myself on the bike," she said. "There are events to go to and friends to see, a beautiful place to experience. I don't want this huge effort looming over me and tiring me out. I'm not trying to be competitive, so the pressure of training for a longer distance is also something I don't have capacity for in my work-life balance right now."
Charity puts energy into making each course feel special, and Powers was able to enjoy the day to the fullest extent, in part due to the intentional planning of the courses and multiple options available.
Although pros will likely continue to race the longest and hardest distances, they're also supportive of gravel's ongoing efforts to stay light and fun for all participants.
Along those lines, Sarah Sturm, a professional gravel racer, created an event at the finish line of SBT GRVL in 2022 called 'It's Supposed to Be Fun,' in conjunction with Wahoo and Stilspoke Media. She sold t-shirts and bucket hats and took portraits of hundreds of racers with dusty faces and satisfied grins. Her goal was to remind folks that this sport should bring us joy. This process can start with event organizers, like Cerra and Charity, planning routes where each rider feels honored and like their race matters.
Then, as participants, we can each grant ourselves permission to step down, or step up, onto the start line that will give us the best shot at crossing the finish line knowing we did everything we could to reach our goal for the day.
There's joy to be found in gravel racing — as evidenced by the huge waves of excited individuals signing up — but within this space, it is absolutely possible that the greatest joy isn't necessarily tied to the hardest thing.