Appleman Gravel
Appleman's custom bike is a fantastically complicated machine that brings riding back to its simplest form: Get on, pedal, go anywhere.
Size Reviewed
56cm
Price
$11,500
Brand
Appleman
---
Heading out the door? Read this article on the new Outside+ app available now on iOS devices for members! Download the app.
Some things are so complicated they loop all the way around the universe and return to simplicity. This Appleman is like that.
Matt Appleman makes all sorts bikes, all from carbon. They're all custom, too, so there's no use pretending that our particular Appleman would be exactly like your particular Appleman. But after a fall full of testing, we can still draw some conclusions.
Our test bike fits into a space the industry hasn't yet successfully named (though not for lack of trying). It's a gravel bike, or a groad bike, or an all-road bike. Audax, maybe. Easier just to describe it: Drop bars, a wide-range drivetrain with a single chainring, room for 42mm tires. Geometry is somewhere between a road bike and a cyclocross bike. You can ride it just about anywhere short of a road race or true singletrack. Though it would operable in either extreme realm, it would not excel.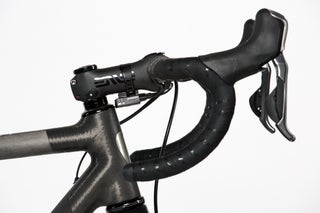 Every Appleman is made of carbon tubes connected by meticulously hand-wrapped carbon. This Appleman is shifted by wires and stopped via hydraulic lines, both of which are hidden away inside the frame. It has tubeless tires that heal themselves with sealant. It has one chainring and 11 cogs and there are two buttons, one on the left and another on the right, that make it harder to pedal or easier, depending on the grade and your mood. The two brakes, thanks to those hydraulic lines, always do exactly the same thing when you squeeze them, regardless of the weather. It's a very complicated way to build something that ends up being simple to use.
Though Appleman designs in space for 42mm tires, I mostly ran a much smaller set. A pair of 32mm Clement Strada USHs seemed to be a perfect match for the 50/50 road/groad ratio that's common here in Boulder, Colorado. Set up tubeless and inflated to 35-50 PSI (depending on the day's route), these allowed me to ride everything from mild singletrack to group rides with guys on road bikes. For weeks, across a wide spectrum of ride types, I rode almost nothing but the Appleman and changed nothing but tire pressure.
There's a loop out of Boulder that I use to test bikes like this. It's broken into three distinct sections. Section 1 is a long road climb, 2,300 feet straight up. Section 2 heads onto dirt and through a tricky, rough, rocky jeep road climb and descent that tests anything short of a mountain bike. This leads to the top of Magnolia and section 3, a 10-minute, brake-scorching, paved descent with grades over 20 percent back down toward town.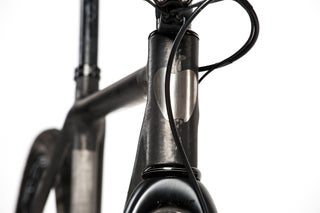 A good groad bike handles each of the diverse sections well enough. Bikes that excel on section 2 are usually absolute dogs on sections 1 and 3. Great bikes seem, somehow, to be designed for each. It's all about balance.
This Appleman climbs well. It's stiff for a gravel bike but has some flex when compared to something like an aero road bike, according to our lab testing, and the geometry isn't overly biased toward off-roading. It's not a monster cross bike, and that's a good thing. I had plenty of gear for the steeps — the 44-tooth front chainring and 10-42 cassette provided a much lower gear than a standard road bike. Top marks for section 1.
If I ran larger tires, which this Appleman certainly can, section 2 would be a breeze. Parts of the jeep road were a bit hairy with the 32mm Clements. The rest of the dirt was ably handled. Geometry is certainly tuned toward road and groad, not rocky doubletrack, but steering still proved nimble enough to pick my way through a rock garden. High marks, though not perfect, for section 2.
Handling at high speeds is better than most cyclocross bikes, thanks to a few geometry tweaks (lower bottom bracket, trail figure slightly closer to that of a road bike). This Appleman swoops through fast corners and, thanks to those tires, sticks like glue. The combination of fat, semi-slick tires and powerful, predictable disc brakes needs to be felt to be truly understood. The braking point coming into fast switchbacks feels ridiculously late. Without discs the bike would be half as good.
The 1x drivetrain (single chainring, wide cassette) may not offer the nuanced gear selection of a cassette with tighter tooth counts, but the 10-tooth small cog certainly provides plenty of gear inches — 44/10 is almost identical to a road-worthy 53/12. Perfect marks for section 3.
For those keeping track, that's a near-perfect score on the road climb, acceptable rowdiness on the jeep road, and another near-perfect score on the steep descent.
I like bikes like this because they take quite a lot of the guesswork out of riding variable terrain. They are so capable, and so simple to ride and to use, you end up throwing out old notions of what a road ride or a dirt ride should be and just, well, riding.
I should say something about the price, because it's a lot. $6,000 for the frame and fork and $11,500 for the full build. But what is there to say? Yes, you can get a bike that is 98 percent as good in a blind test run for 1/5 of that. No, it won't be hand-built carbon fiber, it will be aluminum, and called a Specialized Diverge. Value is relative. This Appleman is beautiful and unique and technically excellent; who am I to tell you what that's worth?
Our test bike was custom-made, and the geometry is fit to me. If you want a do-it-all, custom-made, carbon bike to be the only two-wheeled pedal bike in your garage, the high price tag might very well be worth it. But that's a narrow user category.
Somehow, a toddler knows how to use an iPad before it figures out the spoon. This Appleman reminds me of that. It's a fantastically complicated machine that brings riding back to its simplest form: Get on, pedal, go anywhere.