From the pages of Velo: Cyclo-circus
The Velo tech crew reviews three cyclocross bikes ranging from entry-level to cutting-edge
Heading out the door? Read this article on the new Outside+ app available now on iOS devices for members! Download the app.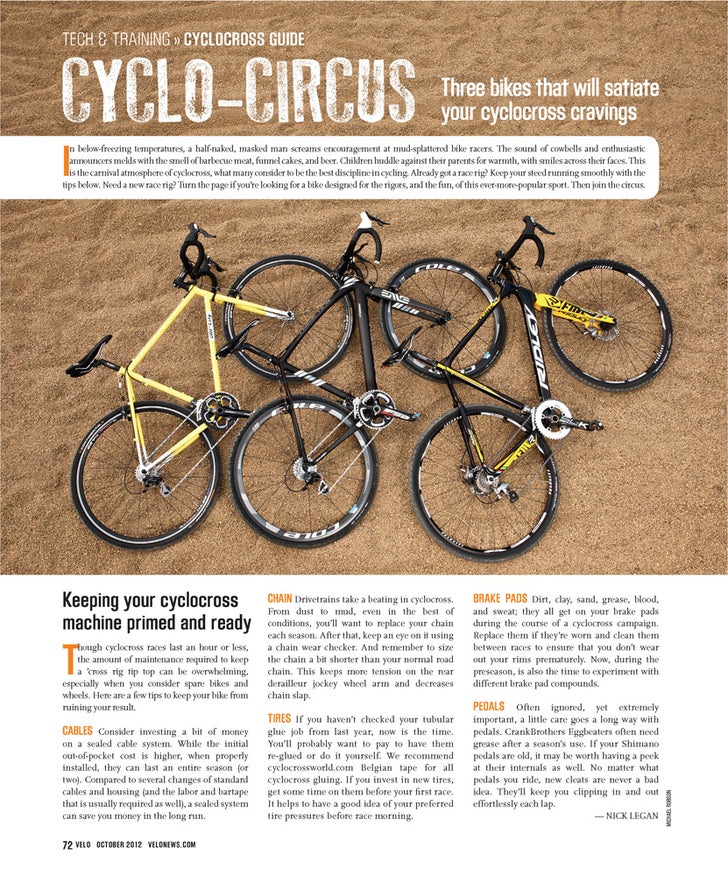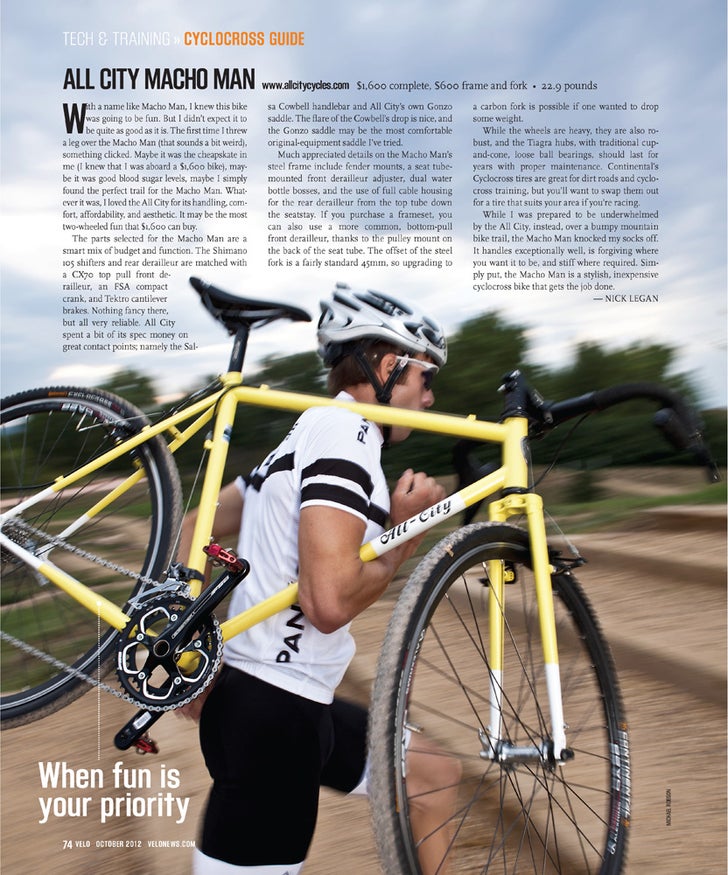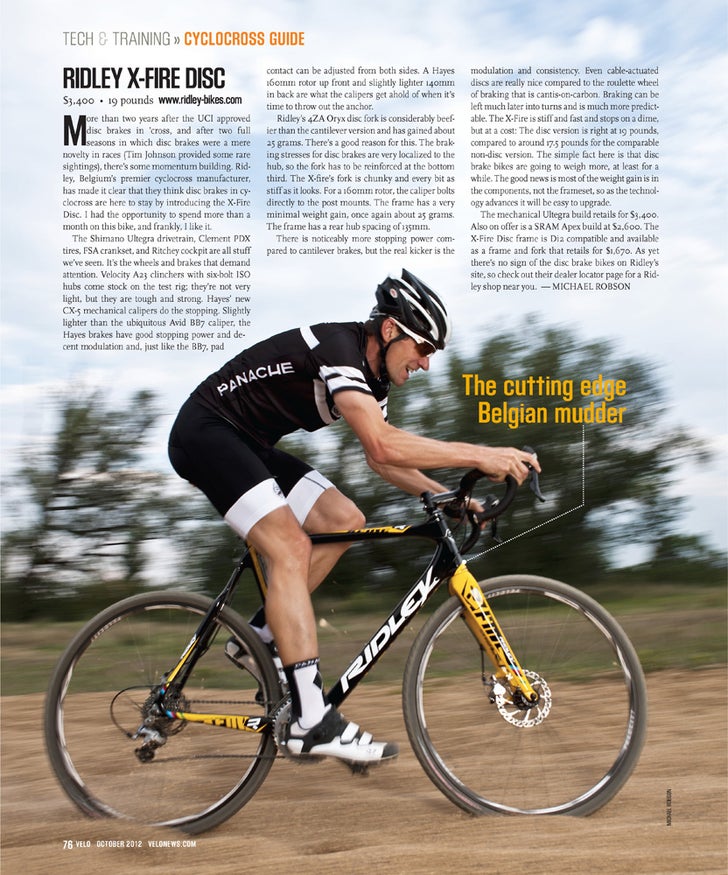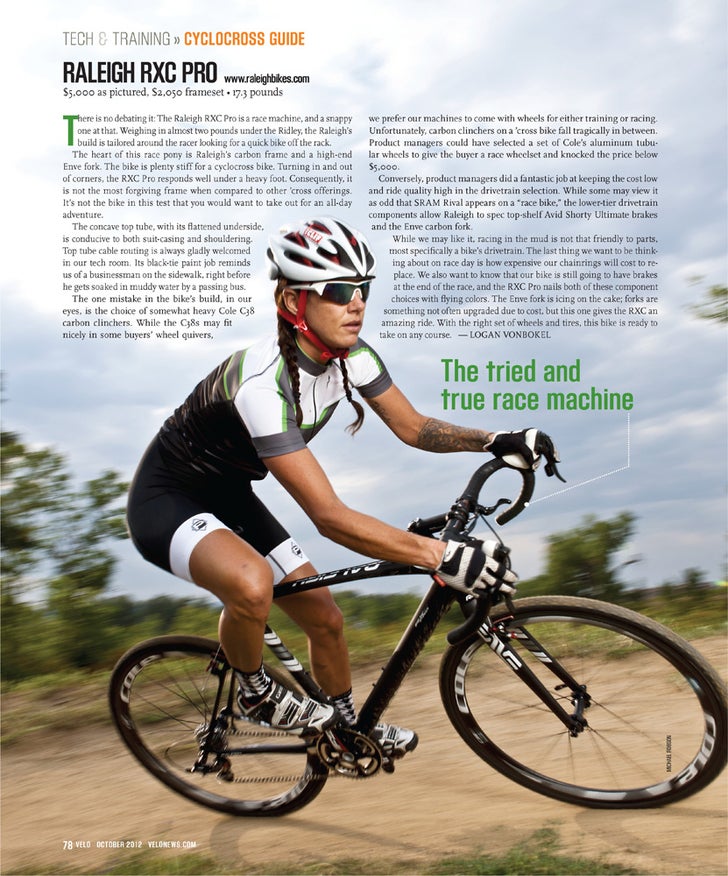 Editor's note: This review of three cyclocross bikes originally appeared in the October 2012 issue of
Velo
magazine.
Keeping your cyclocross machine primed and ready
Though cyclocross races last an hour or less, the amount of maintenance required to keep a 'cross rig tip top can be overwhelming, especially when you consider spare bikes and wheels. Here are a few tips to keep your bike from ruining your result.
Cables
Consider investing a bit of money on a sealed cable system. While the initial out-of-pocket cost is higher, when properly installed, they can last an entire season (or two). Compared to several changes of standard cables and housing (and the labor and bar tape that is usually required as well), a sealed system can save you money in the long run.
Chain
Drivetrains take a beating in cyclocross. From dust to mud, even in the best of conditions, you'll want to replace your chain each season. After that, keep an eye on it using a chain wear checker. And remember to size the chain a bit shorter than your normal road chain. This keeps more tension on the rear derailleur jockey wheel arm and decreases chain slap.
Tires
If you haven't checked your tubular glue job from last year, now is the time. You'll probably want to pay to have them re-glued or do it yourself. We recommend cyclocrossworld.com Belgian tape for all cyclocross gluing. If you invest in new tires, get some time on them before your first race. It helps to have a good idea of your preferred tire pressures before race morning.
Brake pads
Dirt, clay, sand, grease, blood, and sweat; they all get on your brake pads during the course of a cyclocross campaign. Replace them if they're worn and clean them between races to ensure that you don't wear out your rims prematurely. Now, during the preseason, is also the time to experiment with different brake pad compounds.
Pedals
Often ignored, yet extremely important, a little care goes a long way with pedals. CrankBrothers Eggbeaters often need grease after a season's use. If your Shimano pedals are old, it may be worth having a peek at their internals as well. No matter what pedals you ride, new cleats are never a bad idea. They'll keep you clipping in and out effortlessly each lap.
— NICK LEGAN
All City Macho Man >> $1600 complete, $600 frame & fork, 22.9 lbs
With a name like Macho Man, I knew this bike was going to be fun. But I didn't expect it to be quite as good as it is. The first time I threw a leg over the Macho Man (that sounds a bit weird), something clicked. Maybe it was the cheapskate in me (I knew that I was aboard a $1,600 bike), maybe it was good blood sugar levels, maybe I simply found the perfect trail for the Macho Man. Whatever it was, I loved the All City for its handling, comfort, affordability, and aesthetic. It may be the most two-wheeled fun that $1,600 can buy.
The parts selected for the Macho Man are a smart mix of budget and function. The Shimano 105 shifters and rear derailleur are matched with a CX70 top pull front derailleur, an FSA compact crank, and Tektro cantilever brakes. Nothing fancy there, but all very reliable. All City spent a bit of its spec money on great contact points; namely the Salsa Cowbell handlebar and All City's own Gonzo saddle. The flare of the Cowbell's drop is nice, and the Gonzo saddle may be the most comfortable original-equipment saddle I've tried.
Much appreciated details on the Macho Man's steel frame include fender mounts, a seat tube-mounted front derailleur adjuster, dual water bottle bosses, and the use of full cable housing for the rear derailleur from the top tube down the seatstay. If you purchase a frameset, you can also use a more common, bottom-pull front derailleur, thanks to the pulley mount on the back of the seat tube. The offset of the steel fork is a fairly standard 45mm, so upgrading to a carbon fork is possible if one wanted to drop some weight.
While the wheels are heavy, they are also robust, and the Tiagra hubs, with traditional cup-and-cone, loose ball bearings, should last for years with proper maintenance. Continental's Cyclocross tires are great for dirt roads and cyclocross training, but you'll want to swap them out for a tire that suits your area if you're racing.
While I was prepared to be underwhelmed by the All City, instead, over a bumpy mountain bike trail, the Macho Man knocked my socks off. It handles exceptionally well, is forgiving where you want it to be, and stiff where required. Simply put, the Macho Man is a stylish, inexpensive cyclocross bike that gets the job done. — NICK LEGAN
Ridley X-Fire Disc >> $3400, 19 lbs
More than two years after the UCI approved disc brakes in 'cross, and after two full seasons in which disc brakes were a mere novelty in races (Tim Johnson provided some rare sightings), there's some momentum building. Ridley, Belgium's premier cyclocross manufacturer, has made it clear that they think disc brakes in cyclocross
are here to stay by introducing the X-Fire Disc. I had the opportunity to spend more than a month on this bike, and frankly, I like it.
The Shimano Ultegra drivetrain, Clement PDX tires, FSA crankset, and Ritchey cockpit are all stuff we've seen. It's the wheels and brakes that demand attention. Velocity A23 clinchers with six-bolt ISO hubs come stock on the test rig; they're not very light, but they are tough and strong. Hayes' new CX-5 mechanical calipers do the stopping. Slightly lighter than the ubiquitous Avid BB7 caliper, the Hayes brakes have good stopping power and decent modulation and, just like the BB7, pad contact can be adjusted from both sides. A Hayes 160mm rotor up front and slightly lighter 140mm in back are what the calipers get ahold of when it's time to throw out the anchor.
Ridley's 4ZA Oryx disc fork is considerably beefier than the cantilever version and has gained about 25 grams. There's a good reason for this. The braking stresses for disc brakes are very localized to the hub, so the fork has to be reinforced at the bottom third. The X-fire's fork is chunky and every bit as stiff as it looks. For a 160mm rotor, the caliper bolts directly to the post mounts. The frame has a very minimal weight gain, once again about 25 grams. The frame has a rear hub spacing of 135mm. There is noticeably more stopping power compared to cantilever brakes, but the real kicker is the modulation and consistency. Even cable-actuated discs are really nice compared to the roulette wheel of braking that is cantis-on-carbon. Braking can be left much later into turns and is much more predictable. The X-Fire is stiff and fast and stops on a dime, but at a cost: The disc version is right at 19 pounds, compared to around 17.5 pounds for the comparable non-disc version. The simple fact here is that disc brake bikes are going to weigh more, at least for a while. The good news is most of the weight gain is in the components, not the frameset, so as the technology advances it will be easy to upgrade.
The mechanical Ultegra build retails for $3,400. Also on offer is a SRAM Apex build at $2,600. The X-Fire Disc frame is Di2 compatible and available as a frame and fork that retails for $1,670. As yet there's no sign of the disc brake bikes on Ridley's site, so check out their dealer locator page for a Ridley shop near you. — MICHAEL ROBSON
Raleigh RXC Pro >> $5000 complete, $2050 frameset, 17.3 lbs
There is no debating it: The Raleigh RXC Pro is a race machine, and a snappy one at that. Weighing in almost two pounds under the Ridley, the Raleigh's build is tailored around the racer looking for a quick bike off the rack. The heart of this race pony is Raleigh's carbon frame and a high-end Enve fork. The bike is plenty stiff for a cyclocross bike. Turning in and out of corners, the RXC Pro responds well under a heavy foot. Consequently, it is not the most forgiving frame when compared to other 'cross offerings. It's not the bike in this test that you would want to take out for an all-day adventure.
The concave top tube, with its flattened underside, is conducive to both suit-casing and shouldering. Top tube cable routing is always gladly welcomed in our tech room. Its black-tie paint job reminds us of a businessman on the sidewalk, right before he gets soaked in muddy water by a passing bus.
The one mistake in the bike's build, in our eyes, is the choice of somewhat heavy Cole C38 carbon clinchers. While the C38s may fit nicely in some buyers' wheel quivers, we prefer our machines to come with wheels for either training or racing. Unfortunately, carbon clinchers on a 'cross bike fall tragically in between. Product managers could have selected a set of Cole's aluminum tubular wheels to give the buyer a race wheelset and knocked the price below $5,000.
Conversely, product managers did a fantastic job at keeping the cost low and ride quality high in the drivetrain selection. While some may view it as odd that SRAM Rival appears on a "race bike," the lower-tier drivetrain components allow Raleigh to spec top-shelf Avid Shorty Ultimate brakes and the Enve carbon fork.
While we may like it, racing in the mud is not that friendly to parts, most specifically a bike's drivetrain. The last thing we want to be thinking about on race day is how expensive our chainrings will cost to replace. We also want to know that our bike is still going to have brakes at the end of the race, and the RXC Pro nails both of these component choices with flying colors. The Enve fork is icing on the cake; forks are something not often upgraded due to cost, but this one gives the RXC an amazing ride. With the right set of wheels and tires, this bike is ready to take on any course. — LOGAN VONBOKEL