Review: Lauf Anywhere gravel bike
With its latest bike, Lauf strikes a balance between gravel capabilities and pavement pleasures. Plus, it does so at a fair price.
Size Reviewed
M
Price
$3,340
Brand
Lauf
---
Heading out the door? Read this article on the new Outside+ app available now on iOS devices for members! Download the app.
"Are you riding a road bike or a gravel bike today?" My friend texted me before meeting for a lunch ride. I had to stop and think for a moment. This new Lauf Anywhere … It is kind of both. We got out for that chilly winter ride, ended up staying on paved roads, and on that day, it was a road bike.
That versatility is the first of two major things that I love about Lauf's Anywhere. The second key point is that this bike hits a reasonable price, with an even cheaper Core model coming in at $2,690.
If gravel bikes are going to stick around, they need to shake the notion that they are specialized niche tools which can only be ridden in certain conditions. Lauf is taking a big step in the right direction here. Bike companies also need to seek out ways to make high-performance bikes more affordable for gravel-curious riders, especially younger cyclists. Again, Lauf's Anywhere fits the bill.
To make this bike more versatile and less off-putting to those coming from a road background, Lauf wisely put Maxxis Velocita tires on the Anywhere. Sure, you can change tires after purchase. And yes, some gravel purists might complain that this 40mm tire is too slick for "real" gravel. However, it sets the tone for the Anywhere. This bike can fit 45mm knobbies if you want to take on Dirty Kanza. It is also well-suited for those lunch rides with friends who have road bikes.
Lauf also tweaked the geometry it developed on its first frame, the True Grit, to make the Anywhere ride more like a familiar drop-bar bike. The head tube angle is a bit steeper at 71 degrees — although that is still pretty relaxed. It also lowered the bottom bracket to a 68mm drop.
However, Lauf is sticking to its guns with the Long-4-Speed geometry. The Icelandic company took cues from mountain bike geometry by designing the cockpit with a long reach and a short stem. An 80mm stem might seem a bit odd coming off of a road bike with possibly 20mm more length, but we like how this helps to center your weight on the bike. There is a trade-off, though. If you want to push the Anywhere on fast, paved descents with lots of hairpins, the geometry tends to understeer, requiring firm input on the bars to drive through corners.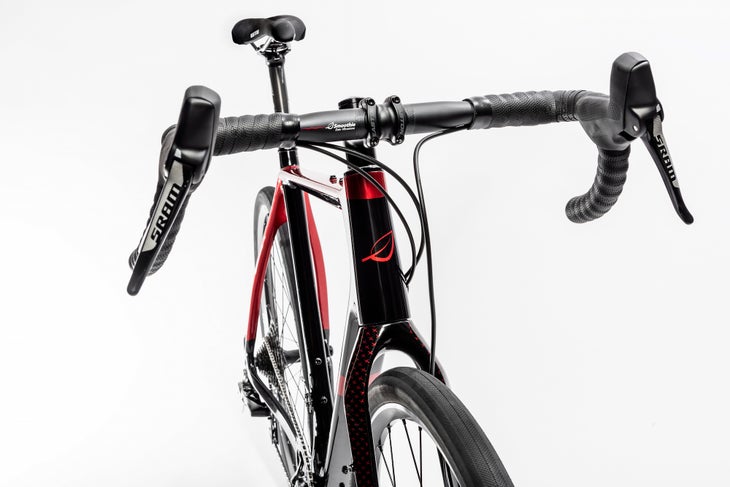 The front end is finished off with Lauf's new JAF (Just A Fork), a humorous name given how radical its Grit suspension fork is. The JAF is a straightforward, all-carbon affair with cage mounts on the side if you decide to dabble in bikepacking. Lauf says this fork holds its own in laboratory stiffness tests, but we did notice a bit of axle chatter under particularly heavy braking with optimal traction on pavement. That's rarely a concern on mixed surfaces and normal riding conditions, though.
Also of note on the bike's business end, Lauf rolled out its new Smoothie handlebar on the Anywhere. Lauf says it employs the same flexible carbon material used on its fork springs to reduce front-end vibration at the grips. It's a very comfortable bar overall, but it seemed similar to most other carbon handlebars in terms of smoothing out road chatter.
Beyond the fundamental chassis, we were pleased with the Anywhere's modest build of SRAM Rival 1 components paired with DT Swiss X1900 wheels. At this price, you're bound to sacrifice some superlight parts, but fortunately, the DT wheels should be reliable in the long run. The FSA SLK carbon seatpost is a smart upgrade that will help improve overall comfort, compared to an aluminum post.
The good news is that, out of the box, Lauf's Anywhere is ready to go — on the pavement, on most mellow dirt roads, and maybe even on the trails if you're feeling bold. Consider shopping for some knobbies if you primarily ride dirt, but other than that, you can spend the money you saved on ride food or registrations for your favorite gravel events.