Review: Pivot Vault Team Force gravel bike
The Vault from Pivot feels very much like a finesse bike: Subtle details add up to an incredibly smooth ride. Those details might not readily be apparent to you at first glance — aside from the IsoFlex seatpost, which stands out pretty clearly — but they're there, working hard to…
Size Reviewed
56cm
Price
$6,700
Brand
Pivot
---
Heading out the door? Read this article on the new Outside+ app available now on iOS devices for members! Download the app.
The Vault from Pivot feels very much like a finesse bike: Subtle details add up to an incredibly smooth ride. Those details might not readily be apparent to you at first glance — aside from the IsoFlex seatpost, which stands out pretty clearly — but they're there, working hard to keep you comfortable and in control. The Vault is a bike I'd be comfortable taking to the starting line of the toughest gravel races on the calendar.
Basics: SRAM Force eTap AXS drivetrain; Maxxis Rambler tires; Reynolds ATRx carbon wheels; Iso Flex Technology
Pros: Iso Flex system is comfortable and uncomplicated; handling feels race-oriented yet stable
Cons: Could use a lower bailout gear
In that spirit, I rode the Vault in Bentonville, Arkansas to recon the Big Sugar – NWA Gravel race that will debut in October, 2020. Over punishing terrain and in torrential downpours, the Vault kept its composure, thanks in large part to its phenomenal handling and its surprising comfort.
The Vault's geometry feels rooted in cyclocross, though with more stability in mind. My size medium test bike has 420mm chainstays and a 1,020mm wheelbase, which keeps the Vault maneuverable. A 72-degree head tube angle feels just right here; It's akin to a slack cyclocross bike, which makes the Vault feel stable without stodginess. You can still change lines quickly and maneuver without wrestling.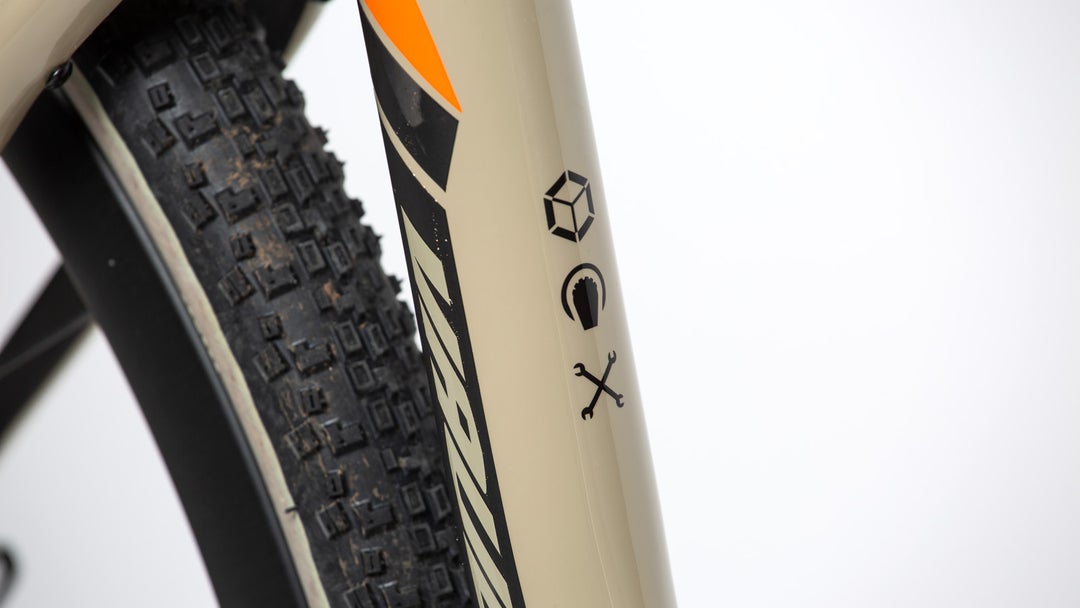 the Vault feels quite stiff laterally, much like a race bike. That might sound alarming if you're thinking about gravel chatter over the course of an entire day on the bike, but Pivot has balanced out the ride qualities with the Iso Flex system (more on that in a moment). Since compliance is focused mostly on the Iso Flex system, which lives in a special seatpost system, Pivot was free to make the Vault's frame as stiff as possible to create a bike that jumps under pedaling loads.
That was readily apparent during every quick, sharp climb on the Big Sugar course. I never felt like I was fighting the Vault for acceleration into a climb, and it felt lithe like a road climbing bike on the way up. And that sums up the Vault's handling nicely: It's essentially rooted in racing, but with enough clever accommodations to make it comfortable and stable on gravel.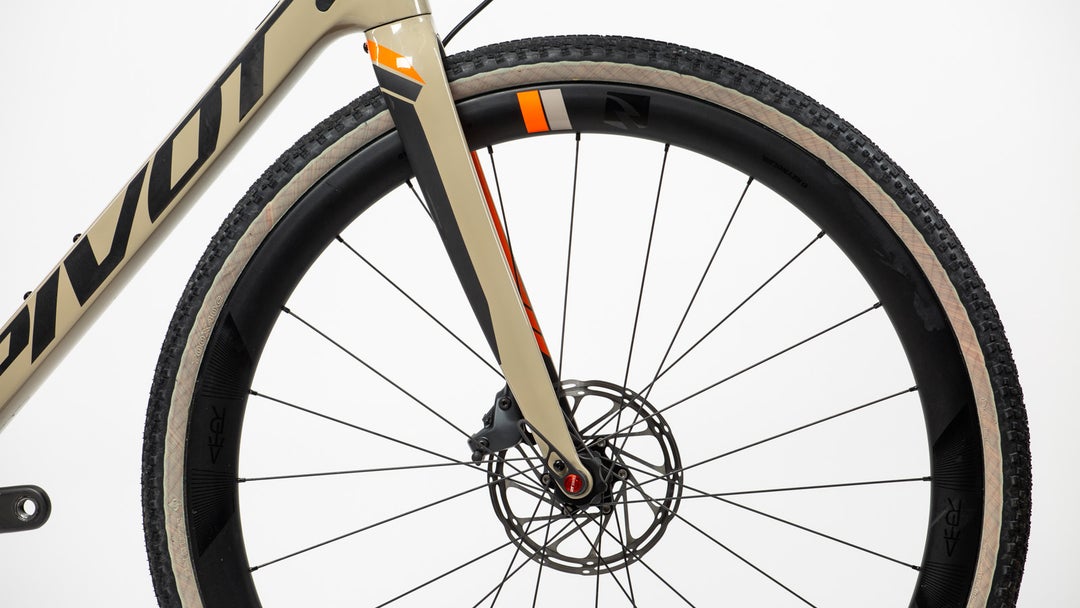 It's important to mention the wheels and tires here, because they both contribute to the Vault's ride quality and handling in major ways. Reynolds lends its ATRx carbon wheels to the mix, and they're shod in Maxxis Rambler tires. This setup felt exceptional on Bentonville's gravel roads and equally so here at home in Colorado. The ATRx wheels are surprisingly stiff, which was especially notable when descending at high speeds. There didn't seem to be any slop here, and they tracked well when combined with the frame's exceptional stiffness. It's a great combo. The Rambler tires mated well with this package, providing ample cornering grip without bogging me down on the flats and on pavement.
The Easton EC70 AX carbon handlebar features a bit of sweep in the drops, which feels just right for stable handling. It's nice to see the sweep craze temper itself these days; it seems the pendulum swung way too far in the outward direction, only to come back in where it belongs. These aren't road bike handlebars, but you won't feel like you're riding a cafe racer motorcycle either. The Vault's component package, in other words, feels well-balanced and suited to the terrain it's designed to handle, minus the gimmicky looks and feel.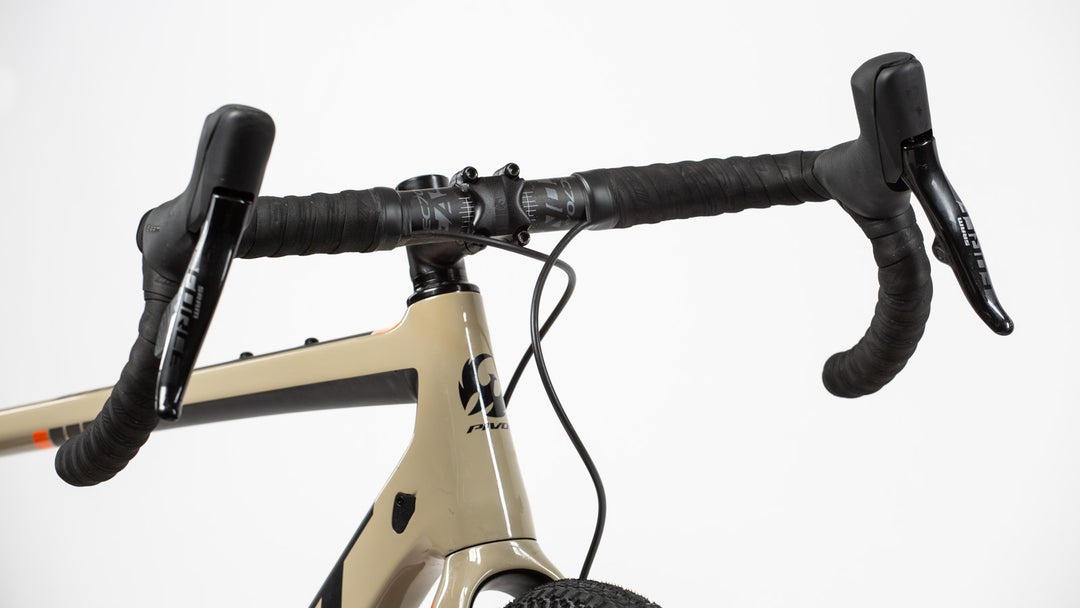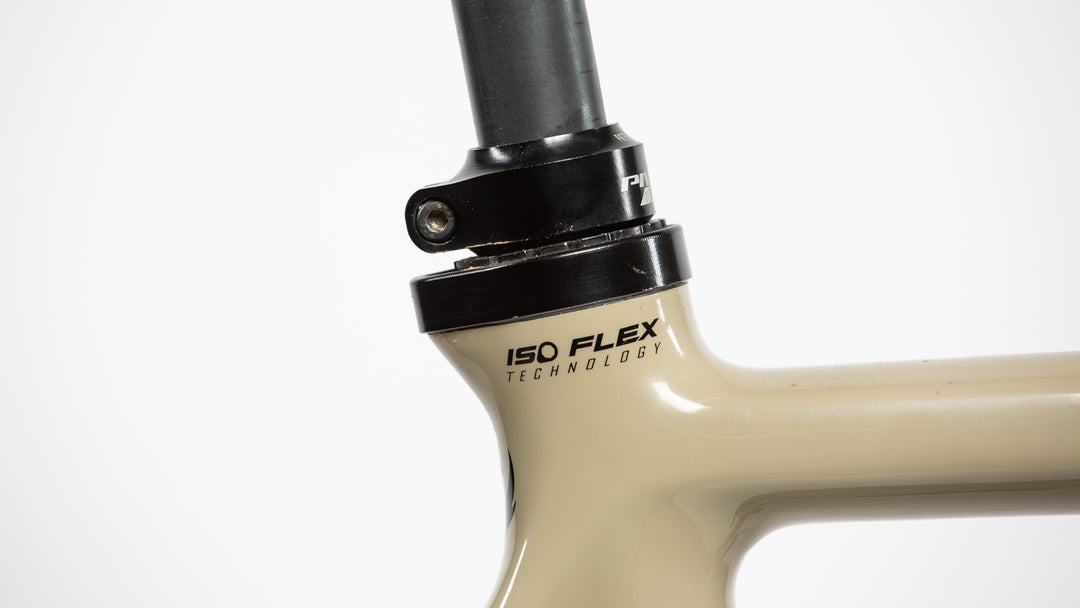 The IsoFlex seatpost stands out among other features on the Vault largely because of its dual-collar appearance. The seatpost itself slides into a sleeve that sits within the seat tube. That essentially isolates the seatpost from the frame, meaning Pivot could make the frame as stiff as possible without negatively affecting compliance, or at least to a lesser extent. Trek has added a similar system to several of its bikes with its IsoSpeed decouplers, though with a much different execution.
Like Trek's IsoSpeed system, the IsoFlex on the Vault takes a little getting used to. There's a lot of flex here, and it's undamped. (Trek recently added a damping system to its IsoSpeed decouplers). That means you get a bit of bounce, which can feel sloppy when you're riding on smooth surfaces like pavement. But once you hit the gravel, the IsoFlex feels just right. It damps high frequency chatter exceptionally well, but it does still feel a bit bouncy on bigger hits.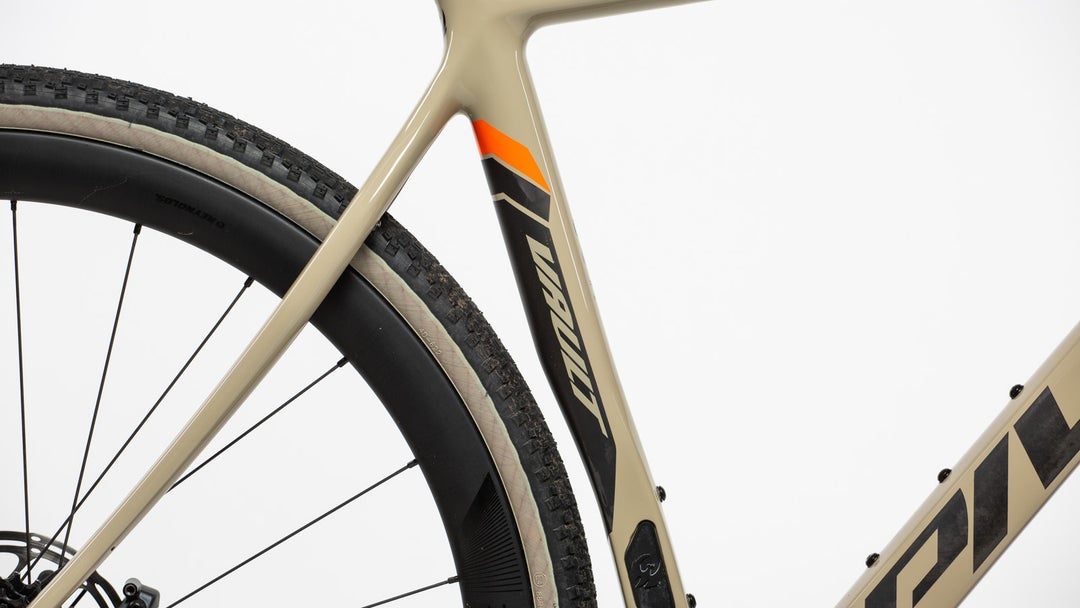 It's also possible to run either a 27.2mm seatpost for as much compliance as possible, or a 30.9mm seatpost if you want to run a dropper. The Vault has an eye on versatility.
Speaking of, Pivot clearly knows that gravel riders like options. The Vault has top tube bosses, can run 700c or 650b wheels, integrates hidden fender mounts, can accommodate 1x or 2x drivetrains, is suspension-compatible — you get the idea. I would consider throwing road tires on the Vault for training rides, and while it wouldn't be my first choice on a cyclocross course, it could certainly stand up to those rigors.
Having shoved the Vault into a bike case so I could take it on my flight to Bentonville, I was glad the bike was outfitted with SRAM's eTap AXS component suite. The tiny battery stows easily, the rear derailleur comes off and stows in luggage without fuss, and once it's all back together, you're ready to roll in seconds.
Much fuss has been made about the Force eTap AXS's lackluster appearance, but that didn't bother me one bit on the Big Sugar course. Even in torrential downpours, the group worked smoothly and without any missed shifts, slow shifts, or other calamities. And everything looks rad when it's covered in mud.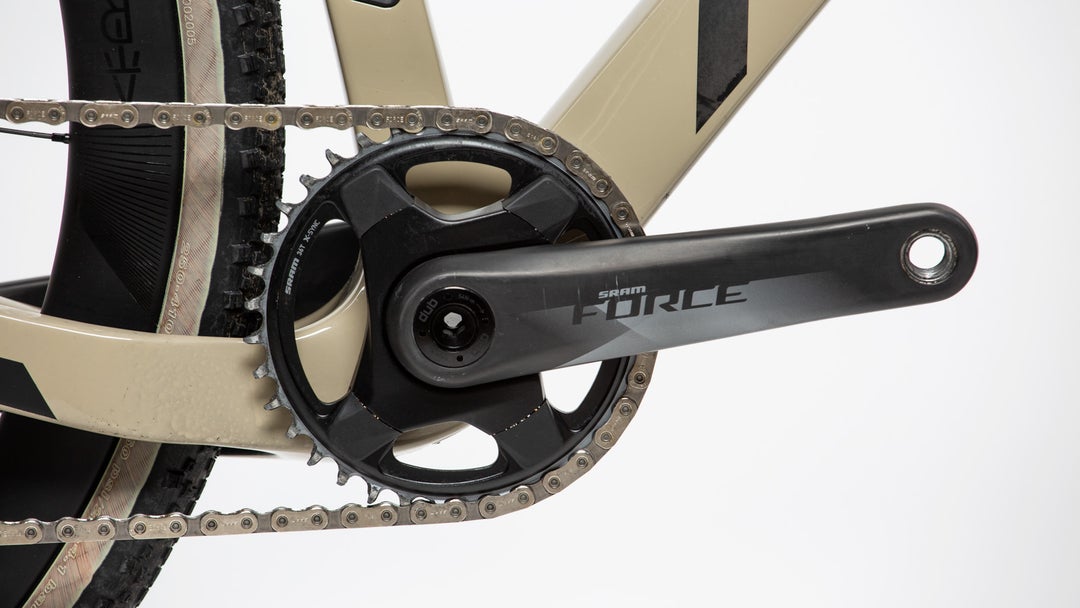 I did, however, wish I had one lower bailout gear than was available. The 36-tooth chainring combines with a 10-33 tooth cassette out back, and while that was sufficient for most of the terrain we tackled, I found myself wishing for a larger cluster out back on the super-steep, Belgian-esque climbs in northern Arkansas. Fortunately, the eTap AXS ecosystem allows you to tailor your drivetrain, so it's entirely possible to get that bigger bailout gear if you want it by swapping out some drivetrain components.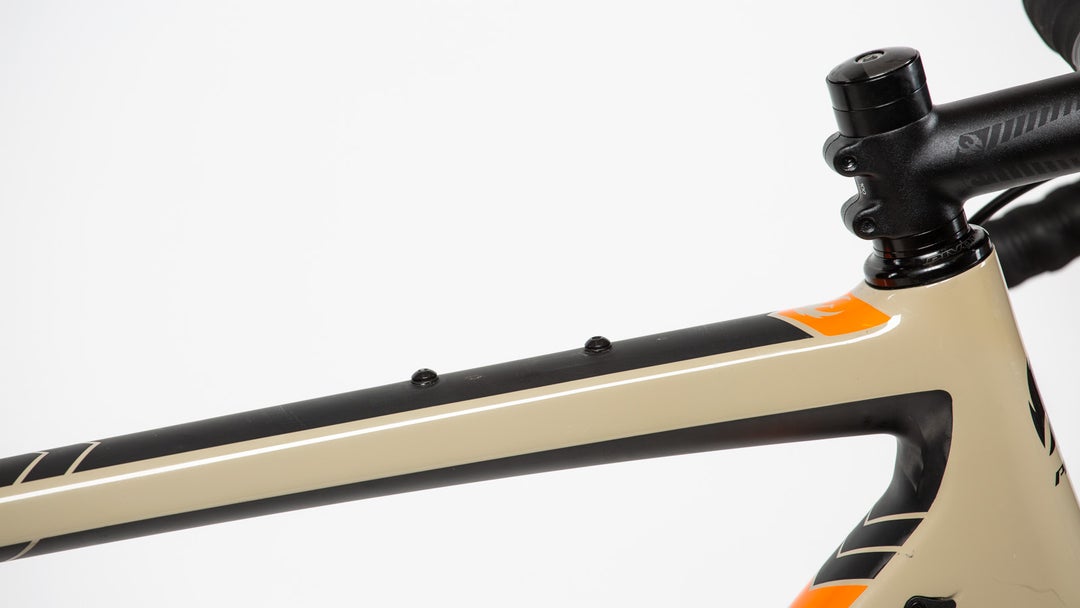 It was hard to find fault in the Vault from Pivot, and I can say without hesitation that Pivot has created a remarkable gravel race bike you can confidently take to any of the toughest gravel races on the calendar. As gravel grows up, expect to see more and more race-oriented gravel rigs that incorporate some of your favorite versatility touches, like bosses galore and comfort integration features. The Vault is already there, so the future has arrived early at the Pivot warehouses.