Hei! FNLD GRVL is underway in Lahti
The inaugural gravel race in F1 driver Valtteri Bottas' hometown features lakes, forests, and Finnish pastries.
Photo: Courtesy FNLD GRVL
Heading out the door? Read this article on the new Outside+ app available now on iOS devices for members! Download the app.
In 2021, after he raced SBT GRVL for the first time, F1 driver Valtteri Bottas told me that he might consider launching a gravel race back home.
"I've actually already started to think of gravel racing in Finland," Bottas — who then raced for Mercedes and now races for Alfa Romeo — said. "I do this duathlon there every year, and gravel racing is growing, as well. Who knows, maybe one day there'll be a VB Gravel Race."
It's not called the VB Gravel Race, but there is a new gravel race in Finland this weekend: FNLD GRVL is currently underway in Lahti, Bottas' hometown.
Read also: F1's Alfa Romeo Team KICK partners with FNLD GRVL for inaugural gravel race
Hundreds of gravel cyclists from around the world have descended on Lahti for the inaugural event, which is co-produced by Bottas, SBT GRVL's Amy Charity, and WorldTour pro Tiffany Cromwell.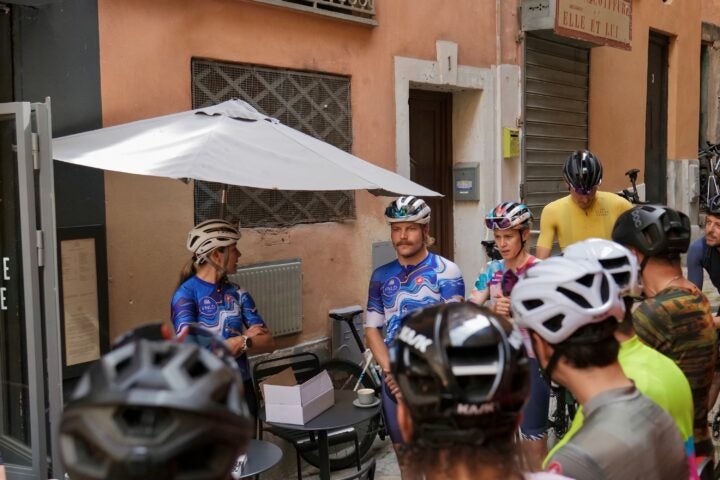 The event bears all the trappings of a major gravel race, with an expo, nearly a dozen shakeout riders, and a pro panel, as well adjacent activities like yoga and, for a nice price, go kart racing at Bottas' childhood track.
Over 800 riders are registered for Saturday's race, where they'll choose between 40, 77, or 177km routes.
Cromwell said that the course might surprise people — what it lacks in long, sustained climbs it makes up for in the the short, steep kickers of Lahti's World Cup nordic ski trails, that will likely separate riders at both the beginning and end of the race. The kilometers in-between are on a mix of farm tracks, doubletrack, and wide-open gravel roads.
After the race, organizers are promising an "epic Finnish afterparty with DJ, live music, sauna, hot tubs, and more."
Fun Finnish facts
While Finns make up 33 percent of the riders at FNLD GRVL, there are 26 other countries being represented at the event. The US comes in second at 30 percent (with California and Colorado contributing the most participants). 10 percent are British, and other countries with significant representation are Germany, Sweden, Netherlands, and Estonia. 
For newcomers, the event is as much a chance to get to know a new place as it is to race gravel.
While Finland is known for its 'happiest people on Earth' accolade, it has green goals, too: the country aims to be carbon neutral by 2035. Lahti, Bottas told me, hopes to achieve the goal in the next two years.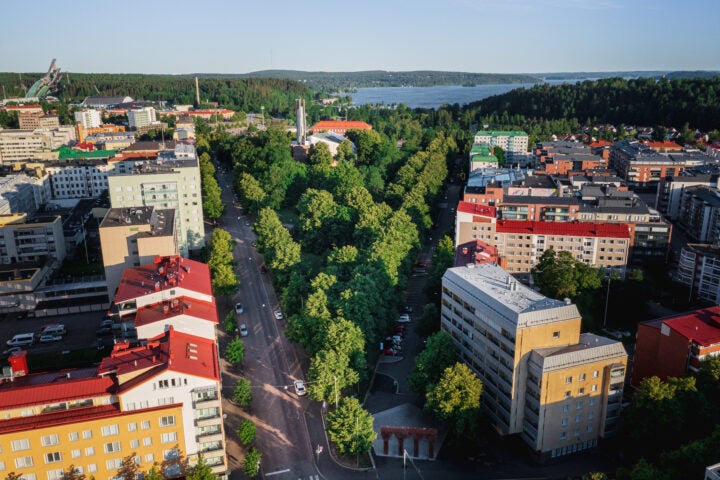 Around 75 percent of Finland's surface is covered with forests, and it's home to the world's biggest archipelago, as well as Europe's largest lake district and last untamed wilderness, Lapland. Tall trees and lots of lakes will be the scenery du jour on Saturday.
Sauna is a major component of Finnish culture (see, you do know a Finnish word), and most Finns sauna daily. Even moreso in summer, I was told, when they can go from the sauna to a dip in the lake and repeat multiple times a day. I can't wait for that afterparty.
Foodies have a lot to enjoy in Finland, too. There is a strong emphasis on local ingredients, with fish and poronkäristys (reindeer) two unique sources of protein. A bit later in the summer, Finland bursts with berries — the lingonberries, woodland strawberries and blueberries are the best, Bottas said. Finns love their bread and pastries, and I'm pretty sure that I will be eating a korvapuusti (Finnish cinnamon bun) every day while I'm here.
Hopefully, everyone will take advantage of the Finnish treats at the aid stations on Saturday. In addition to Maurten sport nutrition, I've heard there will be salmiakki (salty Finnish licorice), local bread with peanut butter and jelly, Karl Fazer chocolates, coffee and korvapuusti 🤤
Fast FNLD GRVL riders
In addition to Finnish aid station treats, there will be some fast riders on course on Saturday, most of them tackling the 177k race (Bottas will race 77k, which is his number in F1).
Many of FNLD GRVL's top contenders are fresh off (and freshly cleaned up from) Unbound Gravel.
Tiffany Cromwell and Carolin Schiff who won Unbound's 100 and 200-mile races, respectively, will be going head to head for the honor of first champion of FNLD GRVL, perhaps even riding the unreleased Canyon Grail.
However, they'll face tough competition in DNA Pro Cycling's Heather Fischer and Heidi Franz, retired road pros Karol-Ann Canuel and Chloe Hosking (who now has a bike brand!), and Swedish national time trial and road champion (and decorated triathlete) Lisa Norden.
The men's race will also see Unbound royalty duking it out on the gravel roads of Finland.
Hopefully, 2022 champ Ivar Slik has cleaned all the mud out of his derailleur because he's up against tough competition in this year's second place finisher Peter Vakoč. Same goes for Pete Stetina, Kerry Werner, Kiel Reijnen, Nicolas Roche, and Paul Vos.
Also, keep an eye on dark horse Toms Skujins of Trek-Segafredo.
Full FNLD GRVL pro startlist here.