Groad Trip: Gravel's culture shift on display at USAC nats this weekend
I was keen to experience firsthand how USAC organized the inaugural national championships, even if my personal result was a DNF after a mass pileup
Photo: Craig Huffman // USA Cycling
Heading out the door? Read this article on the new Outside+ app available now on iOS devices for members! Download the app.
Three years ago, the idea of a sanctioned USA Cycling Gravel National Championships was a cringeworthy idea. Race organizers and racers (myself included) publicly denounced the idea and need for any such type of event. We claimed it was the antithesis of what our discipline stood for.
This past weekend, most of my colleagues and I renewed our USAC licenses for the first time in years and toed the line eager to fight for a stars and stripes jersey. What changed? There isn't one simple answer. For me it was gravel culture and USAC's understanding of gravel culture finally intersecting.
Read also: Stephens and Swenson win inaugual gravel nats
'Pro-ification'
Last week, I was quoted in a Velo piece: "The Pro-ification of gravel is complete." That wasn't a typo. 'Pro-ification' is not professionalization. Most gravel events are, and have been, quite professional. Expos at these races nationwide are robust and polished, with slick marketing emails and social media on point. By pro-ification I am referring to the shift in the pro racing aspect of gravel and the pros ourselves.
One could blame me as an early adopter who came to gravel directly from the WorldTour with the intention to remain competitive. Or, you could blame the Life Time Grand Prix for highlighting the professional field above the masses with a full tour, robust prize money, and media attention. Or, the bike industry for pouring money into new products, lucrative athlete deals, robust support staff, and a directive to racers to focus on only winning races. Or, even the dark horse riders who hadn't made it on a big stage yet in road or MTB who finally have a golden moment to showcase their talent.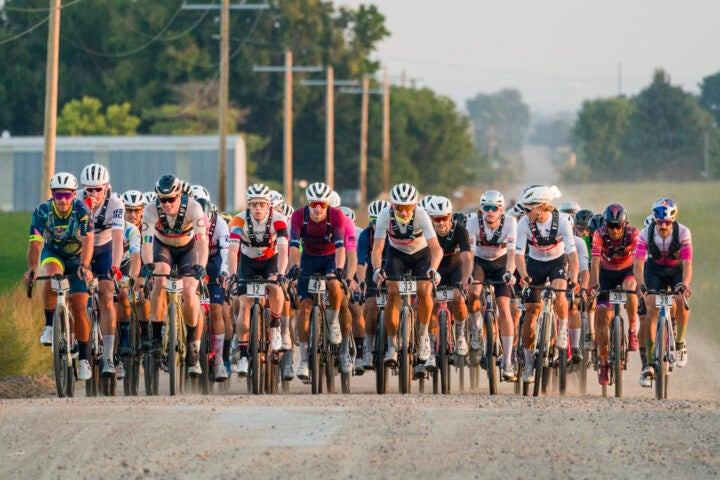 In truth, all of these things are true, and honestly it doesn't matter because we are now in a reality where gravel racing is extremely professional. Training is full time for most, minor slip-ups in races are irrecoverable, and scientific marginal gains are the norm, as are monastic training lifestyles.
The way we now race gravel in the front is high octane and pure performance, which is unrelatable for the journeyperson participant. For some of the biggest races, the only part of the experience I feel we share now is the route. To make a career in gravel, it used to be practically mandatory to spend the lead up to a race engaging at the expo or a beer release party. Now, it often feels irresponsible to do anything that might have a negative impact on one's legs come race day. Performance is weighed heavier than ambassadorship by many.
Here's the thing though, I love the way gravel is being raced more than ever. It's fast, tight, technical, and exciting. I love the exhilaration that speed and tense competition can bring. It's just that for my own inner harmony, a successful race means including blending both the festive and performance aspects. I recognize where the discipline is, and continue to love it for what it is. Gravel has been an opportunity for me to feel valued as a person with multiple interests, not just an athlete.
But, a major truth is that many racers just want to race. And that is an experience USAC can most definitely provide.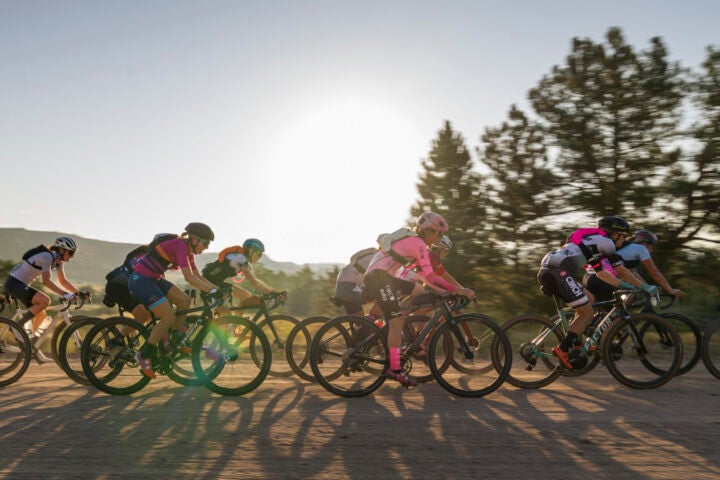 USAC read the room
Over the last few years, I've taken part in a few calls from USAC with other racing colleagues and event organizers discussing how the governing body can fit into the gravel space. We would share our thoughts on what type of event they could produce that might allow them to gain acceptance from the gravel community. Then, a plan would come out in which it seemed they crumpled up those notes and went with the traditional template they've been using for road or mountain bike. It was discouraging and I became ever more pessimistic that they could cobble something together.
This year however I was pleasantly surprised when news broke of the national championships in Gering, Nebraska. USAC had finally come through!
The event would have the backbones of classic gravel grinding that made this discipline flourish in the first place: a long, endurance-focused 131 miles on a not-too technical course, but with enough variety to keep it interesting. Men and women would cover equal distance, and the stage would be in the heartland of American gravel, the midwest.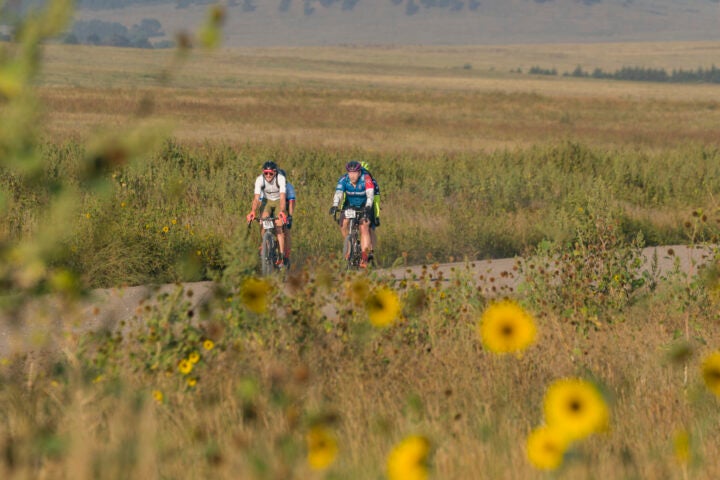 On top of that, there was to be a $60,000 prize purse ($30k male/female)! My jaw dropped, USAC had never had prize money at any road or mountain bike nationals, the only thing on the line was a patriotic jersey. This was the biggest single day purse in gravel. Ever.
I'd always said if USAC put something together that looked fun and interesting to me, I'd attend. Now, I was enticed by a classic gravel grinder format, welcoming to all, in a part of the country I hadn't visited. And I'll be honest, the potential payday was the cherry on top. I renewed my license, registered, and made plans for Big Tall Wayne and I to add this into our fall schedule.
On the ground
As the day neared, I found my excitement growing. The racer in me wanted that first ever champs jersey, a piece of history, and I was also interested to see what it looked and felt like first hand.
The expo was quite sparse — there was a major lack of industry presence. I'm not sure if that was due to the late announcement when most marketing budgets were spoken for, or if the industry was also waiting with bated breath. As a result, I didn't feel the sense of impending two-wheeled adventure with the masses that one does at events like Unbound or Mid South.
The official USAC "blue shirt" vibe was present but seemed more friendly and relaxed rather than stiff and regulatory.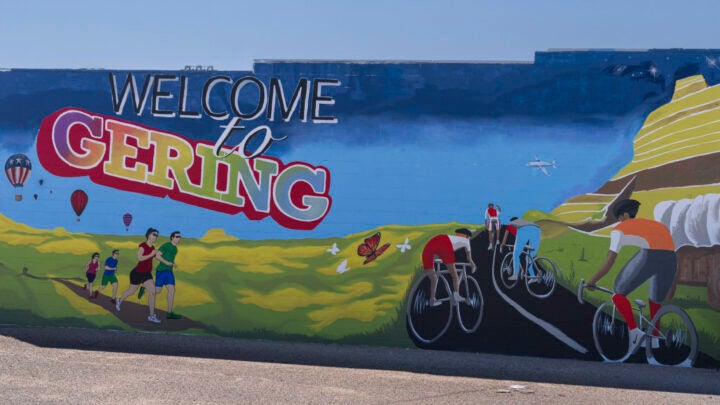 The course was dynamic. It was fast. Wind and sand pits would be a major factor, but there were enough hills and short two-track sections to break things up. The finale had a steep climb 20 miles out and a technical section for a last minute attack in the final three miles.
The finish line arch was impressive. The fencing, signage en route, and the communications were all dialed. This would be the safest gravel event I'd ever experienced: the front group had a rolling full road closure, and the traffic control was prominent.
The event gave off the vibe of a race, and the riders who came were there more for the competition and less about the mass gathering. I slid into that mode; this weekend was to be about performance only. Without any sponsor obligations and not much happening around the expo, I flipped the racer switch on and retreated to the hotel to ready for the next day and let Wayne dive into making the bike as perfect as possible.
Race day
We were sent off into the Nebraska plains by one of the better National Anthems I've ever heard; the man who sang had bellows for lungs! As the sun rose, the wind was at our back and the speed was high, making for an un-selective scenario despite a flurry of attacks. The one exception was John Borstelmann clipping of the front with two others. At the first major hill, Keegan and I forced the pace and the pack started to whittle.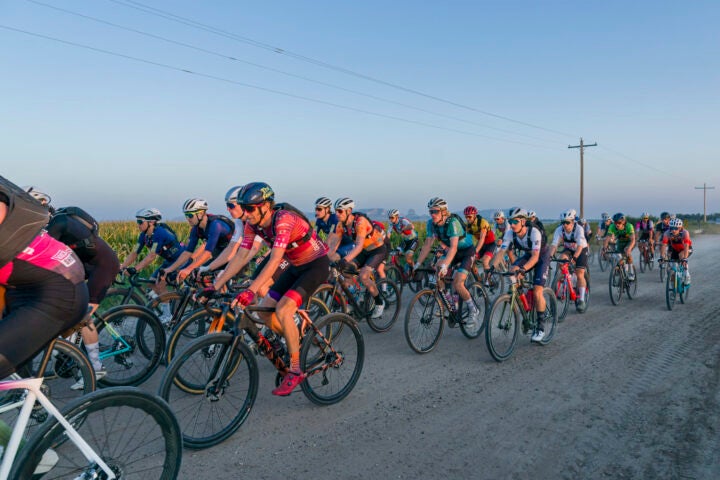 The race was really heating up when, at mile 27, a rider in the top 10 crossed wheels and went down at high speed. This created a domino effect and mass pileup. I was one of the early victims and became a landing pad for other riders and their bikes. All told maybe 20 went down, and half wouldn't continue on. Luckily landing in dirt isn't as bad a pavement and I was miraculously ok. My bike was another story however: I took a few minutes of roadside maintenance and got it rideable. But upon investigating deeper on the fly, I discovered more damage, some of it catastrophic. Even if I ever caught the fast moving front group I wouldn't be able to safely ride aggressively.
I pushed on for 30 more minutes where I got to a neutral aid station, dismounted, called my wife to let her know that I was OK, and called Wayne for a pickup.
Up ahead the race would play out and Keegan would make a winning move in that final technical bit and solo in just ahead of an elite chase. Congrats to him and all those who soldiered through that wind and sand.
I allowed myself to be disappointed for a few hours on a missed opportunity. It was my first ever DNF in my gravel career. It stings to put time, money, and energy into a race only to leave before I was even tired or hungry. My string of bad luck in races all summer long continues, something I'm really frustrated with. I'm just pining for a clean run. But I've done this long enough to know that's just another part of bike racing and there's always another race and opportunity to make amends. Mine comes as soon as this weekend at the next stop of the LTGP at Chequamegon.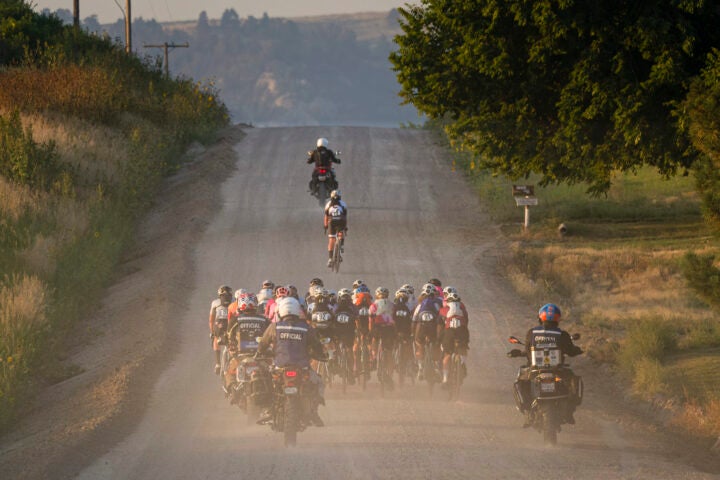 My DNF doesn't detract from my view of gravel nationals. If you want to race gravel in a safe and competitive environment, I highly recommend it. If you want to have a big communal gathering with the fun extracurriculars, I'd suggest you look elsewhere — for now.
This felt like a classic race in every sense of the word. USAC hasn't cracked that magic gravel formula, but I don't know if they need to. I'm sure I'll be back next year.