Why haven't you heard of La Gravilla at the Sea Otter Classic? Because it's not a gravel race at all
I had a blast underbiking on singletrack, but not everyone felt the same.
Heading out the door? Read this article on the new Outside+ app available now on iOS devices for members! Download the app.
At this point, I am familiar enough with the gravel scene to act as somewhat of an authority on a variety of events: I can speak to terrain and road type, the business in the front: party in the back ratio, and even what width and tread of tire are recommended.
Therefore, when I'm thinking about storylines to chase in gravel, I'm often drawn to what I don't know.
So when planning the annual pilgrimage to the Sea Otter Classic this year, I decided to sign up for La Gravilla, the gravel race that the event debuted three years ago (in October 2021, Sea Otter's post-Covid fall edition).
Despite the ongoing hype about gravel and what a big deal Sea Otter has become for athletes, this race has not emerged as a 'must do.' In fact, participation numbers have been pretty low. I had heard that the course was short and singletracky, plus when the Life Time Grand Prix series debuted last year, all the gravel pros turned their attention to the Fuego XL cross-country race.
Now that I've done La Gravilla, I can confirm why there has been no hype about this gravel race: it's actually not a gravel race at all.
But why?
I think there is good reason.
Although Sea Otter the festival takes place at the Laguna Seca Speedway, most of the racing — and the recreation for that matter — is in the Fort Ord National Monument. This is a great thing, as Fort Ord is actually an oasis.
From 1917 until 1994, the area was a U.S. Army facility, serving first as a field-artillery target range then as an Army post during WWII and a training center during Vietnam War. That said, when Fort Ord was converted to civilian use, the mostly undeveloped land provided excellent habitat for all types of flora and fauna.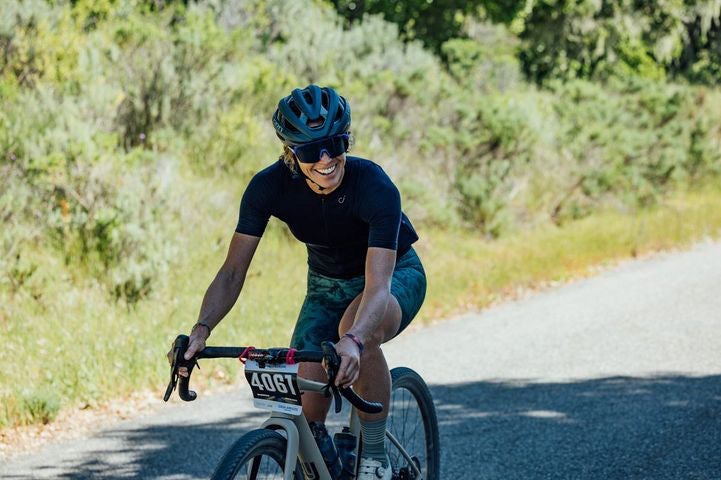 Now, although the area is open to recreation, it's still undergoing clean-up from its military days. The Bureau of Land Management currently manages 7,200 acres of the Fort Ord National Monument; after the Army finishes environmental restoration, that number will increase to 14,650 acres and will include many of the roads that are currently off-limits.
When I asked Life Time's off-road events boss Kimo Seymour why the gravel race was so singletrack-heavy, he said that many of the roads are still closed due to clean-up efforts. As soon as that changes — "in the next few years," he hopes — the La Gravilla course will look very different.
La Gravilla as it stands
If you look closely at the route (or even not that closely, ha), the La Gravilla course is not that different from the Fuego XL cross-country course.
This year, La Gravilla was about 10 miles longer than the Fuego XL, with similar vert (roughly 8,500 feet), and maybe a few less sections of singletrack. However, according to the pros who raced the Fuego last year, this year's Gravilla was pretty much that course.
When I lined up with my age group at the start, I noticed that nearly half of the women were on mountain bikes. They knew. Fortunately, I happen to love underbiking and am pretty skilled at riding a gravel bike on singletrack, so I wasn't really nervous that I was on the wrong equipment.
I worried a bit about the people who thought they were doing a proper gravel race.
In fact, after a short climb up a paved road, the course took a right onto legit singletrack. If I was a casual rider who showed up with the recommended minimum tire width of 40mm I might have been a little upset.
Needless to say, I was not upset, then or at all during the race. The weather (bluebird skies, warm temps), the wildlife (coyote scat everywhere, deer, wild turkeys, and birdsong), and the wildflowers (penstemon, poppies, lupine, and wild violet) made for one of the most nature-rich events I've ever done.
And the riding was just so fun. Ribbons of singletrack through stands of mossy oak, all of it rideable and requiring just enough focus to stay present. The road sections — which really just served as connectors to the next bit of singletrack — were either sweeping descents or steep uphill grinds.
On one particular climb, a herd of invasive weed-munching goats popped out of the trees to give us a good laugh.
I later learned that not everyone enjoyed the course as much as me; half of my field dropped out after one lap. And I get it. If people wanted a mountain bike race they would have signed up for the Fuego. While a lot of gravel races might have a bit of singletrack or some other unconventional surface, it's the exception not the rule. Not everyone likes to ride gravel bikes on mountain bike trails, and I felt bad for people who were expecting something different.
So what's Life Time to do?
I'd say scrap the race until the roads are open, or else take the race outside of Fort Ord — what about riding to the coast somehow?
If you like underbiking you can do the Fuego on a gravel bike. If you like mountain biking, do it on a mountain bike. But there aren't enough of the traditional underpinnings of a gravel race — namely the roads themselves but also the style of riding — to make La Gravilla worthy of the title.
The gear I used
Bike
If there is anyone to trust blindly when you're going, well blindly, into a race, it's Neil Shirley with Enve. Yes, I realize the bias therein, but Shirley is much more than Enve's marketing manager. He's a legend on the bike himself, understands all the ins and outs of the sport, and he's been racing at Sea Otter since he was 14 (!).
I had already wanted to check out Enve's new MOG gravel bike, so when Shirley suggested I take it on the Gravilla course, I immediately said yes. I left the rest — tire size, bars, wheels, etc — to him.
Read also: Do you MOG? Meet ENVE's first gravel bike
I knew that the Gravilla course was mountain bikey, but I'm a pretty skilled underbiker so I wasn't that worried about being on a gravel bike. However, I am so thankful that Shirley was looking out for me. He set up my MOG with 47mm Vittoria Terreno Dry tires, and those made all the difference. Of course the bike also had Enve wheels and Enve's Gravel Handlebar.
I really liked the bars — at 42cm with a good flare, they were great for riding in the drops on all the flowy singletrack.
My least favorite component was the Campagnolo Ekar groupset. While it gave me enough gears for the super steep road climbs, what good are gears when you can't reliably shift into them? The MOG also had an ENVE dropper, which I did not use even once (though I love underbiking, I don't think a dropper enhances the experience).
The MOG is billed as a 'do it all' gravel bike, with geo that falls between race and adventure. I can certainly attest to its underbiking capabilities — riding singletrack was a blast, and I didn't have to walk any descents. Better still, the bike wasn't a slug on the road. I easily transitioned from mountain biking to climbing up steep dirt or paved roads with no change in pace or effort.
I'm really curious how the MOG would feel in a gravel race like SBT GRVL or Unbound, where the riding is all on dirt roads and being able to hang at 20mph in a pack is tantamount. My guess — since it's Alexey Vermeulen's gravel bike of choice — is that is would do just fine.
Kit
In terms of soft goods, I used some of my tried-and-true: Velocio's Concept merino jersey (the weather got hot but I did not) and the Pearl Izumi PRO women's bib shorts (comfy, no leg bands/sausage effect, and they are easy to pee in).
I also wore a pair of cute and comfy socks from Peppermint, a women-led brand from Canada. My favorite Patagonia sports bra (the Cross Beta). No gloves.
Helmet + Sunnies
As soon as I arrived at the venue I realized that I forgot my helmet. Good thing it was Sea Otter. I walked straight over to the Giro booth — my friend Anne-Marije Rook was telling me she loved Giro's helmets on our ride down to Sea Otter — and explained my situation. The nice people there hooked me up with a new Aries Spherical helmet, and I loved it! It's got a nice, slim profile (fits small, I had to size up), tons of ventilation, and has a very cool ball and socket design that helps direct impact forces.
I wore Smith Shift Split MAG sunglasses which have become a favorite since I got them on a press trip in Arizona a month ago. Living at altitude in Colorado, I feel that the majority of my life is spent wearing sunglasses, so I know a good lens when I look through it. Smith's ChromaPop technology is up there with the best, and during La Gravilla is was so sunny and clear that, although I could feel myself wanting to squint, the lenses did the work for me.
Plus, I think they look cute on.
Shoes
For shoes, I wore the new Specialized S-Works Recon.
In addition to racing La Gravilla, my trip to California included an eMTB race and a three day road ride. I needed one shoe that could do it all, and this one delivered. My favorite shoe of all time is the older (and on sale!) S-Works Recon mountain bike shoe, and this new version is similar yet different. It's much easier to walk in (the other Recon has an incredibly stiff sole), and it's roomier in the toe box.
That said, I did experience some discomfort about four hours into the race. I'm wondering if this is because the shoe has been reformatted as more of a gravel/road shoe and I was basically mountain biking. It's also possible that my feet were swelling. All good, I just loosened the BOA dials to give my feet some more breathing room.
Computer
The only time I use a bike computer is on race day, and I usually reach for the Wahoo Elemnt Bolt. I don't need a huge screen or any fancy features (not to say the Bolt doesn't have them, I'm sure it does) — all I want to see is the line that shows I'm on course. Once or twice I toggle over to the page that shows the time, distance, and vert to make sure that I'm actually getting somewhere, but otherwise, I stay on the course map screen.
In another oops move similar to forgetting my helmet, I started the race on 50 percent battery and ended — almost five-and-a-half hours later — with 25 percent.