Power analysis: Keegan Swenson's insane 10-hour power to win Unbound Gravel
We dive into the power numbers of Keegan Swenson at Unbound Gravel.
Heading out the door? Read this article on the new Outside+ app available now on iOS devices for members! Download the app.
One year ago, Keegan Swenson had just finished second at the 2022 Unbound Gravel behind Ivar Slik in a five-man sprint finish. Swenson went on to dominate the inaugural Life Time Grand Prix that year, his podium finish at Unbound being one of the standout results of the season. But when Swenson set his eyes on 2023, he knew he wanted to win Unbound Gravel.
There were many aspects of Unbound Gravel that would be different in 2023, the first being that Swenson and the pack of elite riders rolled out of Emporia, Kansas, at 5:50 a.m., 10 minutes before the rest of the age group riders. That meant less chaos when it came to fighting for position in the opening miles. 
One might think that in a 200-mile gravel race, the fight for position isn't much of a fight at all. These 10-plus hour gravel events are mostly tests of endurance, right?
Not exactly. In the last few years, the landscape of gravel racing has completely changed from a feat of ultra-endurance to a non-stop 8, 9, or 10-hour race. 
It is full gas…the whole race…for 10 hours.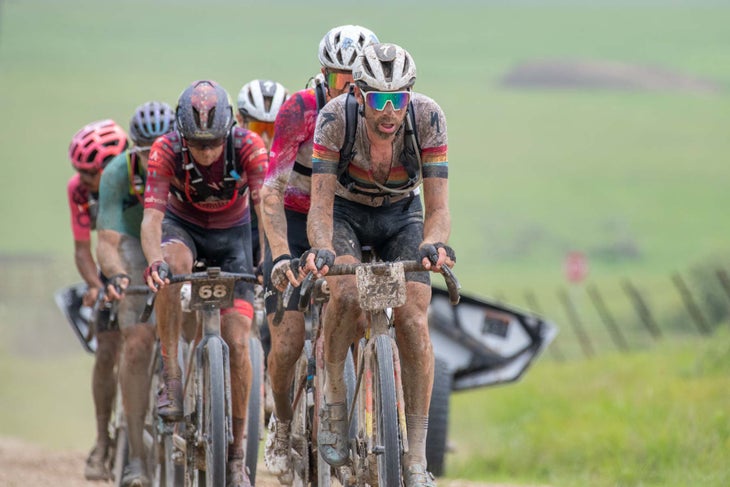 At the end of this article, we do an hour-by-hour breakdown of Swenson's power file and what it takes to win the hardest 10-hour gravel race in the world. 
The defining feature of this year's Unbound Gravel was a long (mostly unrideable) section of mud less than 15 miles into the course. Most riders suffered horrible delays in this section of the race. Those who stayed on their bikes had their tires completely clogged up with mud. While those who ran through the mud had their shoes and cleats caked in the peanut butter-like substance. 
Many riders crashed, experienced race-ending mechanicals, and even a few riders flatted after riding through some barbed wire. 
Swenson stayed out of trouble, as much as he possibly could, and exited the mud-drenched pit in the lead group of less than 10 riders. But even the multi-time MTB national champion was forced to walk through one of the gnarliest mud sections that Unbound Gravel has ever seen. 
Also read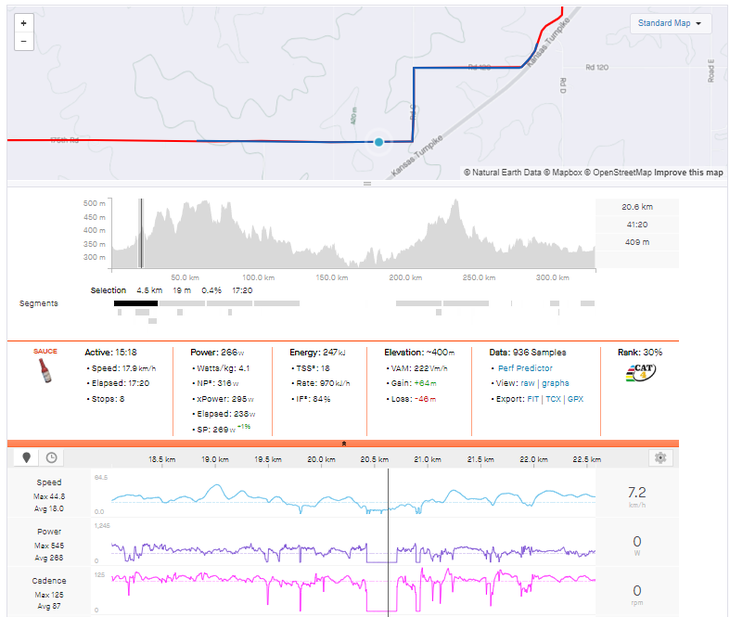 Swenson – Mud section at Kilometer 20
Time: 17' 20"
Average Power: 266 w (4 w/kg)
Normalized Power: 316 w (4.8 w/kg)
Time spent walking

: 3' 40" at 5.4 kph
After the figurative dust had settled, Swenson rode in the lead group for over four hours, pulling turns with gravel pros, MTB stars, and former WorldTour riders such as Lachlan Morton, Russel Finsterwald, Ian Boswell, Payson McElveen, Laurens ten Dam, and Petr Vakoč. 
From the start to the first checkpoint in Eureka, Swenson did over four hours at a Normalized Power (NP) of nearly 300 w. By zooming into Swenson's Strava file, we can see the exact moments that he was taking a pull at the front of the group. These are the flatter sections of Swenson's power file, where he would pull for 30-60 seconds at 300-330 w.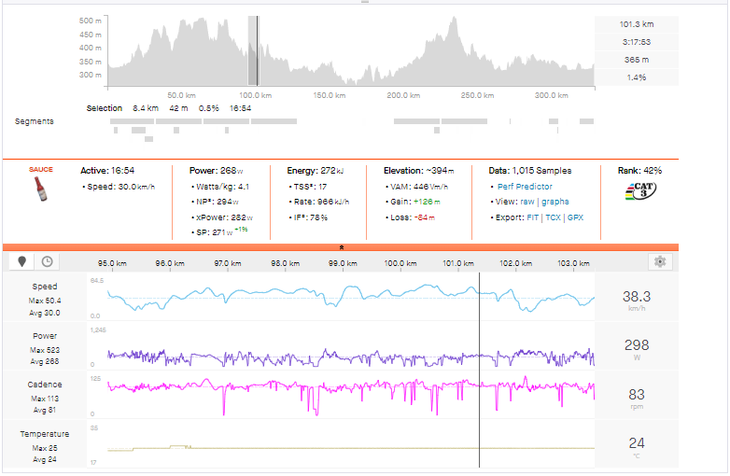 Swenson – Start to the first checkpoint
Time: 4 hrs 03' 54"
Average Power: 270 w (4.1 w/kg)
Normalized Power: 295 w (4.5 w/kg)
At the first checkpoint, Swenson grabbed nutrition and bottles from his support crew, only stopping for a matter of seconds before the lead pack was back on the road. 
The serious attacks weren't thrown down for another three hours — which meant there were still three hours to go in the Unbound Gravel 200. 
It's difficult to put the length of Unbound into perspective. But if you've ever done a three-hour ride, you understand how long that is to be riding your bike. Unbound Gravel 200 is 10 hours long – for the lead group, by the way. Fast mortals finish Unbound Gravel 200 in 12-16 hours, with many riders rolling into Emporia after midnight and nearly 20 hours of riding. 
The craziest part of the rest of this power analysis is that Swenson did all these numbers eight, nine, and 10 hours into the race. Most cyclists have never spent that many hours on the bike in a single day, even if you count the 'chamois time' spent sitting at a coffee shop or gas station. That said, let's take a look at a turning point in the race where there was a series of steep climbs with 100 km to go. 
Morton, Finsterwald, and Ten Dam all attacked the group in the final few hours, but the group kept being sewed back together by Swenson and others. However, a few riders were jettisoned from the front, and less than eight riders remained with 95 km to go.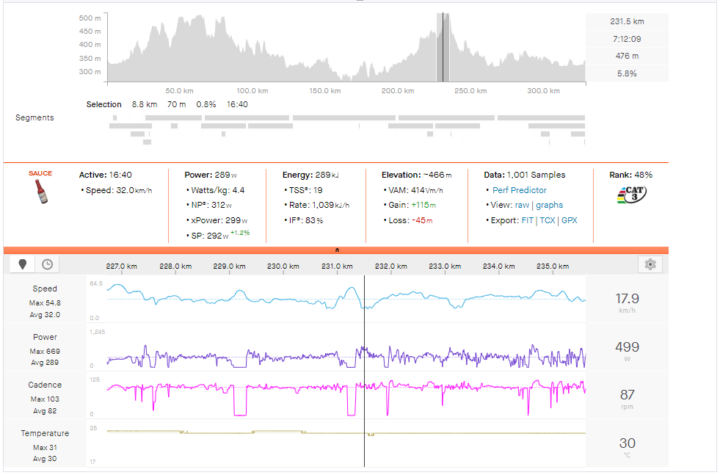 Swenson – Steep climbs with 100 km to go
Time: 13' 25"
Average Power: 298 w (4.5w/kg)
Normalized Power: 321 w (4.9 w/kg)
Steep climb #1: 437 w (6.6 w/kg) for 1'
Steep climb #2: 417 w (6.3 w/kg) for 1' 41"
Steep climb #3: 534 w (8.1 w/kg) for 41"
Nine hours and 40 minutes into Unbound Gravel, there were still seven riders in the lead group, and most of them didn't want the race to be decided in a sprint. So with 10 km to go, the attacks started flying. In the space of 10 minutes, Swenson spiked his power 12 times over 600 w, including hitting 972 w and over 64 kph (40 mph) on the run-in to the finish. This was one of the hardest sections of the race, where Swenson had an NP of nearly 6 w/kg for 8 minutes.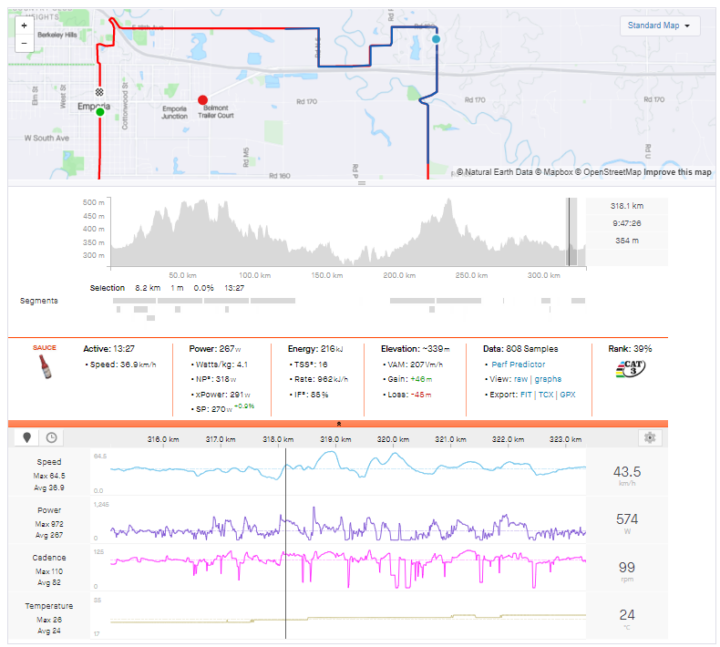 Swenson – Chasing attacks with 10 km to go
Time: 8' 37"
Average Power: 295 w (4.5 w/kg)
Normalized Power: 343 w (5.2 w/kg)
Closing gap #1: 516 w (7.9 w/kg) for 19"
Closing gap #2: 419 w (6.4 w/kg) for 36"
In the final 2.5 km, Swenson continued following the last-ditch attacks as the lead group approached the finish. Confident in his sprint, Swenson waited until 250 m to go to open it up, hitting an insane 1,245 w after 10 hours in the saddle. Swenson knew he wanted to go long in the sprint, and that's exactly what he did. 
At over 1,000 w and 59 kph, Swenson would've torched most amateur riders in a town sign sprint on a coffee ride. But after 10 hours of racing, having burned 9,000 calories and conquered over 200 miles of Flint Hills gravel, Swenson's sprint power is out of this world.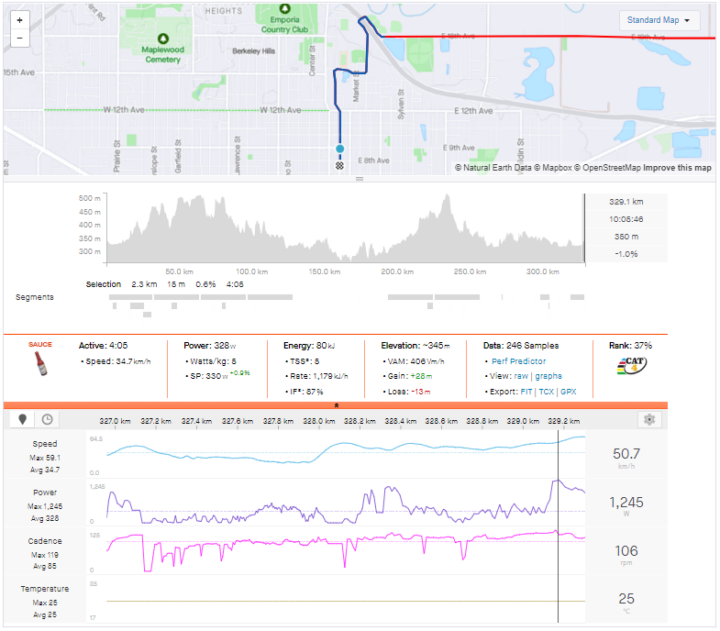 Swenson – Final 2.3 km
Time: 4' 05"
Average Power: 328w (5w/kg)
Final kilometer: 488w (7.4w/kg) for 1' 27"
Winning Sprint: 1,075w (16.3w/kg) for 10"
Max Power: 1,245w (18.9w/kg)
We know that Unbound Gravel is most-known for its brutal length and how in years past, it was more a test of endurance than a full gas bike race. But times have changed, and we can see from this hour-by-hour breakdown that there was never a lull at Unbound Gravel.
The easiest hour by Normalized Power was still ridden at nearly 4 w/kg, and the final 10 km were the highest-powered kilometers of the entire 200-mile race. 
Here is the hour-by-hour breakdown of Keegan Swenson's win at the Unbound Gravel 200. 
Hour 1

: Average Power: 247 w (3.7 w/kg) Normalized Power: 296w

Hour 2

: Average Power: 298 w (4.5 w/kg) Normalized Power: 311w

Hour 3

: Average Power: 264 w (4 w/kg) Normalized Power: 288w

Hour 4

: Average Power: 267 w (4.1 w/kg) Normalized Power: 283w

Hour 5

: Average Power: 251 w (3.8 w/kg) Normalized Power: 266w

Hour 6

: Average Power: 245 w (3.7 w/kg) Normalized Power: 268w

Hour 7

: Average Power: 241 w (3.7 w/kg) Normalized Power: 255w

Hour 8

: Average Power: 238 w (3.6 w/kg) Normalized Power: 271w

Hour 9

: Average Power: 229 w (3.5 w/kg) Normalized Power: 265w

Hour 10 (and 3' 54")

: Average Power: 246w (3.7 w/kg) Normalized Power: 276 w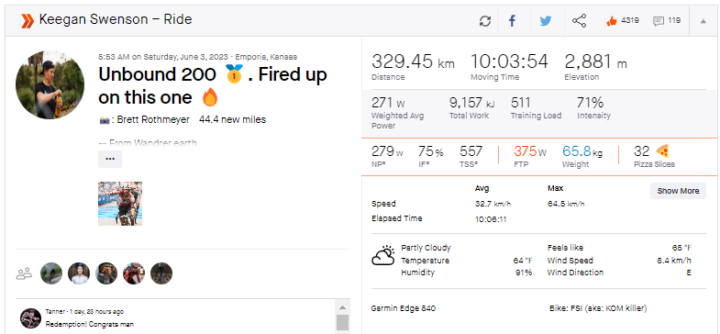 Swenson – "Unbound 200 🥇. Fired up on this one 🔥"
Kilometers: 329.45
Time: 10:03:54
Average Power: 271 w (4.1 w/kg)
Normalized Power: 279 w (4.2 w/kg) 
Max Power: 1245 w (18.9 w/kg)
Energy Burned: 9,157 kJs
Elevation Gain: 2881 m (9,452 ft)
***
Power Analysis data courtesy of Strava
Strava sauce extension 
Riders: Keegan Swenson