Sofia Gomez Villafañe clinches Belgian Waffle Ride Asheville win
The Clif Pro Team rider outwits Flavia Oliveira and Tiffany Cromwell in a commanding victory.
Heading out the door? Read this article on the new Outside+ app available now on iOS devices for members! Download the app.
Professional mountain biker Sofia Gomez Villafañe has just clinched her second 2021 gravel win.
The Clif Pro Team rider established a lead over the other top women on a climb 30 minutes into the 100-mile race and never looked back.
"I think having a climb at the beginning is crucial," Gomez Villafañe told VeloNews at the finish. "That is where I got away. I was third at the base of the climb and I could kinda see the girls and I slowly worked my way up. A climb separates the field and you don't have that bunching up that we had last weekend. So I think it's safer, as well."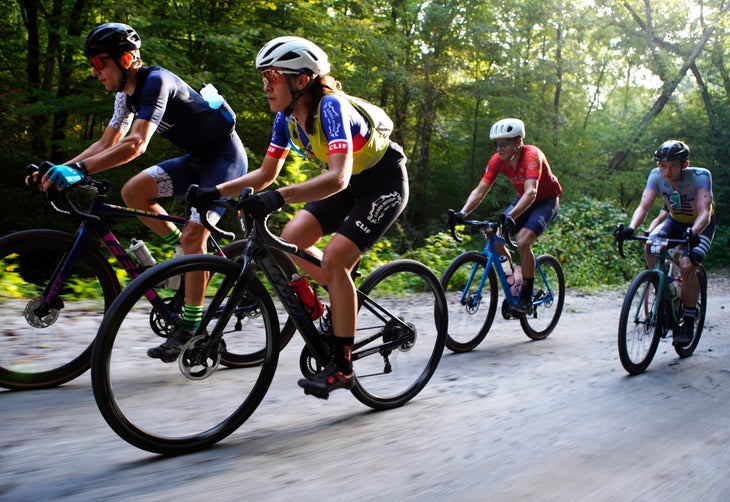 By 'last weekend,' Gomez Villafañe was referring to SBT GRVL, her second major gravel race of the season, where an early crash on a doubletrack section led to chaos at the front of the race. Another lesson learned from Steamboat, said the Argentinian Olympian, is how her fitness plays into making selections in gravel races.
"I think my mountain bike fitness really plays into making selections because it's 'on off on off on off,'" she said. "Something that I experienced at Steamboat and even here today is, you have the front guys and some of the women like the Laurens who were able to make that group. On the other side you have women like Crystal Anthony, Whitney Allison and the masters men, and I was in the middle. There were little attacks that I'd do, that the guys would do that I'd follow that I'm like, 'why would I put in a 300watt attack?' It's not like mountain biking where you want to get ahead because there's a big group coming behind you."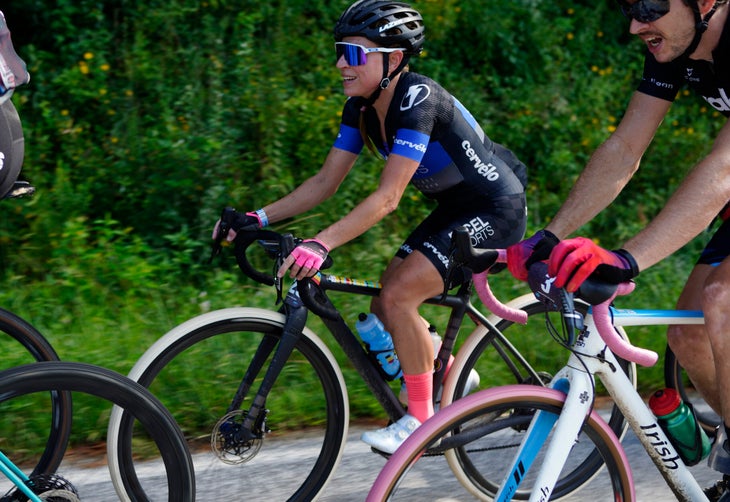 After she distanced herself from second and third-place finishers Flavia Oliveira and Tiffany Cromwell, Gomez Villafañe worked within a chase group of about 20 men. Oliveira was in a larger group of 40 just off the back. At the base of the race's pivotal Jeter Mountain climb, Oliveira said that neither she or the group she was with could close the gap.
"When Sofia crested the climb I just didn't have the legs to close the gap," Oliveira said. "When they rolled on our little group was not willing to put in the work. I'm really happy for her. I can't think of anyone more deserving."
Gomez Villafañe's win in Asheville follows on the heels of her 9th place finish in at SBT GRVL last weekend and her win at the Crusher in the Tushar earlier this season. The Argentinian was elated that her first BWR race was just under 100 miles in distance.
"See these races don't need to be that long," she said, "we're already suffering!"
BWR Asheville results (provisional)
Women
Sofia Gomez Villafañe (Clif Pro Team), 5:17:11
Flavia Oliveira, (Excel Sports), 5:21:49
Tiffany Cromwell, (Canyon-SRAM), 5:30:42
Margie Bemis, (Team CWA), 5:40:26
Vicki Barclay, 5:47:25
Grace Chappell
Alice Walton
Nora Klingfus
Luz Cardona
Katie Morales
Full results can be found here.