Unbound Gravel 2023: Elite start lists
New in 2023, riders in the elite category will have their own start in the 200-mile race.
Heading out the door? Read this article on the new Outside+ app available now on iOS devices for members! Download the app.
It's almost here — Unbound Gravel 2023.
Bigger than ever before, the 'Super Bowl' of gravel will see thousands of cyclists and their support crews descend on Emporia, Kansas this weekend. While much about the event will remain the same — a bustling expo, plenty to do off the bike, and a guaranteed memorable ride — there are also some big changes this year.
Read also:
Notably, event organizer Life Time will debut a separate start for elite racers in the 200 mile category. Elite men will roll out at 5:50 a.m. on Saturday, and elite women will follow two minutes later. The rest of the 200 mile racers will begin at 6:00 a.m.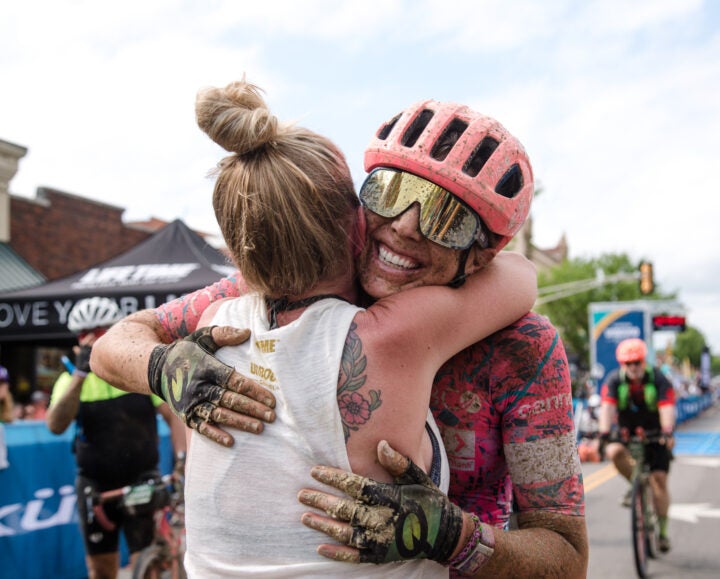 140 men, 70 women, and one non-binary rider will compete in this year's elite category. However, according to Life Time's director of brand and content for events Michelle Duffy, qualifying for the category required more than just signing up.
Riders could self-select to be in the elite category, but Life Time vetted each applicant.
"We vetted it based on results," Duffy said. "If we didn't find credentials obviously, we reached out to everyone with the opportunity to submit a race resume, additional comments, or their Athlinks profile."
Duffy said that, for the most part, riders were "overwhelmingly accurate" in their applications. Life Time only had to remove a "handful of people" from the elite category, and "we did this primarily for safety reasons," Duffy said.
Of the elite riders, 70 — 35 men and 35 women — are part of the Life Time Grand Prix series. Unbound is the second race in the series.
Here are the elite start lists.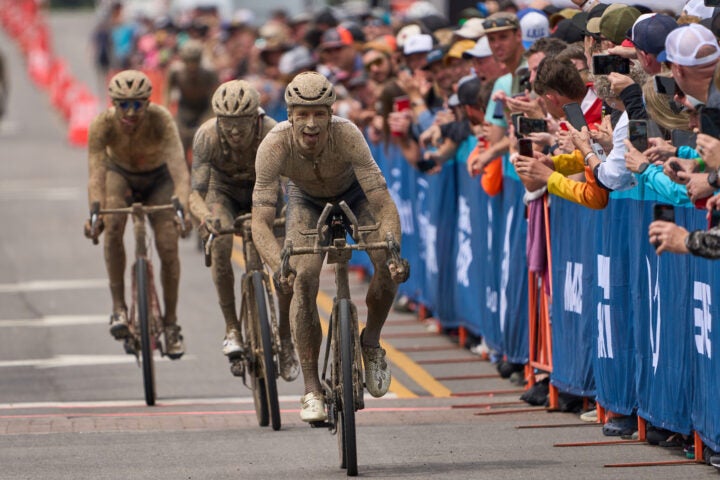 Unbound Gravel Elite Start Lists
* denotes Life Time Grand Prix athlete

| Elite Men's List | Elite Women's List | Elite Non-Binary List |
| --- | --- | --- |
| Julien Absalon | Tess Amer | Rach McBride |
| Matt Acker | Crystal Anthony* | |
| Zack Allison | Whitney Allison | |
| Carter Anderson | Justin Barrow | |
| Jan Bakelants | Ella Bloor* | |
| Stefano Barbieri | Chelsea Bolton* | |
| Mike Barton | Gillian Bennett | |
| Jalen Bazile | Svenja Betz | |
| Adrian Beer | Marisa Boaz | |
| Matt Beers* | Ali Bronsdon | |
| Ryan Bennett | Ellen Campbell* | |
| Francisco Bettini | Catherine Colyn* | |
| Harrison Biehl | Heather Compton | |
| Matthew Bird | Cecily Decker | |
| Adam Blazevic | Lauren De Crescenzo* | |
| Metheven Bond | Sarah Diekmeyer | |
| Brent Bookwalter | Tori Dippold | |
| John Borstelmann* | Rebecca Fahringer* | |
| Ian Boswell | Maude Farrell* | |
| Travis Bramley | Hannah Glatter | |
| Barrett Brandon | Sofia Gomez Villafane* | |
| Charlie Bratt | Nadia Gontova | |
| Rob Britton* | Emma Grant* | |
| Joshua Bromley | Kelly Hoffman | |
| Eric Brunner* | Isabella Hyser* | |
| Zach Calton* | Heather Jackson* | |
| Tom Chester | Katie Kantzes | |
| Mattia de Marchi | Isabel King* | |
| Thomas Dekker | Nora Klingfus | |
| Justin Dillon | Sarah Lange | |
| Connor Dunne | Jaime Larmer | |
| Griffin Easter* | Danielle Larson | |
| Isaac Enderline | Caroline Mani* | |
| Adam Farabaugh | Holly Mathews* | |
| Russell Finsterwald* | Sarah Max* | |
| Reid Foster | Deanna Mayles* | |
| Michael Garrison | Amira Mellor | |
| Lorenz Gohlke | Minori Minagawa | |
| Nick Gould | Julie Momber* | |
| Matthew Govero | Jessica Mullins* | |
| Colby Greiner | Angela Naeth* | |
| Howard Grotts* | Tessa Neefjes | |
| Nathan Haas | Emily Newsom* | |
| John Haddock | Raylyn Nuss* | |
| Lance Haidet* | Madeleine Nutt | |
| Colton Hall | Paige Onweller* | |
| Lars Hallstrom | Hannah Otto* | |
| Coulton Hartrich | Ivy Pedersen | |
| Piotr Havik | Caroline Poole | |
| Ezekiel Hersh | Emma Porter | |
| Reed Horton | Jenna Rinehart* | |
| Alex Howes* | Amity Rockwell | |
| Jacob Huber | Melisa Rollins | |
| Matthew E Jablonski | Sami Sauri | |
| Garrett Jenema | Carolin Schiff | |
| Dylan Johnson* | Hannah Shell* | |
| Brenden Johnston* | Danni Shrosbree* | |
| Logan Jones-Wilkins | Alexis Skarda* | |
| Charles Kagimu | Haley Smith* | |
| Kyle Kalish | Kyleigh Spearing | |
| Connor Kamm | Nicole Steinmetz | |
| John Kariuki | Sarah Sturm* | |
| Jeff Kerkove | Starla Teddergreen* | |
| Ryohei Komori | Alison Tetrick | |
| Alban Lakata | Caroline Tory* | |
| Bradyn Lange* | Jade Treffeisen | |
| Bruno Langlois | Leah Van der Linden* | |
| Bjorn Larson | Ruth Winder* | |
| Andrew L'Esperance* | Caroline Wreszin | |
| Konny Looser* | Anna Yamauchi* | |
| Joe Laverick | | |
| Nick Leeper | | |
| Nick Locandro | | |
| Ian Lopez de San Roman* | | |
| Travis McCabe | | |
| Payson McElveen* | | |
| Nolan McPeek-Bechtold | | |
| Matt Moosa | | |
| AJ Moran | | |
| Justin Morris | | |
| Lachlan Morton* | | |
| Mark Myles | | |
| Tasman Nankervis* | | |
| Simen Nordahl Svendsen | | |
| Jasper Ockeloen | | |
| Jack Odron* | | |
| Jonas Orset | | |
| Tobin Ortenblad* | | |
| Jake Oswald | | |
| Logan Owen* | | |
| Ethan Overson | | |
| Freddy Ovett | | |
| Carlos Pacheco | | |
| Ralph Pahlmeyer | | |
| Cole Paton* | | |
| Jonathan Patterson | | |
| Jacob Paulson | | |
| Robert Pearce | | |
| Elliott Phillips | | |
| Eric Purcell | | |
| Derek Daniel Reformat | | |
| Kiel Reijnen | | |
| Rane Roatta | | |
| Adam Roberge* | | |
| Nicholas Roche | | |
| Torbjørn Andre Reed | | |
| Matti Rowe | | |
| Jordan Schleck | | |
| Ryan Sellner | | |
| Jiri Senkyrik | | |
| Ivar Slik | | |
| Marc Spratt | | |
| Nathan Spratt* | | |
| Ryan Standish* | | |
| Pete Stetina* | | |
| Keegan Swenson* | | |
| Michael Tabasko | | |
| Skyler Taylor | | |
| Derek Teel | | |
| Laurens Ten Dam | | |
| Scott Teitzel | | |
| Kyle Trudeau* | | |
| Thomas Turner | | |
| Petr Vakoc | | |
| David Van Orsdel | | |
| Alexey Vermeulen* | | |
| Paul Voss | | |
| Jorden Wakeley | | |
| Larry Warbasse | | |
| Chase Wark | | |
| Kerry Werner* | | |
| Brennan Wertz* | | |
| Bergen West | | |
| Nate Whitman | | |
| Matthew Wiebe | | |
| Alex Wild | | |
| Innokenty Zavyalov* | | |
| Thijs Zonneveld | | |