2010 MTB Worlds: Absalon and Schurter Head-to-Head
Nino Schurter not only beat Julien Absalon at the line in the 2010 World Cup cross-country opener, he topped the Frenchman one more time by winning the World Cup overall title, which Absalon had won the last four years. And what about last year's MTB worlds?
Heading out the door? Read this article on the new Outside+ app available now on iOS devices for members! Download the app.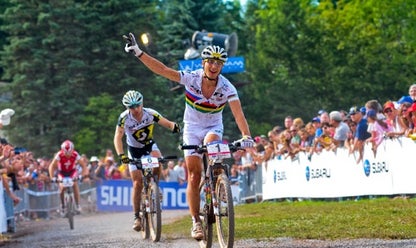 At the 2009 mountain bike world championships in Australia, the Swiss duo of Nino Schurter and Florian Vogel teamed up on French strongman Julien Absalon. The end result was Schurter winning his first rainbow jersey in a sprint against Absalon.
Through most of 2010, Schurter, Vogel and a handful of their Swiss compatriots have raced like smooth-running timepieces. Schurter not only beat Absalon at the line in the World Cup opener, he topped the Frenchman one more time by winning the World Cup overall title, which Absalon had won the last four years.
All that said, Absalon's collection of world championship hardware is a bit more impressive than Schurter's one gold medal. Absalon, 30, owns one sliver and four gold medals, which he won consecutively from 2004 through 2007.
And this year, with worlds in Mont Sainte Anne, Canada, history will be smiling on Absalon. He won the junior world title in the Canadian resort in 1998. Counting recent World Cups, Absalon is unbeaten in Mont Sainte Anne since 2007.
Many of the athletes at this year's worlds are more than familiar with Mont Sainte Anne, which has figured on the international calendar every year since 1991, including the world championships in 1998.
Cross-Country
Along with Absalon and Schurter, the women's cross-country competition will provide plenty of excitement for the crowd, which has two strong Canadian contenders for the title: Catharine Pendrel is the 2010 World Cup champion, winning the final leg in Windham last weekend. Her compatriot Marie-Hélène Premont finished second in Windham and will be especially motivated in Mont Sainte Anne, which is near where she grew up.
Downhill
Great Britain's Gee Atherton (Commencal) is the UCI World Cup champion this year and is more than capable of winning his second World Championships title after Val di Sol (Italy) in 2008. However he will have strong competition from his compatriot and current World Champion Steve Peat and South Africa's Greg Minnaar.
Meanwhile, with her victory in Windham last weekend, Rachel Atherton (Commencal) proved she is back in shape after injury. The British downhill specialist will need to pull out all the stops to ward off an extremely strong French delegation in the form of reigning World Champion Emmeline Ragot, 2010 World Cup champion Sabrina Jonnier as well as Floriane Pugin and Myriam Nicole.
4-cross
Australia's Jared Graves (Yeti Fox Shox) was never in danger during his campaign to win the 2010 UCI World Cup. He will definitely be the favourite in Mont-Sainte-Anne, where he will defend his World Champion title.
Meanwhile Anneke Beerten (NED) will be extremely motivated in Mont-Sainte-Anne: the World Champion's title has always escaped her until now. She faces strong competition from Austrian Anita Molcik, who won in Windham and in doing so snatched the World Cup title from under Beerten's nose. Other contenders include two BMX specialists: defending World Champion Caroline Buchanan (Australia) and the Czech riders Romana Labounkova and Jana Horakova.