2011 Brasil Ride, Stage 7: Fast Facts
Fast, fast, fast. That was best descriptor for stage 7's 49km loop on the flat roads and techy trails around Mucuge.
Heading out the door? Read this article on the new Outside+ app available now on iOS devices for members! Download the app.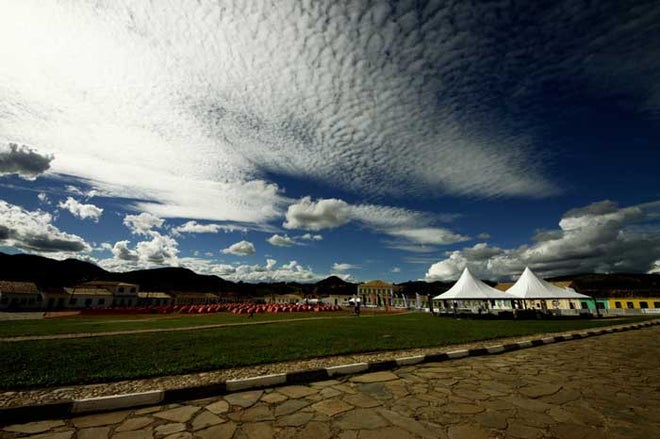 Fast Facts
Stage 7: Fast, fast, fast. That was best descriptor for stage 7's 49km loop on the flat roads and techy trails around Mucuge. Racing started on the main road out of town, then alternated between trail and road all the way back to the finish line. The front group covered 37km in the first hour, but there was also plenty of legit — and very tough — singletrack. It was a major improvement over the original Brasil Ride plan, a 107km, mostly flat fireroad grunt. Props to the organizers for making a great call, and putting a great capstone to an exceptionally challenging week in the saddle.
Stage Winners: Open Men: German's Lukas Kaufmann and Christopher Maletz (Easton Rockets) escaped with Czech's Kristian Hynek and Robert Novatny (Future Cycling-Sweep) in the first singletrack section, then went on the attack late, using their superior technical skills to earn their first stage win here in Brazil. Hynek and Novatny got what they came for, too, a second-straight overall title, besting Luis Pinto and Alejandro Lopez (Team Spano-Luso) by 5:18. Czech's Tomas Vokrouhlik and Martin Horak (BMC) were third overall.
Mixed: Ivonne Kraft and Kraft and Mateus Ferraz (Brasil Soul-RC Bikes). Women: Adriana Nascimento and Sabrina Gobbo (Ladies Brasil Soul-RC Bikes). Both teams also took convincing overall GC wins. This is Kraft's second Brasil Ride overall title. A year ago, she was part of the winning women's team.
What it looked like in GPS form: Fast and hard. The stop time was an unscheduled flip into a bush, resulting in a busted Ergon grip, but no major bodily harm.
Author's total time for the week: 36 hours, 17 minutes, 43 seconds. Ooph… Time for a very long rest.
Brazilian Portuguese Words of the Day:
• Terminado (Finished, as in the 2011 Brasil Ride is in the books.)
• Cerveja (Beer, as in it's time to indulge and celebrate.)

Open class
1. in 1:29:11 LUKAS KAUFFMANN CHRISTOPHER MALETZ OPEN 7
2. in 1:30:09 HUGO NETO DOUGLAS NETO OPEN 5
3. in 1:30:50 LUIS PINTO ALEJANDRO LOPEZ OPEN 2
4. in 1:30:59 KRISTIAN HYNEK ROBERT NOVOTNY OPEN 1
5. in 1:31:44 JOSEMBERG PINHO RAPHAEL MENDES OPEN 4
6. in 1:33:25 TOMAS VOKROUHLIK MARTIN HORAK OPEN 3
7. in 1:34:16 COREY COLLIER GILBERTO GOIS OPEN 12
8. in 1:34:44 JOSE SILVA TIAGO FERREIRA OPEN 6
9. in 1:35:03 UIRA CASTRO GUSTAVO SANTOS OPEN 9
10. in 1:37:24 ALEXANDRE SOUSA MAURICIO PEREIRA OPEN 14
11. in 1:40:03 MARCO ALMEIDA MARCO FERNANDEZ OPEN 8
12. in 1:42:05 RYAN DRAPER LEIGHTON POIDEVIN OPEN 16
13. in 1:42:07 THOMAS VANDENDALE CHRISTOPHE CLERCQ OPEN 11
14. in 1:42:41 RODRIGO SILVA MAURICIO NETO OPEN 33
15. in 1:42:54 EDMILSON SANTOS ANILTON ROCHA OPEN 24
16. in 1:48:12 DIEGO FERREIRA JUVENAL BATISTA OPEN 34
17. in 1:49:05 ULISSES VALARELLI FELIPE TAMBASCO OPEN 19
18. in 1:49:32 AGNALDO SANTOS LUIS FILHO OPEN 22
19. in 1:50:56 ROGERIO PIRES GUSTAVO CAIXETA OPEN 20
20. in 1:51:15 ZBIGNIEW MOSSOCZY PRZEMYSLAW MACIEJOWSKI OPEN 30
21. in 1:52:17 RODRIGO SANTOS MAGNUS DIAS OPEN 21
22. in 1:53:35 FREDERICO KASTRUP ROGERIO MODA OPEN 26
23. in 1:56:29 HARRY BEUTE JOSIAS SILVA OPEN 48
24. in 1:57:07 ANGELO HAYASHI CRISTIANO SILVA OPEN 36
25. in 1:57:27 ALEXANDRE SILVA PEDRO PINHEIRO OPEN 35
26. in 2:00:15 FAUSTO OLIVEIRA RONALDO JUNIOR OPEN 40
27. in 2:04:11 DANIEL CORREIA LEONARDO FERNANDES OPEN 45
28. in 2:05:07 EVERTON SIQUEIRA MARCO MELO OPEN 41
29. in 2:06:12 ANDERSON OLIVEIRA ROMEU FRANCIOSI OPEN 58
30. in 2:06:37 HUGO NORONHA RUI CARDOSO OPEN 37
31. in 2:08:14 PLINIO JUNIOR TADEU MALAVAZZI OPEN 56
32. in 2:10:55 WALTER GERMANO ANDRE GUIMARAES OPEN 42
33. in 2:12:52 FILIPE XAVIER EMERSON FURLANETTO OPEN 49
34. in 2:17:53 DANIEL VILELA RICARDO PUPO OPEN 46
35. in 2:19:12 VICENTE SOUZA WILLAMY BRITO OPEN 54
36. in 2:20:11 SERGIO GUSMAO MARCELO TORRES OPEN 62
37. in 2:28:33 MARCIO MONTEIRO ISRAEL FERREIRA OPEN 64
38. in 2:30:29 JOSE SILVA WALLACE BRITO OPEN 50
39. in 2:30:51 MARCELLO CENCI EDUARDO MARCOLINO OPEN 60
40. in 2:39:59 CARLOS GARCIA ALEX FONSECA OPEN 57
Women's teams
1. in 7:09:46 ADRIANA NASCIMENTO SABRINA GOBBO
2. in 7:23:58 ANDREA MARCELLINI MELANIE LEVEAU
3. in 10:10:47 VALERIA CONCEIÇAO CARLA PLENS

Gallery: Parting shots. The photo crew here in Brazil is made up of South America's best. Here are some of our favorites from an amazing, exhilarating, challenging, and ultimately worthwhile 7 days of suffering. Bucket list experience? Absolutely.