Absolutely Luna: Pendrel, Gould Go 1-2 in World Cup 3
Round 3 of the World Cup cross-country sees Catharine Pendrel and Georgia Gould dominate the women's race in Offenburg Germany while Julien Absalon takes his first win of the season.
Heading out the door? Read this article on the new Outside+ app available now on iOS devices for members! Download the app.
By Wendy Booher
[album id=30 template=extend]
OFFENBURG, Germany — Catharine Pendrel and Georgia Gould of the U.S.-based Luna Pro Team worked quickly to distance themselves from race favorites Sunday while Julien Absalon (Orbea) came back to seize a victory that's escaped him during the first two World Cup rounds.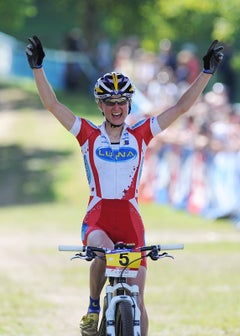 Racers cited start position as the most crucial element to succeeding in Offenburg, beyond that, what mattered most was power, speed, and — for many — how much suffering one could tolerate on a day that was, by popular opinion, brutal. The one-kilometer start loop finished with a climb that sorted the leaders nearly from the gun. Gould's experience at Offenburg combined with her self-confessed weak starts so far this season caused her to strategize a race that would cost her in the beginning but pay dividends in the end.
"Today I was like, 'You know, the race is to the top of the climb on the start loop, I've just got to get to the front,'" Gould said. "I had a good start and people were kind of sitting up coming through the Start/Finish and I said, 'You know what, I'm just going to go for it, I'm just going to get out in front and ride my own race like it's a national series race. Then I was like, 'I'm just going to hang on for as long as I can,' and being out front I get to pick my own lines and that worked out well."
Gould held a narrow lead over teammate Pendrel during most of lap one and the two lost contact with the trailing field. The teammates worked together to put more distance between them and third-place Esther Süss of Switzerland, but someone has to lead the race and Pendrel took over the job from Gould at the end of lap one.
"We kind of rode together a little bit," Gould said. "She was just super strong and kept a little bit of a gap; well first she passed me and I was having a really hard time riding behind her because some of the lines she was taking were different ones and you know you always follow the wheel in front of you. Once I sort of settled down I picked my own lines and was riding better. "
Despite rain earlier this week conditions were ideal for fair-weather racing, however abundant leaf cover in the woods prohibited roots — exposed during yesterday's junior races — from drying out and left some sections slick, "bony," and even a little dangerous to unsuspecting racers. A bad line selection, bobble or too much air pressure could bring a racer to a halt – if she managed to stay upright. Otherwise wheel-grabbing ruts repeatedly snatched a racer's balance and sent her crashing into the dirt.
NORTH AMERICAN RESULTS
Elite Women
1. Catharine Pendrel Canada
2. Georgia Gould U.S.
3. Esther Suss Switzerland
4. Marie-Helene Premont Canada
10. Mary McConneloug U.S.
13. Willow Koerber U.S.
19. Katherine Compton U.S.
21. Heather Irmiger U.S.
29. Amanda Sin Canada
36. Pua Sawicki U.S.
51. Emily Batty Canada
Full results
Elite Men
1. Julien Absalon France
2. Nino Schurter Switzerland
3. Jaroslav Kulhavy CZE
15. Geoff Kabush Canada
40. Jeremy Horgan-Kobelski U.S.
60. Todd Wells U.S.
66. Derek Zandstra Canada
75. Samuel Schultz U.S.
114. Michael Broderick U.S.
144. Tad Elliott U.S.
169. Ethan Gilmour U.S.
170. Stephen Ettinger U.S.
181. Travis Livermon U.S.
184. Tristan Cowie U.S.
192. Russell Finsterwald U.S.
194. Mitch Hoke U.S.
Full results
U-23 racer, Emily Batty (Trek World Racing) was one of the first to go down when she flatted within one meter of a three-meter drop, yet she had already committed to the descent where she caught her wheel sideways on a root and launched her bike into the gasping crowd while she hit the deck in spectacular fashion. Batty picked herself up, apologized and waved to the crowd before setting off on a one-kilometer sprint to the tech zone for a wheel change.
Back at the front, the way the race shaped up behind the Luna teammates  was unpredictable at worst; thrilling at best. Canada's Marie-Helene Premont (Maxxis-Rocky Mountain) moved steadily up the field as favorites like Russia's Irina Kalentieva (Topeak-Ergon) and Willow Koerber (Subaru-Gary Fisher) faded back. Both riders cited what was to become a common refrain for both the women and men: that it was "lights out" in terms of power and endurance for today's race.
Pendrel crossed the finish line nearly 30 seconds ahead of Gould, which lifted the leader's jersey from Koerber and placed it on Pendrel. The efforts of the two Luna riders also earned them the top team ranking for the women, which brought Luna's a weekend tally to three goals achieved: victory, leader's jersey and top team ranking.
North American Men Make the Most
Geoff Kabush (Maxxis-Rocky Mountain) wrapped up his European tour today with a 15th place finish at Offenburg. Kabush, who tried to transform a fourth row start into a top-ten finish, fell short of his target but will leave the continent feeling stronger than when he arrived, which for him was a goal.
"I tried my best but was fortieth or so on the start loop. It wasn't exactly the best but I kind of just wanted to try to control myself and build through the race," Kabush said. "I felt I could accelerate the whole race. There were a few "jitty" battles (guys squeezing me out) in the singletrack during the first couple of laps but that's always the way it is, everyone is fighting tooth-and-nail for position. After maybe the third lap it started to open up and Moritz Milatz (Multivan-Merida) and me were riding together and we worked off each other and rode through the pack up to the teens. We were close to the top ten and I'm sure that with a front-row start position, I would have been there."
Kabush returns to the American southwest to train for a few weeks before heading north to his native Canada. As part of his training, Kabush will be competing in the BC Bike Race with Pendrel as his teammate.
Meanwhile, Jeremy Horgan-Kobelski (Subaru-Gary Fisher), his teammate Sam Schultz, and Todd Wells (Specialized) each celebrated good starts but that's where the celebrating ended. By the end of lap one, both Schultz and Wells described a feeling of energy loss, or, in their words, it was "lights out."
"Things have been totally clicking over here – I've had good races the last two weekends, a Swiss Cup and a Bundasliga Bike race last weekend and I feel like things were coming along; I had pretty high hopes for today," Schultz said. "I was really psyched with the start and then one lap through, I don't know what happened – lights just went out, everything just shut down. It was a feeling that I would not wish upon anybody."
Wells had a similar experience as well, but after a frustrating race last year at Offenburg he said he was determined to stay in until the end.
"I had one of my best starts of the season — maybe eighth or ninth coming through the start lap and, for maybe the first lap, I was in the top 15 and after that, the lights went out and I had nothing," Wells said. "I was getting passed by like 20 guys at least per lap — just going backwards. I couldn't really push or anything. I wanted to quit and give up but I had to watch this race last year because I flatted in the middle of the race so I didn't want to do that again. But I was riding around slower than I did in training, it wasn't a good day."
Horgan-Kobelski reported better results with his race due to consistency and his ability to balance race strategies on the fly when and where they're needed most.
"I started in the fifties and moved up all day and I think I got mid-thirties at one point but I was kind of just jumping from group to group, making passes the whole way around," explained Horgan Kobelski. "I felt solid but not amazing. I had trouble with some of the really hard, punchy power efforts but transitions and downhills was making moves and getting guys. It's hard though, you have to be patient. It's like trying to find this balance of patience and aggression, you really have to try and take every opportunity. I mean there were well over 200 guys out there and this one is just full gas from the start. If you let up at all there's five guys just waiting to go around you so it's just picking your opportunities, trying to conserve energy where you can and leaving it all out there where you can."
Horgan-Kobelski, who passed Schultz during lap three of seven, and Wells during lap five, posted the best finish in fortieth place for the U.S. men.
King Absalon Is Back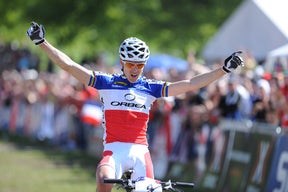 The one guy who had a great race was, of course, Absalon, who suffered both sickness and a mechanical in the first two rounds, which cost him the win.
"Today was a perfect race for me. It was a good start. I went up the course a little bit but there was a big fight with Nino Schurter," said Absalon. "I attacked the first time in the beginning of the third lap, he stayed on my wheel and after I attacked a second time, I took a few seconds and then 10, 20…until I reached one minute at the beginning of the sixth lap but the last lap it was difficult to breathe and the weather was really hot but I'm really happy."
Absalon takes over the lead from José Antonio Hermida (Multivan/Merida) for Round 4 of the UCI Mountain Bike World Cup, which takes place in Champéry, Switzerland, July 24-25.
Training for the Tour de France
In between the spring classics and the lead up to the Tour de France, French national time-trial champion, Jean Christophe Peraud, took some "vacation" time from training on the road to put in an effort at Offenburg. Peraud, who raced as a pro mountain biker until he switched to pro road racing after winning the national time-trial title last season, started in the seventh row at Offenburg but succeeded in slowly advancing on each successive lap.
"It was a difficult 'vacation,' I intended to train for road races like the Dauphine and the Tour de France and training on the mountain bike is very good high-intensity training," Peraud said. "I had a good start — I was maybe fortieth after one loop and then I came back to the front slowly but in the end I was a little bit dead so I lost a few places."