An inside look at Howard Grotts's historic Cape Epic win
Paired with one of the sport's legends, Olympic champion Jaroslav Kulhavy, Howard Grotts becomes first American man to win Cape Epic.
Heading out the door? Read this article on the new Outside+ app available now on iOS devices for members! Download the app.
About a year ago in late fall 2017, Howard Grotts got a phone call that would lead to a significant milestone in U.S. mountain biking history. His Specialized teammate Jaroslav Kulhavy was on the other line, and the Czech wanted Grotts to race with him at the Absa Cape Epic in March 2018.
Grotts, 25, rose to the occasion, and in just his second run at the Cape Epic, he became the first American to win the prestigious mountain bike stage race (alongside Kate Courtney who won the 2018 women's race). Typically very humble, Grotts isn't one to dwell on the significance of the win. But that doesn't mean his best international result came easily or without the hurdles of self-doubt.
When Kulhavy races Cape Epic, he races to win. The 2012 Olympic champion wasn't bringing Grotts along to teach him the ropes. And the eight-day South African stage race usually favors powerful riders like the 6-foot-2 Kulhavy. It is one of the few remaining mountain bike stage races with a team format. The two riders on a given team must ride and finish together. Kulhavy won the Cape Epic in 2013 and 2015, and the significance of his invitation was not lost on Grotts.
"It was a huge honor," Grotts said. "It was special to be asked by the Olympic champion — super cool."
In 2011, Kulhavy won the world cross-country championships in Champery, France. That same year, Grotts swept junior nationals, winning the short track and cross-country with the Durango Devo team. Grotts looked up to Kulhavy. It was a huge opportunity to race with and learn from a champion, but Grotts had doubts that he'd be able to rise to the occasion.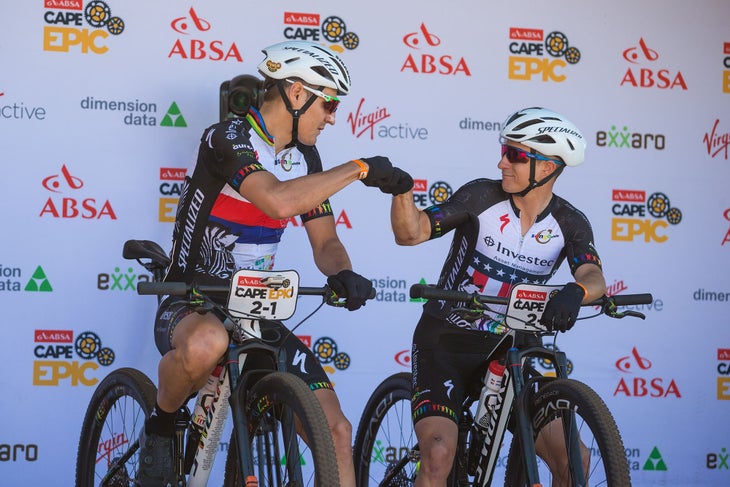 "Early season training is funny because you don't have an idea of where your fitness is actually at," Grotts said. "I was training super-hard, and I didn't know if I was good enough or fast enough."
One of the ways he prepared for the demands of a high-speed race like Cape Epic was to head down to Texas for a training camp with his friend Payson McElveen, a pro mountain biker on the Orange Seal team. There, when the group rolled out on road bikes, Grotts grabbed his 29er mountain bike, rolling resistance and aerodynamic drag be damned.
"The biggest thing for me was being able to ride at a really high tempo all day long," Grotts said. "I don't think I did any VO2 intervals before Cape Epic. [The race] was just whoever could ride at their tempo or a bit harder the longest."
That heavy training load began to add up, and just before Grotts left for Greece to do a tune-up race, he hit a wall.
"The week before I left for Cyprus I could hardly complete my intervals, and I was feeling pretty bad, 'Oh man, nothing is going to plan. I'm not going to be ready,'" he said.
Fortunately, he hadn't dug too deep into an overtraining hole, and with a little rest, he came out swinging at the Cyprus Sunshine Cup stage race in late February, finishing second overall. Kulhavy was fifth. The result was a relief for Grotts.
"It helped show [Kulhavy] that I did come prepared and I was ready to do this," he said. They shipped out to South Africa soon thereafter to prepare for Cape Epic.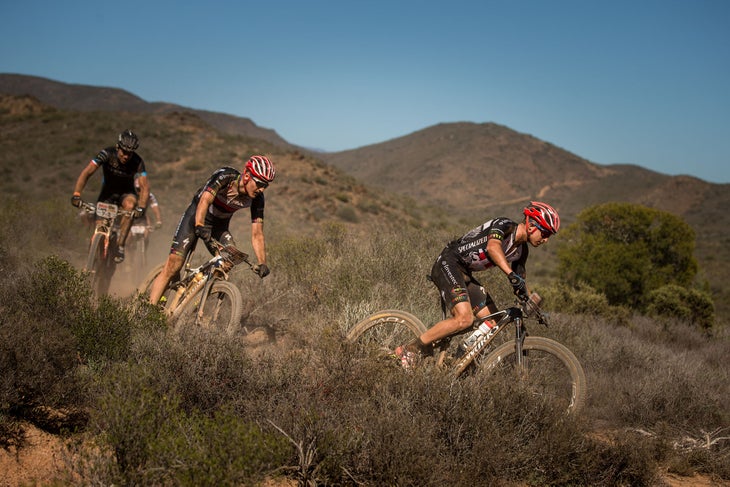 Cape Epic veterans were curious to see how the new pairing of Specialized riders would gel. Kulhavy had previously teamed up with fellow former world champion Christoph Sauser — they won the 2015 Cape Epic. Some wondered how a slightly built climber like Grotts would pair with a tall, powerful rider like Kulhavy.
"He's one of the strongest riders there is," Grotts said of Kulhavy. "He has a really specific diesel engine skill that happens to be perfect for Cape Epic."
They started the race with a respectable fifth-place finish in the prologue, a 20-kilometer day that was better suited for riders primed by high-intensity cross-country races. Manuel Fumic and Henrique Avancini won that first day.
On stage 1, a much longer route at 110 kilometers, Grotts and Kulhavy started to hit their stride.
"We worked well together," Grotts said. "We could use our strengths to be better than the other teams. Jaroslav sat on the front a lot and I got tucked in the draft and we made up time on the climbs where I could hold my own."
Thanks to a second-place finish that day, they moved up to second overall.
They gradually reeled in overall leaders Fumic and Avancini and by the end of stage 3, the young American and the Czech veteran were at the top of the GC standings. But instead of this boosting his confidence, the race's halfway point had Grotts questioning if he could keep up the infernal pace after the week's longest stage, 122km with 1,800 meters of climbing.
"I doubted myself partway through the race," said Grotts. "It was kind of funny because that was the day we moved into the yellow jersey but that was the mental low point because man, we had four more days of this [and] there's no way I can get through that."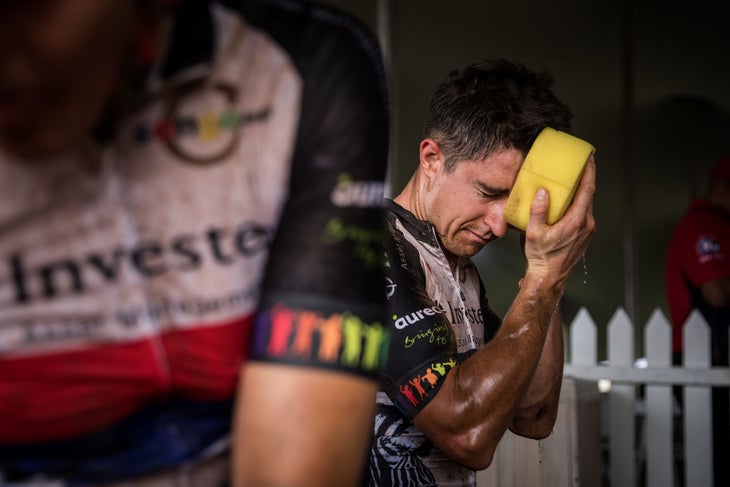 Afraid of letting his partner down in the race's crucial second half, Grotts didn't share those doubts or concerns with Kulhavy. Fortunately, he could commiserate with his fellow Specialized rider Courtney after those tough days in the South African outback.
"We got to laugh about everything, share our stories about how brutal it was," said Grotts. "It was cool to have Kate [Courtney] along and of course to see the girls crushing it was awesome. It gave us motivation to step our game up."
While Kulhavy's stoic, hardworking personality might not have been as inviting as a conversation with a fellow American, Grotts could tell that his teammate was watching out for him. Kulhavy knew how to keep Grotts from going past the point of no return.
"I got to see how Jaroslav raced and never asked me to do more than was good for us as a team," said Grotts. "So I have a huge amount of respect for that because he could have made me dig a super-deep hole I never could have recovered from and our race would be over."
Fortunately for Grotts, the second half of the race featured more big climbs, terrain that suited him. Thanks to careful pacing by Kulhavy and a bit of luck — they avoided illness and catastrophic mechanicals — Grotts hit his stride.
"Physically, I was feeling more and more confident," he said. "It was special to get into that zone, that in-the-moment feeling that we look for on the bike where everything is clicking really well."
Despite his struggles on stage 3, Grotts and Kulhavy managed a second-place finish on stage 4. Then they won the next two stages and wrapped up the race with a second-place result on stage 7. For Kulhavy, it was his third Cape Epic title, and for Grotts, it was America's first, concurrent with Courtney winning in the women's race.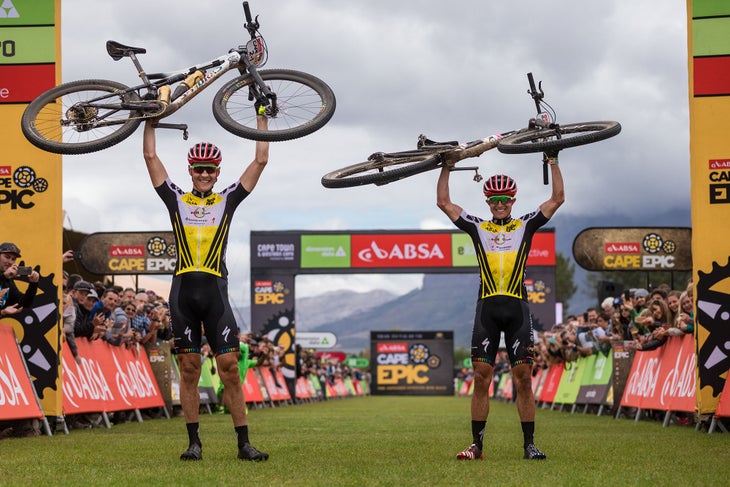 "For me, I was just personally happy for the fact that it did get more attention in the U.S. and people got stoked on it. That was really cool to see," Grotts said. He is quick to credit Kulhavy for the win, even going so far as to speculate that if the Czech champion did the race solo, he would still win the overall — perhaps by an even greater margin than they had.
"I don't think there's really a better partner to have for that race," Grotts added. "It's Jaroslav's race — it's perfect for him."