Annadel XC: Past, Present, Future
l-r -Paul Thomasberg and Roy Rivers. Photo by Dave Peoples ANNADEL XC JUNE 5, '11 Short Course: 14 Mile Loop Beginner Men and Women Intermediate Course: 19 Mile Loop Junior Ladies Under 18 Junior Men Under 15 "Short Sport" Men and Women (like…
Heading out the door? Read this article on the new Outside+ app available now on iOS devices for members! Download the app.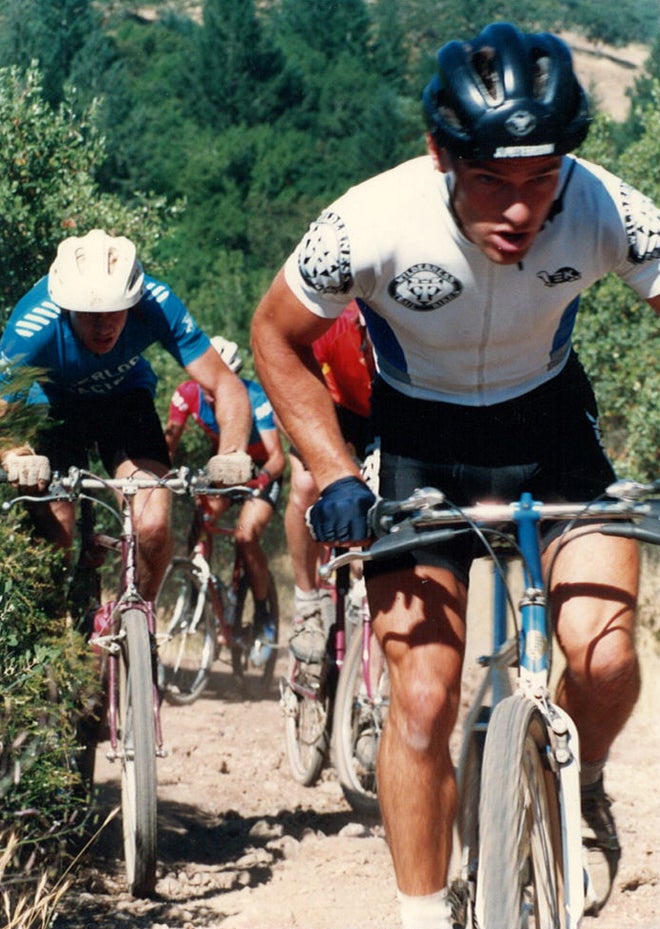 ANNADEL XC JUNE 5, '11
Short Course
: 14 Mile Loop
Beginner Men and Women
Intermediate Course
: 19 Mile Loop
Junior Ladies Under 18
Junior Men Under 15
"Short Sport" Men and Women (like sport, only shorter)
Masters Ladies (40+ and 50+)
Long Course
: 27 Mile Loop
Junior Men U18
Sport Men and Women
Sport Men Under 35
Expert Men and Women
Masters Men (50+)
Pro Men and Women
PURSE
Pro Men and Women
— $1,100 10-Deep
($450/200/100/50/50/50/50
/50/50/50)
Open SS Men & Women
— $400 Purse, 3 Places Deep
($200/125/75)
www.bikemonkey.net

The fallout from California's long-standing $25-billion budget deficit is hitting the state's park system — and that means impending trail closures.
In order to save approximately $22 million, California State Parks will be closing 70 parks starting in September, including one that tested the mettle of many of mountain biking's pioneers — Annadel State Park in Santa Rosa.
All the parks on the hit list will be shuttered, offering no services to visitors nor access to any of their trails or roads, according Carlos Perez, owner of Bike Monkey, an online bicycle culture portal that promotes cycling through a variety of outlets including event organizing. In a release about the park issues, Perez said law enforcement patrols will be in place throughout the closure to ensure the public does not trespass, with penalties including large fines and jail time.
To keep Annadel's legendary singltrack trails open, Bike Monkey is working with State Parks and Sonoma County Regional Parks to raise funds from the cycling community.
The first component of the campaign will be Bike Monkey's Annadel XC race, a fundraising event originally intended to help State Parks address deferred maintenance and degraded trail conditions. The race is being brought back after more than a quarter century.
With the announcement of Annadel's impending closure, however, the race has taken on a much more important role in the Sonoma County community, Perez said.
"These parks have a real value, not only as a refuge from a busy world, but also as economic drivers and environmental hot spots," Perez said. "We have a lot to lose here, well more than the $22 million that will show on a budget sheet in Sacramento. We hope to reach out to our cycling audience and galvanize their support to keep these vital lands open to a public that needs them."
More than 400 spots still remain for the Annadel XC and, should all 700 registration spots sell out, the event could raise nearly $40,000, specifically to keep Annadel State Park and its 45-plus miles of trails open.
Perez said staff from State Parks and Regional Parks are developing a co-management approach, where Regional Parks will attempt to address the short-term administration of lands that State Parks cannot. However, Regional Parks does not have the budget resources to carry out the strategy alone.
Perez said county park mangers will depend on outside support and fundraising from the communities that depend on these parks for their recreational and natural resources. While an actual fundraising goal is yet to be developed, pending a determination of what the bare minimum of management would legally require, this number is expected to be well over $150,000 per year.