Many Names to Watch at Leadville 100
The Leadville Trail 100 will see its deepest field ever duke it out, including Dave Wien Levi Leipheimer, Todd Wells, Jeremy Horgan-Kobelski and a host of other names start the Colorado epic.
Heading out the door? Read this article on the new Outside+ app available now on iOS devices for members! Download the app.
[album id=58 template=extend]
View the Leadville Trail 100 Start List
Between the first  and last riders on the 2010 Leadville Trail 100 start list are any number of racers who could win the event, except one name that most everyone recognizes — Lance Armstrong.
Since the publishing of the rider list, Armstrong has withdrawn because of injuries he sustained in July's Tour de France. Yet another notable name, and a Radio Shack teammate of Armstrong's, is Levi Leipheimer. Of course six-time LT 100 winner Dave Wiens will line up with the number-two plate come Aug. 14 in Leadville, Colorado.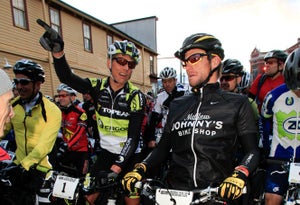 One name of note on the start list is that of Alban Lakata. Not only is Lakata an Ergon-Topeak teammate of Wiens, he just won the marathon mountain bike world championships in Germany on Aug. 8. Think of the possibilities: Wiens and Lakata taking on Armstrong and Leipheimer.
Alas, it's not to be: Logistics and timing are conspiring against the Ergon-Topeak duo going head to head with the leaders of Radio Shack. Armstrong is out and with the marathon worlds so close on the calendar and so far away from Leadville, Lakata won't make the trip.
"I was really stoked to have [Lakata at Leadville], but maybe next year," Wiens said.
Other interesting names on the start list are a function of race sponsor Specialized Bicycles. Specialized's in-house legend, Ned Overend, as well as company founder Mike Sinyard will be hitting the trail. So will Specialized Factory Racing's Todd Wells, the current cross-country national champion.
And even though Lance and Dave are again racing this year, it may be time for some younger legs to cross the line first. Last year Matt Shriver was one of the riders tapped by Armstrong to hammer the pace in an effort to break the course record. Armstrong managed to knock more than 15 minutes off of the old standard, finishing in 6:28:50.
That was accomplished in large part because of Shirver, coach of the perennially powerful Fort Lewis College cycling team in Durango, Colorado.
"Matt was making everyone suffer except Lance," Wiens said after last year's race, adding that the early pace was the fastest he'd ever seen.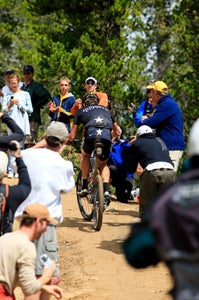 And even though he left everything out on the course, Shriver managed to finish third behind Wiens and the man he was working for — Armstrong, who never truly attacked last year. Instead he rode away from the front group at the base of the infamous Columbine climb — all except for one guy.
"I looked back and there was no one there but Shriver," Armstrong said after the race.
Depending how fast the pointy end of the race moves in 2010, look for Alex Grant, Len Zanni and Max Taam to be in the mix. They finished fourth, fifth and sixth respectively in 2009. Manny Prado finished eighth last year, and a few months after that he won the grueling La Ruta De Los Conquistadores mountain bike stage race in Costa Rica. He'll be back this year, as will Tinker Juarez, who suffered a mechanical about 25miles into last year's event.
Another of Armstrong's workhorses last year was Travis Brown. He finished seventh and is on the start list for the 2010 race, however, Brown is injured and is not likely to race.
There are several wildcards this year as well. Leipheimer, who didn't race last year due to a broken wrist, is the obvious one — especially since he's never been in a mountain bike race. Then there is Jeremy Horgan-Kobelski, who, like Armstrong and Leipheimer, is a Trek rider. JHK is a Colorado native known more for his success on cross-country courses. However, Horgan-Kobelski is the U.S. marathon MTB national champ two years running.
Another American mountain bike stalwart, Jeremiah Bishop, is on the start list for the Leadville Trail 100. He is also one of two American men set to compete at the marathon world championships in Germany a week before Leadville.
Not to be dismissed is Chris Sheppard, an endurance specialist who won the solo category in this year's multi-stage BC Bike Race.
In the women's division, Rebecca Rusch will look to defend her title from 2009. Her most obvious threat is Amanda Carey, who won the Cohutta 100 in Tennessee and the Mohican 100 in Ohio earlier this year.
Like Sinyard, another race sponsor who enjoys a long, tough day in the saddle at Leadville is Chris Carmichael, owner of Carmichael Training Systems who also happens to be Armstrong's "coach."
Keeping checking Singletrack.com for more Leadville Trail 100 pre-race coverage.