Destination: Kamloops, British Columbia
Every style of riding you could ever hope to find can be found in this Canadian mountain biking hot spot.
Heading out the door? Read this article on the new Outside+ app available now on iOS devices for members! Download the app.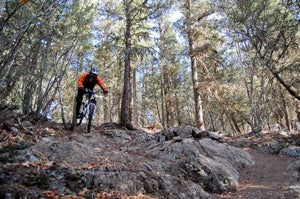 Kamloops, British Columbia is a sleepy town of 87,000 that began life as a lumber and mining town. Situated on the banks of the Thompson Rivers confluence, for years it has served as a waypoint between interior BC and coastal cities to the west.
But as Canadian mountain bikers have risen to fame in both cross-country and downhill or freeride disciplines, so has their homeland. Kamloops has been an incubator of mountain bike talent including Chris Sheppard, Brett Tippie and Catharine Pendrel. They've elevated the profile of this diverse area by living, training, building trail and filming video in and around Kamloops.
Every style of riding you could ever hope to find can be found here. To the north, sage- and grassland desert riding over dry, silty hillsides is readily accessible at the city's edge. To the south and west, rugged timberland rises several thousand feet above town, offering cooler temperatures, inland rainforest and northern Rockies-style singletrack (with occasional North Shore-style features thrown in for good measure). Bikes from singlespeed 29er hardtails to 8-inch freeride bikes will all find a home in the 'Loops.
Many of the best trails were built in the 1990s as Canadian riders jumped on the mountain bike boom, began exploring and discovered the vast acreage of Crown (government) land surrounding their town. But a host of motorbike trails, ATV trails, logging roads, and other unmapped routes are also on offer in nearby forests. Most of the area has yet to be mapped definitively, so your best bet is to stop in at local shops for tips. And don't leave the beaten track without a GPS unit and a sense of adventure.
For the most predictable riding check out Kenna Cartwright Park just on the south edge of town. Sinewy, sidehill singletrack runs back and forth across the entire length of the dry, mixed-timber hillsides. Likewise, the Aberdeen area just on the south edge of town is laced with fast, flowy singletrack, much of which was built by Chris Sheppard himself back in the day.  The Kamloops Bike Ranch includes designated freeride routes, plus an XC trail and BMX track. And Sun Peaks Resort, just outside of town, is another riding option. Chairlifts run daily from late June to late September, serving 70 km of trails, plus a dirt jump park.
Kamloops itself still owns a healthy dose of Western redneck gestalt. The downtown core consists of about eight blocks on Victoria Street and is yet to be gentrified by renewal projects or upscale restaurants. But locals are overwhelmingly friendly and welcoming, with a genuine air of sincerity and a laid-back style.
The cycling community is served by about five bike shops and remains a small segment of the overall economy. But tourism is growing and the city rolls out the welcome mat for visitors. The mild climate and proximity to the Thompson Rivers make golfing and boating popular as well.
Kamloops is not unlike Bend, Oregon; Spokane, Washington or even Grand Junction, Colorado in both climate and relative abundance of cyclists and trails. However, the cycling culture remains somewhat in its infancy, which is a good thing because chances are you will have most of the trails all to yourself.
If you go: Kamloops, BC
Must-do trail: There are too many to list, but we were pointed to the Dew Drop, a scenic 3-hour round trip west of town.
Best bike shop: Trevor at the Full Boar Bike store has a wealth of trail knowledge. Spoke n' Motion is another great option; ask for Paul.
Best map: The Kamloops area isn't well mapped. Best to talk to the local shops and get some first-hand info or stick to areas close to town, like Kenna Cartwright or Aberdeen.
Best coffee: Zack's Coffee and Tea is popular downtown, as is Cowboy Coffee.
Best bar/restaurant: The Commodore has a decent selection of local and imported brews, plus wide-ranging and tasty menu options. But Peter's Pasta is the place to go for carbo-loading!
Riding Season: Kamloops is a four-season town with snow in winter and scorching dry heat in August. The best riding is late spring and early fall.
Getting there: You have to want it; Kamloops is hard to get to. It's a three-hour drive from Vancouver, BC, and more than six hours from Spokane. It's served by a small airport with around 10 flights per day.
Lodging: All the major chains are represented, including Travelodge, Holiday Inn, Super 8 and more. For something more personal, try a bed and breakfast like the Wedgewood or Riverside.
Other things to do: Kamloops has a number of golf courses, boating options, and even some wineries.
Web Site: www.kamloops.ca