Destination: Mammoth-Eastern Sierra, California
Those who know just call it the "Eastside." For those who need a hint, well, do Mammoth Lakes or the Sierra Nevada ring a bell?
Heading out the door? Read this article on the new Outside+ app available now on iOS devices for members! Download the app.
By Seth Lightcap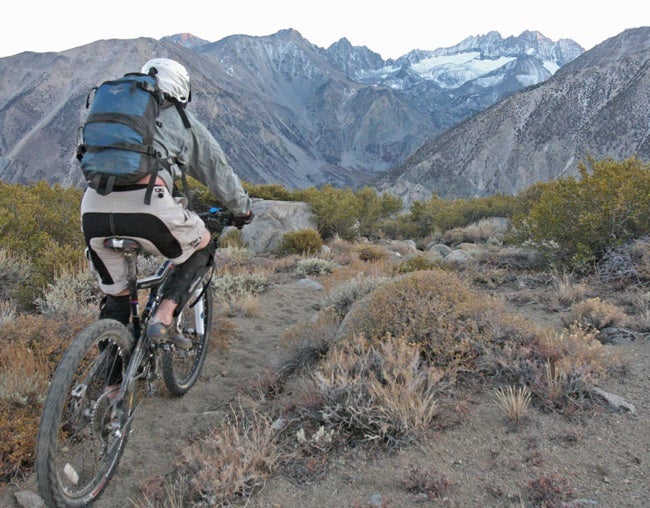 The reason isn't quite clear, but sometime earlier this decade Mammoth Lakes, California and the surrounding Eastern Sierra Nevada fell off the map as a destination for the mountain bike crowd.
OK, so maybe it had something to do with the fact that there is about a Dixie Cup worth of tacky dirt in the area. Nonetheless, this was a region that held the 1989 World Mountain Bike Championships, the NORBA National Championships for nearly a decade and a 1985 event that had the most extreme race name ever – the Plumline Outback Ultimate Kamikaze Downhill!
There is no doubt that fat-tire fantasies still exist in the rugged, pumice-filled landscape of the Eastern Sierra Nevada. And it's really no surprise, as the Highway 395 corridor that runs the length of this region is widely known for world-class adventure. Between the Sierra Crest, the craggy foothills and the countless waterways, climbers, fishermen, skiers and motorheads all cherish the wild terrain of the Eastside.
Visiting the Eastern Sierra with a mountain bike in tow is no different, as there are plenty of epic riding opportunities. The grandeur of the routes and the views typically overshadow the trail surface however. Expect the trip highlights to be the ridiculous amount of vert you tackled and descended, not buttery singletrack or rock-hard berms.
The Lower Rock Creek Trail found 16 miles south of Mammoth should be one of the first trails you hit up on a visit. The trail doesn't obey the aforementioned stereotypes. This eight-mile singletrack trail drops 2,000 feet through the best dirt and smoothest banked corners the High Sierra has to offer. Split into three sections as it crosses the creek and intersects with the road, the Rock Creek trail is typically shuttled, but it can be ridden as a 16-mile loop by pedaling the road.
Other classic rides in the region are the Coyote Flat Traverse and the Black Canyon of the White Mountains. The Coyote Flat ride is a 35-mile mega-shuttle that crosses an 11,000-foot plateau above Bishop. The mostly double track route starts with a 3,000-foot climb and finishes with a nearly 6,000-foot plummet to the town of Big Pine, six miles of which is on technical singletrack depending on your route.
Equally as worthy (and equally as long a shuttle) is the Black Canyon descent. This ride starts atop the White Mountains at 9,000 feet and drops five grand down a loose-but-wicked-fun jeep road to the desert flats outside Bishop. Bring a fresh set of brake pads for this one.
And of course, there is also Mammoth Mountain Bike Park. The resort trail system has something to offer everyone, long cross-country loops and descents, old-school rocky DH trails and new-school freeride trails. Loading your bike on the gondola and stepping out to a 360-degree view of the High Sierra 3,000 feet later is something everyone needs to experience. The 10-mile descent only adds to the thrill.
Creature comforts and logistics on the Eastside are no worries as the locals are chill and accustomed to dirtbagging travelers and big-budget rollers alike. You'll find ample amenities in Bishop and Mammoth with the cowboy-vibe of Bishop offering cheaper everything compared to Mammoth's hip, ski-town demeanor. There is generally better trail access out of Mammoth, however, as the resort butts up to town.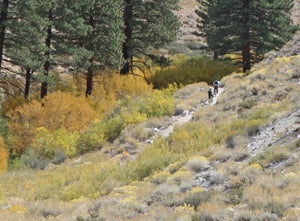 All in all, the riding in the Eastern Sierra is as good as you wanna make it or care to drive. There are ample established trails and endless lonely fire roads, but things are pretty spread out. Traveling and cycling in such big country has its advantages though. You may spend two hours in the car setting up for an all-day push, but your chances of having to share the trail are slim. That said, your chances of finding someone to help you fix a flat are slim too. Treat every ride like an expedition – don't leave the car without a map and survival gear for both you and your bike.
If you go: Eastern Sierra Nevada, California
Must-do trails: Lower Rock Creek Trail; Black Canyon of the White Mountains; Velocity and Off The Top at the Mammoth Mountain Bike Park
Best bike shop: Footloose Sports, 3043 Main St. in Mammoth Lakes; and Aerohead Cycles, 312 N Warren St. in Bishop.
Best guidebook and maps: The Mountain Biking Mammoth guidebook by Extremeline Guides will get you to most trailheads, but the Eastern High Sierra Recreation Topo Map or a set of 7.5 minute USGS topo maps will help keep you on route and identify options.
Best coffee: The Looney Bean in either Mammoth Lakes or Bishop is top-shelf for caffeine, wifi and baked snacks.
Riding season: A few trails outside Bishop are rideable year round but most high-country routes and the Mammoth Bike Park are open late June to early October.
Getting there: There are now daily commercial flights to Mammoth from Los Angeles but the best way to experience the Eastern Sierra is to arrive by car via Highway 395. No matter where you're coming from your route will feed you onto this magnificent byway that stretches the entire Eastern flank of the Sierra Nevada. Watch out for hot springs enroute!
Lodging: There are a million amazing places to camp for free in the Eastern Sierra (think pullouts off 395 spur roads) and some pretty darn nice spots to pay for flat ground too (Shady Rest Campground in Mammoth). Of course there is no shortage of roofed and plumbed lodging either. Check out the cabins at Convict Lake or Hot Creek if you're mixing mountain biking and fishing, but if you want ride-in ride-out book a room in downtown Mammoth.
Insider tips: Don't underestimate the remoteness of many of the Eastside rides. "Epic" can have negative connotations if you aren't prepared with adequate gear, food and water. Real dirt is also hard to come by. Expect rocky pumicey trails that will shred tires, tubes, and fork seals to bits. Bring extra everything.
Web sites: mammothmountain.com; footloosesports.com; mammothweb.com