Dombroski and Luna Chix Teaming Up for 2010
U23 cross-country national champ Amy Dombroski will race fat tires for Team Luna Chix, but expect to see her on the road and racing 'cross too.
Heading out the door? Read this article on the new Outside+ app available now on iOS devices for members! Download the app.
By Singletrack.com and Robbie Stout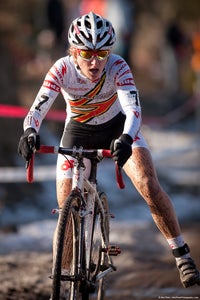 Amy Dombroski, best known for her road and cyclocross talents, is taking her game offroad for 2010, when she will race for the Luna Chix team.
Dombroski, 23, is a multi-time national champion in cyclocross, and in 2009 raced for one of the country's top women's teams, Webcor Builders.
For next year, however, Dombroski will join 'cross rivals Georgia Gould and Katerina Nash, along with cross-country star Catharine Pendrel, on the Luna team.
Dombroski said the new team will support her in cross-country racing, as well as the occasional road race and for the 2010-11 cyclocross season.
"I decided that I wanted to race mountain bikes and I was talking to other teams so I thought I might have a chance" with Luna, she said.
Dombroski is a native of Jericho, Vermont, and was a neighbor and schoolmate of Rocky Mountain-Maxxis rider Leah Davison and top cyclocrosser and roadie Jamie Driscoll.
Now living in Boulder, Colorado, Dombroski is no stranger to mountain bike competition. She won U23 national cross-country championships in 2009, was 18th at the World U23 cross-country in Australia and finished in the top ten in the cross-country and short track events at the Windham Pro XCT races this summer.
Even with that success, Dombroski said wasn't sure if the Luna team was interested.
"It was a long shot because they are the best team and I didn't rally have any results. It wasn't until October that they finally said that it was a go," Dombroski said. "It was scary for a while because I had to turn down my Webcor contract before I left for mountain bike Worlds because the deadline was Aug. 15, so I just had to make the decision."
Dombroski said she is looking forward to doing more mountain biking, but the move to Luna will allow her a full menu of racing.
"I'm happy because Luna still wants me to do some road events and mostly mountain bikes and 'cross in the fall," she said. "I was nervous about switching teams because I'd have to make the decision between disciplines. With this I get to do all of it — it's wicked."
While Team Luna Chix is loaded to win, its other goal is to empower women on and off bikes, Dombroski said. That means getting out and talking to fans around the country. And it's also an opportunity for her to be on a team deep with talent.
"There are a lot of big names on the teams, but we are going to do a good job at dispersing ourselves," she said, adding that  she is a bit nervous about her new home, albeit in a positive way.
"It's a total honor to be on this team. I'm nervous in a good way to be riding with Nash and Gould and Pendrel. There is so much I can learn from them," she said. "When you can follow the lines of the best riders out there you are going to improve."