Erin Huck, Keegan Swenson crowned U.S. XC MTB national champions
Swenson defends the title, while Huck will wear the stars and stripes for the first time since 2016.
Heading out the door? Read this article on the new Outside+ app available now on iOS devices for members! Download the app.
Professional cross-country mountain bikers Erin Huck (Scott-Shimano-Stans) and Keegan Swenson (Santa Cruz Bicycles) earned their stars and strips in Colorado on Saturday.
Both riders handily won the respective women's and men's pro XC MTB races at the USA Cycling national championship event series. After a hiatus in 2020 due to the COVID-19 pandemic, nationals returned to the high altitude Winter Park ski resort venue in 2021 after a debut there in 2019.
For Swenson , the win was a defense of his 2019 title, while Huck last wore the stars-and-stripes as cross-country national champion back in 2016.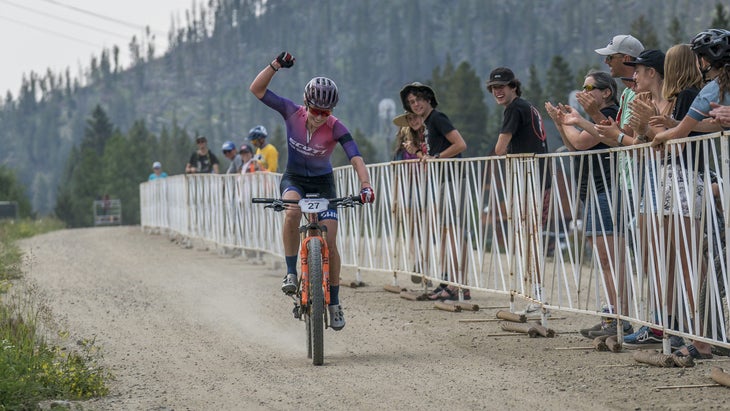 Huck takes the stars and stripes ahead of Tokyo
Tokyo-bound Erin Huck took control from the gun and never relinquished her lead. Former collegiate national champion Alexis Skarda (Santa Cruz Bicycles) and reigning marathon mountain bike national champion Rose Grant (Juliana / SRAM Pro Team) worked hard to pull her back in, but neither could chip away at Huck's ultimate +2:15 final lead. The two finished second and third, respectively.
Although Huck had planned to start the race conservatively and not get too far ahead of herself on the first 500-foot climb, she says her strategy changed seconds before the race
"I was like, 'OK I'm just gonna be cool the first lap and then wrap it up from there 'cause I wasn't sure how I felt," Huck told VeloNews. "Then, when I was on the start line, I was like 'eff it,' I'm all in from the beginning."
Huck had a small but solid field to contend with in Winter Park this year. Only 16 women raced in the pro category; some notable names were absent. Defending champion Chloe Woodruff did not start the event, and other Tokyo-bound athletes Kate Courtney and Haley Batten are in Europe ahead of their travel to the Olympic Games.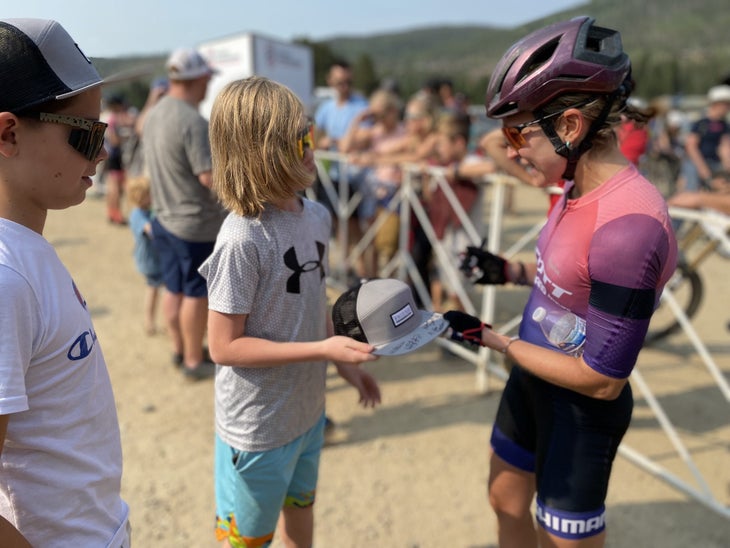 For Huck, the win at nationals was a victory on multiple levels. She last raced U.S. nationals in 2018 at Snowshoe, where she finished second to then-world champion Kate Courtney. Then, in 2019, she was sidelined by an injury. The 2020 event was not held.
"It's been a long time," she said. "It's so sad watching from the sidelines and then we didn't get a chance last year. I was just so pumped to race."
Swenson makes a break and never looks back
Reigning pro men's champ Swenson took home a repeat national championship against a stacked field of 46 after making a decisive move in lap two of four. Giant Factory Off-Road Team had an excellent performance with Stephan Davoust and Luke Vrouwenvelder rounding out the podium.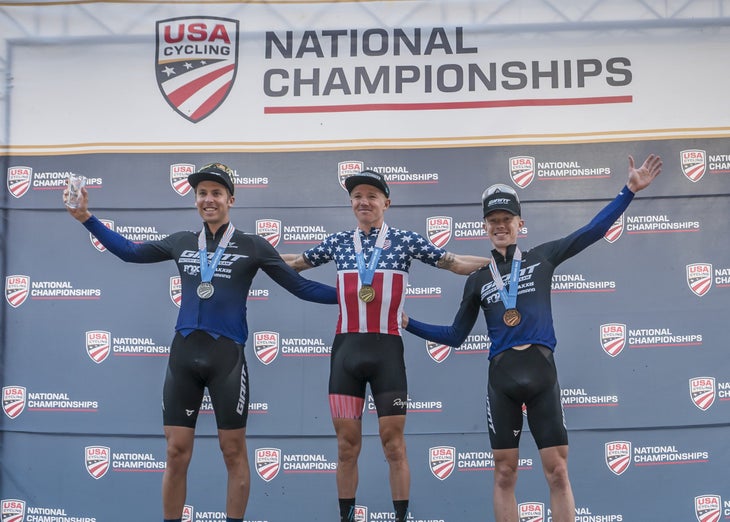 Russell Finsterwald (Clif Pro Team) led a dozen riders through lap once before the lead pack spread out. The Colorado Springs rider said that his strategy was to slow Swenson down.
"Keegan set a really hard pace on the first part of the climb, and I knew it was a little harder than I could go so I came around him with the tactic of blowing him up," Finsterwald told VeloNews. "So into the singletrack I slowed it up up and tried to go my own pace, hoping to slow him up, but it didn't work out that way."
Swenson, on the other hand, stuck precisely to his plan.
"It went pretty much according to plan, and I just wanted to kind of settle in that first lap and let someone else do the work," he said. "On the second lap, when it got steep to start, I slowly turned it up to the kind of pace that I felt I could kind of ride and hope to open up a gap for the descent and really push that lap. Once I got a gap, I just tried to ride my own pace and keep it smooth and tried to stay on the gas."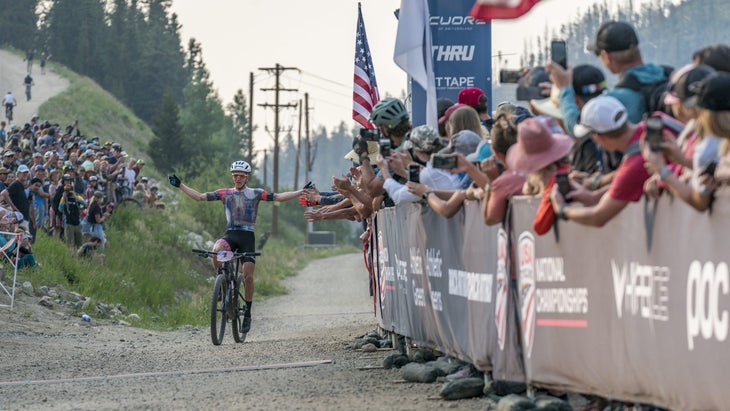 Elite Women
Erin Huck, Scott-Shimano-Stans, 1:11:31
Alexis Skarda, Santa Cruz, 1:13:46
Rose Grant, Juliana/SRAM, 1:14;10
Gwendalyn Gibson, Norco Factory, 1:15:15
Evelyn Dong, Juliana/SRAM, 1:16:16
Elite Men
Keegan Swenson, Santa Cruz, 1:22:14
Stephan Davoust, Giant, 1:24:36
Luke Vrouwenvelder, Giant, 1:24:45
Howard Grotts, Specialized, 1:24:50
Alex Wild, Orange Seal, 1:24:5
A list of full results can be found here.