Full-Time 29 for Subaru-Gary Fisher in 2010
After an impressive collection of results on 29-inch wheels in 2009, the Subaru-Gary Fisher mountain bike team will go "all 29, all the time" in 2010.
Heading out the door? Read this article on the new Outside+ app available now on iOS devices for members! Download the app.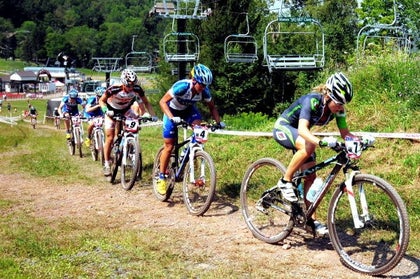 After an impressive collection of results on 29-inch wheels in 2009, the Subaru-Gary Fisher Mountain Bike Team will go "all 29, all the time" in 2010.
Getting all the riders on the team onto big wheels "was a meandering process" that started last season, according to Travis Ott, Gary Fisher brand manager. Jeremy Horgan-Kobelski won the national cross-country and marathon championships, as well as the inaugural Pro XCT, on Fisher's Superfly. Sam Schultz, meanwhile, was a 29er convert as well.
"For them, 2009 was about incorporating 29er full-suspension into their quiver," said Ott. "Both [riders] found advantages in the Superfly 100 under certain circumstances."
For his part, Horgan-Kobelski said he didn't have a 26-inch bike built for 2009.
"Even in 2008, I only raced a few races in the first half of the year on the 26-inch bike," he said. "So it's already been a year and a half of full-time 29er riding for me. I don't even own any 26-inch mountain bikes."
Fast Girls on Big Wheels
SUBARU-GARY FISHER MTB TEAM 2010
Jeremy Horgan-Kobelski
Willow Koerber
Heather Irmiger
Sam Schultz
Russell Finsterwald
Ken Onodera
Dror Pekatch
It took the women Subaru-Gary Fisher racers a little longer to fully embrace the big wheels, or more precisely, get the right fit on a 29er.
Heather Irmiger raced all 2008 and the first half of 2009 on a 26-inch bike. Willow Koerber raced all but the last three events of 2009 on small wheels.
Irmiger said that initially, she thought she didn't like the Superfly, Fisher's hardtail 29er.
"The steering felt strange. I was uncomfortable," she said. "It took me until early season 2009 to realize that my troubles were due to the [small] frame size  rather than due to the wheel size. Once I moved up to a medium, all my problems were solved and I was blown away by the quality of the ride."
Koerber said the catalyst for her switch to 29 was Irmiger's move to a medium frame.
"I could fit on a small," said Koerber, who is 5'2". "Also, they were lighter than the 26-inch bikes. I always thought the frame was just too big for me —simple as that."
Simply sizzling, actually. As noted, Koerber started racing the Superfly with three events remaining in 2009 and ended up on the podium each time. She was second at the Mount Snow Pro XCT, first at the Pro XTC at Windham Mountain and took a bronze medal at the Mountain Bike World Championships in Australia — the first American to medal in cross-country since 2001.
"The switch to 29-inch wheels came right in time with my peak form to give me the best results of my career," Koerber said. "I was having so much fun on the 29er and enjoying every training ride and practice. The mental edge combined with the 29er technology was a combo that could not be beat.
"I have no reservations about 29-all-the-time," she said.
Quiver No More
At the end of 2009, Irmiger said she was given the option of having a 26-inch bike in her race quiver for 2010. Considering her results on a 29er — national cross-country and marathon championships, overall national short track series champion and winner of the Singlespeed World Championships — she declined.
"Once the 29-inch platform clicked for me, I never wanted to ride or race my 26-inch bike again," Irmiger said, adding that her Superfly is two pounds lighter than her identically built 26-inch bike.
The question Koerber said she is asked the most is how a 29er works considering her 62-inch height. The answer is a 15.5-inch Superfly hardtail.
"My simple answer is if the frame fits you there is only a smoother, more fun ride awaiting," she said.
As far as a different bike for different conditions, Irmiger said the quiver approach may no longer be valid.
"It used to be that the equipment options, wheels in particular, for the 29er were heavier and therefore presented an obstacle when choosing a bike for a course," she said.  "The technology and geometry of the 29er has improved so much that, in my opinion, it is better than a 26-inch bike on every course — steep, technical, flat, dry."
With 2010 marking the 10-year anniversary of the Subaru-Gary Fisher race team, Ott said it's gratifying to have a team gravitate to the bigger wheels. It spurred curious European pros to approach the team at last year's World Cup events asking questions. The full-time 29 move will likely strengthen that curiosity in 2010.
"It's definitely a statement for the state of U.S. racing and World Cups," Ott said. "From where I sit, it's fantastic that the ladies may be the ones to legitimize 29ers at the World Cup level. The top ladies seem more willing to give it a try. I'd love to see 5'2″ Willow be the one to win a World Cup on a 29er. It would completely disarm all the 29er skeptics."