Kalentieva Hits Gold at Worlds; Koerber Discovers Bronze
Russia's Irina Kalentieva earns the rainbow jersey in Australia after passing the race leader in the final 4k of cross-country race. The USA's Willow Koerber takes third, Heather Irmiger 10th and Canada's Catharine Pendrel sixth. Complete Results
Heading out the door? Read this article on the new Outside+ app available now on iOS devices for members! Download the app.
By Anthony Tan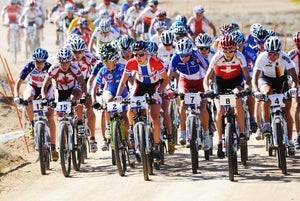 CANBERRA, Australia – There were plenty of women dreaming big of world cross-country championship glory Down Under, but only Russia's Irina Kalentieva turned dream to reality with a stunning, come-from-behind victory Saturday in Canberra's Stromlo Forest Park.
A mechanical problem saw Kalentieva more than a minute behind a lead group of seven after the first of the five-lap, 32.35-kilometer race. In twenty-first position yet unperturbed, the 31-year-old pressed on, and with steely focus she methodically reeled in – then spat out – all those ahead of her till she became the race leader with a half-lap remaining.
Kalentieva passed Lene Byberg – who led the race for all but the final lap – inside the final four kilometres. The pass must have been heartbreaking for the Norwegian, who eventually finished 13 seconds adrift of Kalentieva to settle for silver. USA's Willow Koerber earned bronze, 52 seconds down. Germany's Sabine Spitz and Anna Szafraniec of Poland completed the top five place-getters.
"It's unbelievable," said Kalentieva. "My dream before the race was to win, and my dream came through."
"On the first lap in the downhill section, I had a problem with my chain – I lost something like one-and-a-half minutes," she said. "[I thought to myself] it should not happen to me… I thought that maybe I could do a top-three."
But right there and then, something clicked inside the Russian's head.
"I think it [the mechanical] gave me more focus. And it gave me more power, I don't know… I gave everything today, and I felt good. Anyway, I'm the world champion!" Kalentieva said laughing.
26-year-old Byberg's first words at the post-race press conference said it all: "I could have the title in my hands, but I lost it in the last half-lap."
Asked about her intentions at the start, where she led a formidable septet that included Koerber, Cécile Rode Ravanel (France), Eva Lechner (Italy), Catharine Pendrel (Canada), Sabine Spitz (Germany) and Blaza Klemencic (Slovenia) right from the get-go and never relented, the Norweigan said it was quite unlike her.
"Normally I do the opposite. It was really hard to pass riders [on the course], so I decided for once I have to go fast at the start as well," Byberg said. "Today, I knew [the course provided] a great start for me, not [immediately] going into a really steep uphill. I just went for it from the start, and took it from there. It was hard riding alone in the flat sections; it took a lot of energy, but I decided to go for it.
"I was a little disappointed after the finish. Maybe one day… I'm happy. It's my first [world championship] medal," Byberg said, who appears set to take over from her countrywoman, four-time XC world champ Gunn-Rita Dahle Flesjå, sooner rather than later.
Koerber said it was both her dream and intention to don the rainbow jersey, but is nevertheless satisfied with the bronze medallion she'll return home with.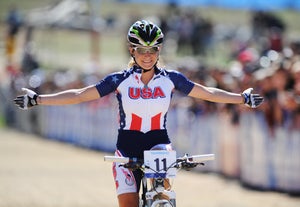 "Disappointed? No, you can't be disappointed. I gave it my all. You can dream a lot – I'm definitely a big dreamer – but to actually have it manifest, it's really exciting. I feel like I'm finally just hitting my stride of being confident, being at the right place in my life, and so it was actually really exciting," said the 31-year-old from Durango, Colorado, although originally from North Carolina.
Surely, though, she can continue to dream big, and one day stand atop the podium's highest step?
"Oh, definitely. My goal today was to win," Koerber said. "And I think you have to have that in mind to get a medal. For me personally, if I said, 'My goal is to get third today,' you'd be settling back there a little a bit. [I was] between 10 or 20 seconds most of the race till the last lap. I just didn't give in – I thought I could still win. I'm really happy with third, though."
North America had the numbers
With six North Americans in the top 15 places, teams from USA and Canada had plenty to smile about. However best-placed Canadian, Catharine Pendrel, was hoping for a little more than her sixth place today, 2:36 behind race winner Kalentieva.
"I felt like I was capable of more, but I just couldn't get the job done today," said Pendrel.
"The pace from the start wasn't too bad, but I got caught in a crash just before the singletrack, so that put me further back than I wanted to be. [I was] still in an okay position, but it was hard to work my way up. I don't know… some gaps were forming and I just wasn't as sharp as I needed to be today."
Pendrel didn't use the technicality of the course or the blustery conditions as an excuse for her performance, either.
"That definitely made it tough, for sure, but it came down to picking your moments and getting the job done," she said. "I just didn't have enough to get the job done for a podium today, which is unfortunate. But sixth is still pretty good. I'm on streak of sixths, so I've got to break that next year!"
Coloradan Heather Irmiger, who finished tenth, was far more upbeat about her performance, and what the future holds for her.
"I'm really excited – it's my best worlds finish ever," Irmiger, 30, said.
"I was actually up there with my teammate Willow [Koerber] for a little bit, but flatted [on the first lap]. The very first descent I got a rear puncture, but I was able to ride the whole climb with Willow – up in the top seven or eight – and then I got in the fast, super-winding section, and I couldn't ride that fast with [the flat].
"I dropped back to fifteenth but had a super-fast flat-[tire] change, and just picked people off the whole race. I'm psyched to be even able to be in the top 10. It's very encouraging and it's great for the future, so I'm really excited," said Irmiger.
[imagebrowser id=23]